A Year of China Events at Asia Society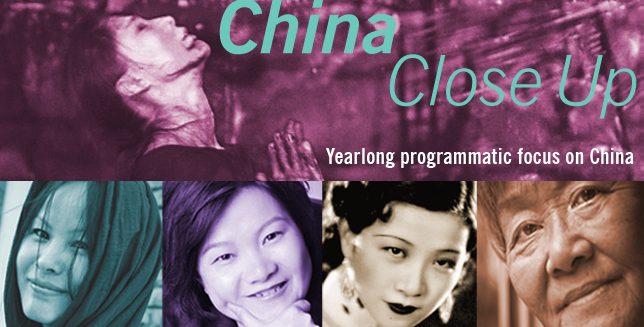 Spring 2012 to Spring 2013
Asia Society and Museum
725 Park Avenue
New York, NY 10021
China Close Up is Asia Society's yearlong programmatic focus on China. Through major exhibitions and programming in arts and culture, policy, and business, Asia Society explores China's vibrant past and present as a window onto its exciting future. As Dan Rather commented in a June 2012 interview at Asia Society, China is presently "the number one story in the world."
China Close Up programming schedule:
Past Events | More China Resources
---
UPCOMING EVENTS
MEET THE AUTHOR
David Shambaugh: China Goes Global
February 27, 2013
With a new administration installed in Beijing, the world wonders at the how the Chinese powerhouse will flex its muscles on the international stage.
MUSEUM EXHIBITION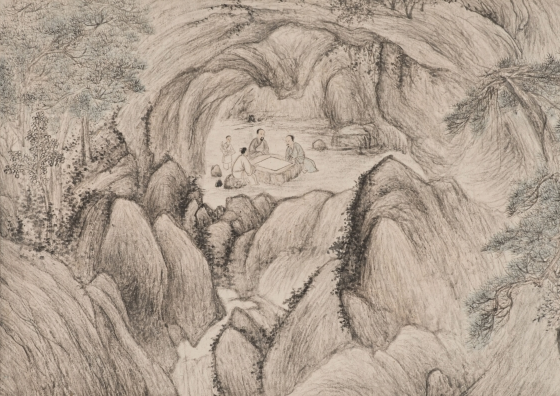 The Artful Recluse: Painting, Poetry, and Politics in 17th-Century China
March 6, 2013 through June 2, 2013
The first exhibition to explore the theme of reclusion in Chinese painting and calligraphy within the broader context of political and social changes during the 17th century, The Artful Recluse features artwork from a time of rich cultural expression and dramatic political change.
Members-only exhibition lecture: Painting Hills and Hermits: The Art of Reclusion in 17th-Century China with co-curator Peter Sturman (March 14, 2013)
DISCUSSION
Playwrights of the Chinese World: Hong Kong, New York, Shanghai, Taipei
March 11, 2013
Part of the Contemporary Chinese Playwright Series: Signature's Residency One Playwright David Henry Hwang will be joined by Chi Wei-jan, Meng Jinghui, Candace Chong and Nick Yu — playwrights from across the Chinese world — for readings and a discussion on the artistic process. Presented with Signature Theatre and the Lark Play Development Center.
FILM
The Emperor's Secret Garden — Screening & Discussion
March 21, 2013
Dir. Mandy Chang and Zhou Bing. USA/China. 56 min.
A documentary on the conservation of the 18th-century Qianlong Garden in the Forbidden City in Beijing. Screening introduced by Henry Tzu Ng, World Monuments Fund.
PERFORMANCE
Shen Wei Dance Arts
April 2, 2013
A pioneer and visionary in contemporary performing and visual arts, Shen Wei's choreographic works are internationally renowned for "their gorgeous visual imagery" (The London Times). The company will present selections from Shen Wei's most recent works, followed by film screenings and a discussion with Shen Wei and Rachel Cooper, Director, Asia Society Global Performing Arts.
PAST EVENTS
WINTER 2013
MUSEUM EXHIBITION
Bound Unbound: Lin Tianmiao
September 7, 2012 through January 27, 2013
The first major U.S. exhibition of leading Chinese artist Lin Tianmiao, Bound Unbound surveys the past 20 years of her captivating installations and sculpture. Through exquisite handwork using thread winding, embroidery, and sculptural processes, Lin Tianmiao has explored her interest in the human form. The exhibition comprises several new installations and many works never before seen outside of China.
Related: Watch a video documenting a progression of Lin's work
PERFORMANCE
">
Yin Mei Dance: Antonioni in China
January 13, 2013, 8:00 PM
Conceived by choreographer Yin Mei, this piece is a dance theater "conversation" with Italian film director Michelangelo Antonioni's rarely-seen documentary film Chung Kuo, Cina. Shot in China during the Cultural Revolution, Chung Kuo, Cina offers a window into a time Yin Mei herself lived through — a time that marked a Chinese generation. This solo version of a larger work-in-progress tells the story of a moment when art and political theater collided, and a young woman's artistic vision was formed.
SPRING 2012
MUSEUM EXHIBITION
This exhibition has already closed.
Revolutionary Ink: The Paintings of Wu Guanzhong
April 24, 2012 through August 5, 2012
The first major retrospective exhibition in New York of one of China's most revered 20th-century artists, Revolutionary Ink celebrated Wu Guanzhong's prolific career. The exhibition traced the development of his ink paintings, which revolutionized the medium at a time when few artists were working in ink following the Cultural Revolution.
Related: View some of Wu's work; Read the New York Times review.
PERFORMANCE
This event has already occurred.
Shanghai Kunqu Opera
May 18-20, 2012
The Shanghai Kunqu Opera Troupe, one of China's most renowned theater companies, is known for its extraordinary craftsmanship. Kunqu artists combine acting, movement, singing and live music for a total theatrical immersion. One of the oldest and most influential forms of Chinese opera, the troupe brought 20 performers to New York for three special performances. These programs were made possible, in part, by generous support from the Ministry of Culture, People's Republic of China.
Related: Watch complete performances of The Lanke Mountain and Journey to the West.
FALL 2012
MEMBERS-ONLY LECTURE
Art in China Now
Thursday, September 13, 2012, 6:30 pm
Join Melissa Chiu, Senior Vice President, Asia Society Global Arts & Cultural Programs and Museum Director, for an insider look of the latest trends in the current Chinese arts scene. Chiu is the author of a number of books, including Breakout: Chinese Art Outside China and Chinese Contemporary Art: 7 Things You Should Know.
Related: Watch the full video of the lecture; watch highlights of the lecture.
BOOK LAUNCH
Chinese Characters: Profiles of Fast-Changing Lives in a Fast-Changing Land
Monday, September 17, 2012, 6:30 pm
Join contributors to Chinese Characters, a provocative new anthology of essays on contemporary China, for a lively discussion on the varied ways that the Chinese people are experiencing and shaping the dramatic changes underway in that country. Panelists include memoirist and fiction writer Xujun Eberlein; journalist and translator Megan Shank; writer and photographer Howard French; and Chinese Characters co-editor, professor, and Asia Society Associate Fellow Jeffrey Wasserstrom. Followed by a book sale and signing.
Related: Read an excerpt from the book; Watch the full video of the panel discussion; Read interviews with contributors to the book: Howard French, Peter Hessler, Ian Johnson, Megan Shank.
DISCUSSION
Business and Social Responsibility in Asia: Claire Chiang
Monday, October 22, 2012, 6:30 pm
A conversation with social activist, entrepreneur, and author Claire Chiang. Author of  Stepping Out: The Making of Chinese Entrepreneurs, Chiang is also Senior Vice President of Banyan Tree Holdings, and executive director of the Banyan Tree Gallery, an innovative new company that aims to catalyze community development by working with indigenous local artists. This program is part of the Citi Series on Asian Women Leaders.
DISCUSSION
Creative Women in Contemporary China: Hung Huang (Canceled due to Hurricane Sandy)
Tuesday, October 30, 2012, 6:30 pm
Author, journalist, publisher and entrepreneur Hung Huang in conversation with Andrea Koppel, veteran journalist and Vice President of Global Engagement and Policy, Mercy Corps. Considered one of the most innovative women in China. Hung Huang has been a successful television host, best-selling author (My Abnormal Life as A Publisher), actress, blogger, media figure, and the publisher of the fashion magazine iLook, a position that has earned her the nickname "China's Oprah." She writes for both China Daily and The Daily Beast and she is currently working on a memoir about her relationship with her mother, Mao Zedong's translator.
FILM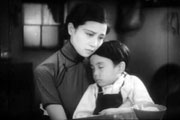 The Goddess
Friday, November 9, 2012, 6:30 pm
Dir. WU Yonggang. 1934. 76 min.
A struggling single mother in 1930s Shanghai resorts to prostitution in order to provide for her young son. In an oppressive society that will never give her and her beloved child a chance, she is doomed to a tragic fate as she fights a hoodlum who steals her money and makes her his kept woman. The Goddess features a nuanced and heart-wrenching performance by the queen of silent cinema Ruan Lingyu — often called the "Chinese Greta Garbo." Part of Film Series: Goddess: Chinese Women On Screen.
FILM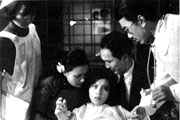 New Women
Sunday, November 11, 2012, 4:00 pm
Dir. CAI Chusheng. 1935. 105 min.
Wei Ming (Ruan Lingyu) is a modern single mother, music teacher, and emerging writer. In a world where women are often treated as sexual preys, Wei faces publishers who are eager to sell her sexual image and a school patron who gets her fired for rejecting his advances. A sick child forces her to scramble for money but the only way to obtain quick cash is prostitution. Actress Ruan Lingyu, who ironically took her own life soon after this film's release, gives a powerful and courageous performance. Part of Film Series: Goddess: Chinese Women On Screen.
FILM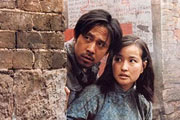 Hibiscus Town
Saturday, November 17, 2012, 4:00 pm
Dir. XIE Jin. 1986. 130 min.
During the 1964 Four Clean-ups Movement, Yuyin (Liu Xiaoqing) and her husband are branded new rich peasants. When their house and business are taken away, Yuyin's husband commits suicide. Now a street sweeper, Yuyin encounters Qin Shutian (Jiang Wen), who has arrived in this town to collect local folk songs only to be also branded a "bad element." The two fall in love while political turmoil continues to ravage their personal lives. Made a decade after the Cultural Revolution, the film charts the political trajectory of a nation through the experiences of small town individuals. Part of Film Series: Goddess: Chinese Women On Screen.
FILM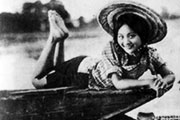 Daybreak
Tuesday, November 20, 2012, 6:30 pm
Dir. SUN Yu. 1933. 96min.
Ling Ling (Li Lili) leaves her war-ravaged rural fishing village for a better life in Shanghai. She soon confronts the dark side of life in this metropolis marked by poverty and material decadence. Director Sun Yu, a member of the progressive left of his time, masterfully juxtaposes the punishing reality of Shanghai with idyllic images of Ling Ling's rural past. The film looks longingly at lost traditional values and offers hope for a renewed society. Part of Film Series: Goddess: Chinese Women On Screen.
DISCUSSION
Creative Women in Contemporary China: Sheng Keyi
Tuesday, November 27, 2012, 6:30 pm
A conversation between fiction writer Sheng Keyi and Susan Jakes, Senior Fellow, Center on U.S.-China Relations at Asia Society and the Editor of ChinaFile.com. Sheng Keyi is considered one of China's leading younger generation authors and is the recipient of several prestigious Chinese literary awards. Her first novel, Northern Girls drew on her own experience as a female job-seeking "migrant" to the economic boomtown of Shenzhen.
FILM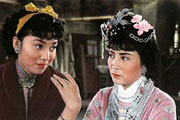 Two Stage Sisters
Wednesday, November 28, 2012, 6:30 pm
Dir. XIE Jin. 1964. 107 min.
Two Stage Sisters follows the lives of two female opera performers, Chunhua (Xie Fang) and Yuehong (Cao Yindi), as they leave a small countryside folk opera troupe and join a theater company in Shanghai. Their relationship is put on trial as ideological differences develop over a period of turbulent political and social upheavals. Director Xie Jin, known for his women's pictures, is one of the most successful filmmakers in Chinese cinema history. Part of Film Series: Goddess: Chinese Women On Screen.
FILM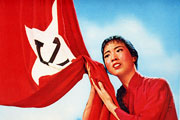 The Red Detachment Women
Friday, November 30, 2012, 6:30 pm
Dir. FU Jie, PAN Wenzhan. 1970. 101 min.
During the Cultural Revolution, only a small number of state-approved yangbanxi, model operas that adhered to revolutionary ideologies, were staged. One of them was the ballet opera The Red Detachment of Women, about a peasant girl who breaks away from an oppressive landlord and joins the Red Army. The film features virtuosic and ecstatic dance sequences. Part of Film Series: Goddess: Chinese Women On Screen.
FILM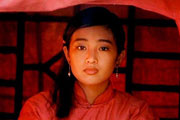 Red Sorghum
Sunday, December 2, 2012, 4:00 pm
Dir. ZHANG Yimou. 1987. 88 min.
In the countryside of Shandong province in the 1930s, a young peasant girl, Jiu'er (Gong Li), is arranged to marry a leper, a much older man who owns a winery. After her husband's death, Jiu'er takes over the running of the business. Her life is completely changed when a man she had an unusual sexual encounter with reemerges, followed by the Japanese invasion. This film is an adaptation of 2012 Nobel Literature Prize winner Mo Yan's novel of the same name. Part of Film Series: Goddess: Chinese Women On Screen.
FILM
Ashes of Time Redux
Friday, December 7, 2012, 6:30 pm
Dir. WONG Kar Wai. 2008. 93 min.
Renowned director Wong Kar Wai (In the Mood for Love, 2046) takes the martial arts period genre to a new height with this visual feast set in a vast desert where lone warriors and forsaken women roam while being perpetually trapped in devastating memories. The ensemble cast features some of the most admired Chinese actors including Maggie Cheung, Brigitte Lin, Tony Leung, and Leslie Cheung. Part of Film Series: Goddess: Chinese Women On Screen.
FILM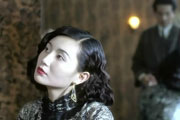 Center Stage
Saturday, December 8, 2012, 4:00 pm
Dir. Stanley KWAN. 1992. 126 min.
The life, death, love, and pain of Chinese silent cinema starlet Ruan Lingyu (The Goddess, New Women — both in this series) are brought to life in this biopic featuring an unflinching performance by Maggie Cheung, another all-time screen sensation. Cheung plays Ruan with total abandon and fully embodies the suffering and passion of her forebear. Part of Film Series: Goddess: Chinese Women On Screen.
DISCUSSION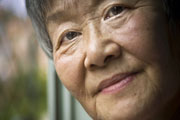 Creative Women in Contemporary China: Wu Qing
Wednesday, December 12, 2012, 6:30 pm
An award-winning professor of English, Wu Qing has also built a reputation as a fearless legislator and human rights activist, playing a pioneering role building Chinese women's entrepreneurship and political participation at the grassroots level. Wu Qing has received numerous awards in recognition her career in public service, including most notably the 2001 Ramon Magsaysay Award.
More events will be added soon. Please check back often. For other Asia Society New York programming, please visit our events calendar.