Interview: How a 'Midwestern Rube' Fell in Love With China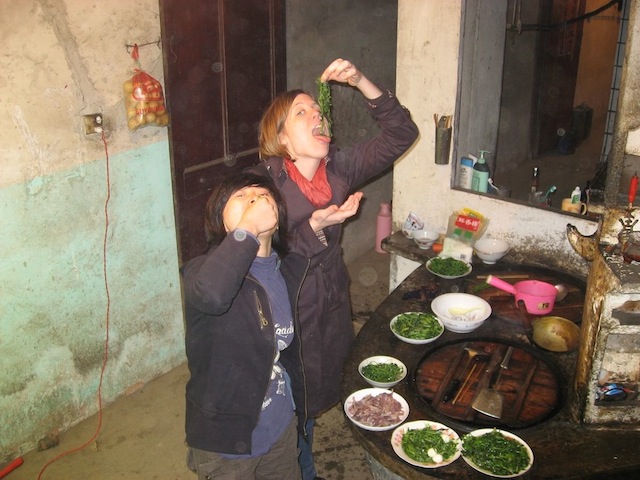 In the photo above, Megan Shank is eating on assignment in Wuxi in 2008.
Later this month, the University of California Press will publish Chinese Characters: Profiles of Fast-Changing Lives in a Fast-Changing Land, an anthology that tries to bring the diversity of China to life through portraits of individuals who are experiencing and, in some cases, shaping its transformations.
During the lead-up to publication, Angilee Shah, who co-edited the volume with me, has been doing short interviews with the contributors to this book, who range from acclaimed journalists (e.g., Ian Johnson, Evan Osnos, Leslie T. Chang, and Christina Larson), to a blogger and short story writer (Xujun Eberlein), to several academics writing in a jargon-free and footnote-free style.
We have been posting these interviews on the book's Tumblr page — a site that also keeps visitors up-to-date on interesting news relating to China and will give details on Chinese Characters book launch events, such as the one that will be held at the Asia Society in New York on September 17, and related panels, such as a September 18 one that will take place at Harvard.
Below is an interview between Shah and Megan Shank. Shank currently serves as managing editor for East View Information Service's The Current Digest of the Chinese Press.
Tell me about the first time you went to China.
In 2000, the summer I turned 21, the summer before my junior year at the University of Missouri's School of Journalism in Columbia, Mo., I decided to crash my twin brother's birthday party in Chengdu. At the time, he was dating a girl from there — I'll call Y — and spending the summer with her in Sichuan province. I had never been abroad. I was just a Midwestern rube with a dream and some high-credit-limit plastic, which a card company had happily given me for No Good Reason. I scrambled to get my documents in order, including my first passport, and soon boarded a flight to Hong Kong.
As I had learned, Y's father was a high-ranking Chengdu police official. He sent two grim-faced men in black to meet me at the airport in Hong Kong and take me to the hotel. Despite my protest, they silently followed me as I spent my 21st birthday wandering the streets. I ate round soft salty pieces of meat and fish that had been boiled in water on skewers and gobbled up a rice dish at a Pakistani hole-in-the-wall joint. I gawked at the lights. I bought incense from a stand. I wandered into a club that released soap bubbles on the dance floor and slithered about with young men half my size. I drank a cocktail that tasted like Tang and cheap vodka. I collapsed into bed that night with the radio on — Billie Holiday, no less — thinking, I've really made it. I've escaped! This is the beginning of a bigger world!
The next morning my helpers escorted me across the border into Shenzhen, and more people met me there to take me to the airport. In Chengdu, I was greeted in the airport reception hall by Y's parents and extended family — a raucous bunch of divorcees and cousins and a spare uncle. They waved and shouted my name, "May-GEN! May-GEN!" Their voices were hoarse from yelling and overconsumption of chili peppers. The entire time I was there, they yelled. It wasn't because they were mad. That was just how they talked — even in small spaces, even in the wee hours of the morning, even while they were in the bathroom. Everyone had a different family name dependent on which side of the family they had come from and what birth order. Many of them lived together in Y's family's three-story house in one of Chengdu's nicer districts — high-level police work apparently had its benefits. After they took me home, they immediately sat me down and forced birthday cake upon my twin and I — a concoction of whipped cream, canned fruit cocktail and dry sponge cake. They plied me with gifts and constantly grabbed my shoulder and shook it exclaiming something to me that I could not understand. That night we went to hot pot. We slid meats, seafood and vegetables into spicy piquant broth. Not to be outdone by my brother, I muscled down mouthfuls of duck intestines and smiled.
The next day the whole family embarked on a weeklong tour of Sichuan. I rode with Jiujiu, Y's uncle on her mother's side, his wife and their sulky teenage daughter. Her name was sweet, but her face was sour. As far as I could tell, Jiujiu's only job was working as a chauffeur for Y's policeman father and all the other aunts and cousins who lived in the house. Jiujiu brought one tape for the journey. It only had about ten songs on it. One of the songs was the triumphant "Ai Wo Zhonghua" (爱我中华, Love My China) — one of the first things I learned to say in Chinese. A soprano's voice soars above a full orchestra and a chorus at least 100-strong. I didn't understand at the time that the song is about the unified efforts of China's 56 ethnic groups to advance and honor the nation. I just knew the chorus was catchy: LOVE MY CHINA do do dee dee do do LOVE MY CHINA do do dee dee do do LOVE MY CHINA do do dee dee do do LOVE MY CHINA do do dee dee do do DEE DEE do do DEE DEE do do DO DO! LOVE MY CHINA! We sang along as Jiujiu sped through river basins, navigated crowded small city traffic, and climbed steep mountain roads.
Those roads gave me my first taste of China's beauty, diversity and gut-and-brain-twisting capacity to bring me to my knees ralphing in an irrigation duct because of car sickness. On that trip I held an unwilling baby panda at a preserve, climbed down Leshan for a peek up Buddha's nose and zipped through Jiuzhaigou Chinese-style, only piling out of the car for pictures, preferably not of the nature, but of our people standing in front of a fake rock placard holding up victory signs, or, occasionally, a single shot of one of the women leaning against a wooden fence with a demure smile playing on her lips. (Fortunately, I had the opportunity to return to Jiuzhaigou a few years later with my now-husband. We hiked off-trail for several days.)
When I returned to Columbia, Mo., I felt more restless than I'd ever felt in my life. I read Peter Hessler's Rivertown: Two Years on the Yangtze during my breaks at the grocery store where I worked to help pay for tuition. As graduation continued to near, the U.S. economy faltered. I wasn't ready to park myself at a small-town newspaper just yet, and I didn't have the money to try to set myself up in New York. I wanted to travel. I wanted to learn a new language. Coming from my pragmatic Midwestern middle-class world where none of my family had ever studied a foreign language or gone abroad (except for maybe a beach holiday to Mexico), this sort of education had always seemed like an out-of-reach luxury. But Hessler's book opened me to the possibilities that I could earn my keep in China while I traveled and studied language. I didn't end up pursuing the Peace Corp like he did. I signed up for a teaching program. Shortly after my college graduation in 2002, I set off for China, where I lived for more than six years. I learned the language, I met my future husband and many friends and I embarked on adventures I'll carry with me forever. Ai wo Zhonghua!
What was the most interesting thing you learned from working on your chapter for Chinese Characters?
My chapter was composed of outtakes from various other assignments I'd worked on, rather than the result of a concerted effort to set out to research and write a long-form profile. So one of the most interesting things to me was seeing how I could bring different aspects of my reporting and journaling together to flesh out and contextualize what this one entrepreneur was doing and why it mattered. I had just come back to New York after a two-month trip to China in which I did a Q&A with Ray Zhang, the entrepreneur behind the car rental service eHi, for Bloomberg.com and my favorite editor, Nick Leiber. In my piece, which was originally published in Nov. 2010, I reported some incredible numbers, including the prediction that China would sell about 17 million passenger cars and light commercial vehicles that year, which it did. Jeff Wasserstrom contacted me shortly afterward and asked if I wanted to write a longer profile on Zhang, and I discovered that because there were so many elements involved — environmental, social, political, historical — even without another trip back to China, which I could not afford at the time, I could draw on my professional and personal experiences to put something together. The challenge also appealed because it would be the longest thing I'd ever written for publication. The learning curve felt steep, but I enjoyed myself and really appreciated the opportunity.
Where are you right now and what are you working on?
I currently live in Clinton Hill, Brooklyn, with my husband Adam Feeney and our poodle Ernie. For more than a year now, I have been working as the managing editor of The Current Digest of the Chinese Press, published by East View Information Services. Each week, I select articles from the Chinese-language press and work with translators to render them into English for a Western readership. I have also just begun to edit pieces for the Los Angeles Review of Books. In my spare time, I volunteer as an urban gardener and take West African dance classes. My husband and I are looking forward to the arrival of our first child in December.
Jeffrey Wasserstrom will be presenting Chinese Characters at the Asia Society book launch event on September 17, 2012. Click here for details.