LOVE Long: Robert Indiana and Asia | 愛話:羅伯特·印第安納與亞洲
This exhibition presents some of the most memorable works by the legendary American artist Robert Indiana (1928-2018) (b.1928) along with works by eight artists and collectives from Asia: Kutluğ Ataman, Candy Factory, Young-Hae Chang Heavy Industries, Chim↑Pom, He An, Hung Keung, Charwei Tsai, and Xu Bing. Threading through these multilingual, multicultural works is a sustained investigation of language. These artists share poetic sensibilities with Indiana, creating work that examines the nuances between words and images. LOVE Long affirms that art is a universal language built upon the fundamental human desire to express and communicate. The Guest Curator is Dr. Miwako Tezuka, with Kaitlin Chan serving as Assistant Curator.
Visitors are welcome to take photos and share on social media with our exhibition hashtags: #RobertIndiana #LOVELongHK #AsiaSocietyHK #MSandtheArts. Find out more about our Instagram photo contest via the menu bar on the left.
介紹
此展覽展出傳奇美國藝術家羅伯特‧印第安納和八位亞洲藝術家的作品,包括谷特拉格‧阿塔曼、古郷卓司、張英海重工業、Chim Pom、何岸、洪強、蔡佳葳及徐冰。他們文化背景不同,卻以語言為創作主題。這些藝術家受到印第安納感性的啟發, 創作出對文字和圖像微妙呼應的作品。藝術建立於人類渴望表達與溝通的本能,展覽透過來自多個文化的作品,展現藝術為跨越國界的共同語言。展覽由客席展人手塚美和子策展,陳嘉賢擔任助理策展人。
歡迎大家在社交平台上分享展覽的體驗,記得加上#RobertIndiana, #LOVELongHK, #AsiaSocietyHK 和 #MSandtheArts的標記。請瀏覽左側功能表了解更多有關攝影比賽的資料。
About the Artists

Robert Indiana (1928-2018) (b.1928, New Castle Indiana, U.S.A), one of the preeminent figures in American art since the 1960s, has played a central role in the development of assemblage art, hard-edge painting, and Pop Art. A self-proclaimed "American painter of signs," Indiana pioneered the use of the written word as a central element in his work, drawing upon the common forms of American highway culture — highway markers, pinball machines and flashing "Eat" signs — to create a highly personal and immediately recognizable visual language.

Indiana's artwork has been featured in numerous solo and group exhibitions around the world, and his works are in the permanent collections of major museums including the Museum of Modern Art, New York; the Whitney Museum of American Art, New York; the National Gallery of Art, Washington D.C.; the Tate Modern, London; the Museum Ludwig, Cologne; the Stedelijk Museum, Amsterdam; the Shanghai Art Museum, China; and the Israel Museum, Jerusalem.

Biography courtesy of Robert Indiana Catalogue Raisonné LLC.
---

Kutluğ Ataman (b.1961, Istanbul, Turkey) is an acclaimed film-maker and contemporary artist. In his work, he examines the ways in which people and communities create and rewrite their identities through self-expression, blurring the line between reality and fiction. Ataman's more recent works explore history and geography as man-made constructs. His works are in major international collections including the Museum of Modern Art, New York; Tate Modern, London; and Thyssen-Bornemisza Art Contemporary, Vienna. 
---

Young-Hae Chang Heavy Industries, comprised of Marc Voge (b. Ann Arbor, Michigan, U.S.A) and Young-hae Chang (b. Seoul, Korea), is a net art duo formed in the late 1990s. Known for their signature Flash animated texts set to music, their work blurs boundaries between visual art, digital literature, and social commentary. Their animations have been shown internationally as institutions including Tate, London; Centre Pompidou, Paris; the Whitney Museum and the New Museum, New York. YHCHI has participated in an artist residency at Asia Art Archive, Hong Kong in March 2011. They are currently based in Seoul.
---
Chim↑Pom is an artist collective formed in 2005 in Tokyo with members Ryuta Ushiro, Yasutaka Hayashi, Ellie, Masataka Okada, Motomu Inaoka, and Toshinori Mizuno. Responding to the social issues of their times, Chim↑Pom creates multi-disciplinary artworks as critiques of Japanese contemporary society. In addition to presenting solo and group exhibitions and participating in art festivals worldwide, they also initiated, organized, and participated in the international exhibition Don't Follow the Wind. The exhibition was launched on March 11, 2015, inside Fukushima's nuclear exclusion zone, so designated after the 2011 nuclear disaster. In 2015, they were awarded Overall Best Emerging Artist at the Prudential Eye Awards for Contemporary Asian Art.
---
He An (b.1970, Wuhan, China) creates installations, sculptures, and photography that examine the physical and psychological impact of rapid urbanization in China. He explores the affective potential of found materials in urban spaces, including concrete, billboards and neon lights. His works are often tangible monuments to fleeting and fragile nature of relationships in contemporary life. His work has been featured in solo and group exhibitions at institutions such as the Australian Centre for Contemporary Art, Melbourne; the Redtory Museum of Art, Guangzhou; Today Art Museum, Beijing; Saatchi Gallery; London; and the Carnegie Museum of Art, Pittsburgh, U.S. He An graduated from the Hubei Academy of Fine Arts in Wuhan, China, with a Bachelor of Fine Arts in Painting in 1996. He currently lives and works in Beijing.
---

Hung Keung (b.1970, Kunming, China) is a Hong Kong-based new and digital media artist and scholar. His innovative practice encompasses interactive performance, installation art, experimental ink painting, photography, moving images and writing. Intrigued by the interconnectedness of time and space, as well as between the viewer and the work itself, his latest works incorporate moving digital images to explore human limitations and attempt to extend them using technology. He has held solo exhibitions at Art Basel Hong Kong, Chinese Arts Centre, Manchester, U.K. and The Jordan Schnitzer Museum of Art, Oregon, U.S., Hung has also exhibited in various group exhibitions in Finland, Australia and the Greater China Region.
---
Takuji Kogo (b.1965, Tokushima, Japan) organizes *CANDY FACTORY PROJECTS — a mobile platform based in Japan for collaborative art projects. It develops curatorial projects, exhibitions, web projects and publications, and organizes the Kitakyushu Biennial. A selection of web-based projects can be explored at http://artonline.jp/. Kogo has produced a large body of work both as a solo artist and in collaborations under *CANDY FACTORY PROJECTS, presenting them all over the world. Since 2007, Kogo has been director of the Kitakyushu Biennial in collaboration with the Art Institute of Kitakyushu. He is currently based in Fukuoka, Japan.

Takuji Kogo and Young-Hae Chang Heavy Industries have been collaborating since 2001 on various works under the rubric *CANDY FACTORY PROJECTS.
---

Charwei Tsai (b.1980, Taipei, Taiwan) is a multi-media artist with a strong interest in the relationship between people and nature. She captures simultaneously personal and universal concerns through performance, photography, and video, encouraging viewer-participation outside the confines of passive contemplation. Working with motifs of geographical, social and spiritual significance, Tsai meditates on the complexities of cultural beliefs, spirituality, and transience. Tsai has held solo and group exhibitions at Hayward Gallery at Southbank Centre, London; the Museum of Modern Art, New York; Yokohama Triennial; the 6th Asia Pacific Triennial, Queensland, Australia; among many others.
---

Xu Bing (b.1955, Chongqing, China) creates mixed-media installations that challenge viewers' existing notions of language and explore the relationship between meaning and words, writing and reading. He earned his Bachelor of Arts in printmaking at the Central Academy of Fine Arts in Beijing (CAFA) in 1981, later earning his Master of Fine Arts in 1987. He is currently a professor and director of the Academic Committee at CAFA. Xu's work has been shown at the internationally acclaimed art institutions worldwide including the Museum of Modern Art, New York; the Metropolitan Museum of Art, New York; the British Museum, London; Victoria and Albert Museum, London as well as at the 45th, 51st, and 56th Venice Biennales, among other major art events. In 2015, he was appointed as an A.D. White Professor-at-large by Cornell University and named an Honoree at the third annual Asia Society Art Gala.










關於藝術家

羅伯特•印第安納自1960年代起已是美國集合藝術、硬邊繪書及普普藝術界不可或缺的人物。印第安納將高速公路路標、彈珠台及閃動的「Eat」(吃)招牌等美國公路文化融入作品,自許「美國標誌畫家」,配合手寫文字,創造出具個人風格又易於辨認的視覺語言。
印第安納曾參與多個國際個展及聯展,作品被多間重要藝術館收藏,當中有紐約現代藝術博物館、紐約惠特尼美國藝術博物館、華盛頓國家藝廊、倫敦泰特現代藝術館、德國科倫路德維希博物館、阿姆斯特丹市立博物館、中國上海美術館和耶路撒冷以色列博物館。
(承蒙Robert Indiana Catalogue Raisonné LLC提供信息)
---

谷特拉格‧阿塔曼(1961年生於土耳其伊斯坦堡)是一位著名製片人及當代藝術家,透過作品探討個人和群體如何創造和改寫身份、模糊現實與小說的界線,近作則探討人爲的歷史和地理概念。阿塔曼的作品被多間國際博物館收藏,如紐約現代藝術博物館、倫敦泰特現代藝術館和維也納的提森‧博内米薩博物館。
---

網絡二人藝術組合張英海重工業由Marc Voge(生於美國密歇根州安娜堡)及張英海(生於南韓首爾)於九十年代後期組成,他們善於以Flash創作文字動畫,並加上配樂,跨越視覺藝術、電子文學及社會評論界別。倫敦泰特美術館、巴黎龐畢度中心、紐約惠特尼美國藝術博物館及紐約新美術館等重要藝術機構都展出過他們的動畫作品。張英海重工業曾於2011年3月參與香港亞洲藝術文獻庫的藝術家駐留計劃。他們現居首爾。
---
Chim↑Pom 2005年在東京成立,成員包括卯城竜太、林靖高、Ellie、岡田將孝、水野俊紀及稲岡求,透過多媒介藝術評論當今日本社會。除卻在世界範圍內舉辦個展、聯展及參與國際藝術節,他們更創辦及參與2015年3月11日在福島核災隔離區內舉辦的國際展覽《Don't Follow the Wind》。Chim↑Pom是2015年英國保誠當代亞洲藝術獎的年度最佳新晉藝術家的得獎者。
---
何岸 (1970年生於中國武漢)透過裝置藝術、雕塑及攝影探討中國急速城市化帶來的生理及心理影響。他經常挖掘混凝土、廣告板及霓虹燈等城市元素的潛在情感,具體表現現代轉瞬即逝而且脆弱的關係。他的個展和群展曾在墨爾本澳洲當代藝術中心、廣州紅磚廠當代藝術館、北京今日美術館、倫敦薩奇美術館、美國卡內基美術館等地舉辦。何岸1996年畢業於中國武漢湖北美術學院,為美術學油畫學士。他現居北京。
---

洪強(1970年生於中國昆明)是一位香港新媒體藝術家和學者,涉足互動表演、裝置藝術、實驗水墨畫、攝影、動態圖像及寫作。他對時間和空間、觀眾和作品的聯繫尤感興趣,在近作透過動態電子圖像探索人類局限。洪強曾在香港巴塞爾藝術展、英國曼徹斯特華人藝術中心、俄勒岡州尤金喬丹‧施尼澤藝術博物館等地舉辦個展,亦曾參與大中華地區、芬蘭、澳洲等地的聯展。
---
古鄉卓司(1965年生於日本徳島)主理的*CANDY FACTORY企劃是日本一個流動藝術協作電子平臺,涉足策展計劃、展覽、網上計劃、出版及北九洲雙年展,見於 http://artonline.jp/。古鄉卓司以個人身份及在*CANDY FACTORY企劃的名義與他人共同創作了大量作品,在世界範圍內展覽。自2007年起擔任北九洲美術學院協辦的北九洲雙年展總監,古鄉卓司現居福岡。
古鄉卓司及張英海重工業自2001年起便在*CANDY FACTORY企劃協作電子平臺共同創作。
---

蔡佳葳(1980年生於台灣台北)是一位多媒體藝術家,對人和自然的關係尤感興趣。她以表演、攝影及錄像捕捉個人及大眾所關注的事,鼓勵觀眾參與,打破觀者被動的局限。作品多與地理、社會和個人心靈有關,反思文化、信仰以及無常等複雜概念。蔡佳葳曾在倫敦南岸中心海沃德美術館、紐約現代藝術博物館、日本橫濱三年展、澳洲昆士蘭第6屆亞太當代藝術三年展等藝術館及藝術節舉辦個人及群展。
---

徐冰(1955年生於中國重慶)透過混合媒介裝置挑戰觀眾對語言的理解,同時探討語義和文字、寫作和閱讀的關係。他1981年畢業於北京中央美術學院版畫系,在1987年取得碩士學位,現為該校教授及教學委員會總監。徐冰曾參與多個重要博物館展覽,如紐約現代藝術博物館、紐約大都會藝術博物館、倫敦大英博物館、倫敦維多利亞與亞伯特博物館。他的作品亦曾展於第45屆、51屆及56屆威尼斯雙年展等重大藝術盛會。2015年,康乃爾大學任命他為安德魯‧狄克森‧懷特傑出教授,亦獲得亞洲協會頒發第三屆亞洲藝術大獎。
Gallery Guided Tours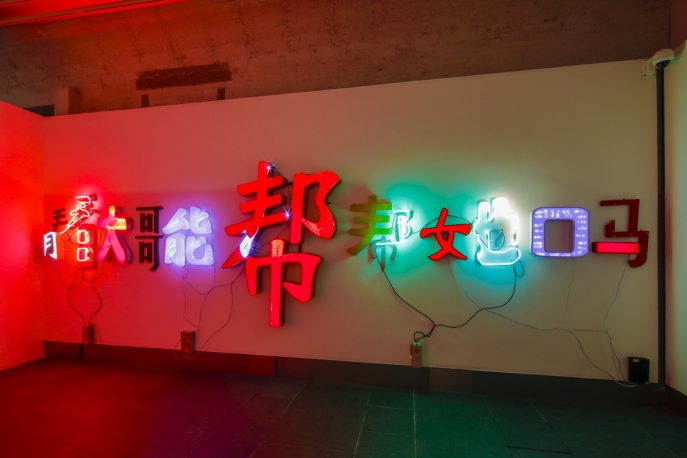 Saturday | 2:30pm (In English) | 3:30pm (In Cantonese)
Sunday | 2:30pm (In English) | 3:30pm (In Cantonese)

Curator-Led Tours
February 11, 2018 | 2:30pm (In English)
Kaitlin Chan, Assistant Curator
April 1, 2018 | 3:30pm (In Cantonese)
Ashley Wu, Assistant Curator

April 22, 2018 | 2:30pm (In English)
Kaitlin Chan, Assistant Curator
May 19, 2018 | 3:30pm (In Cantonese)
Joyce Wong, Assistant Curator

July 15, 2018 | 3:30pm (In Cantonese)
Dominique Chan, Head of Gallery & Exhibition
Tours are open to the public. No registration is required.
展覽導賞團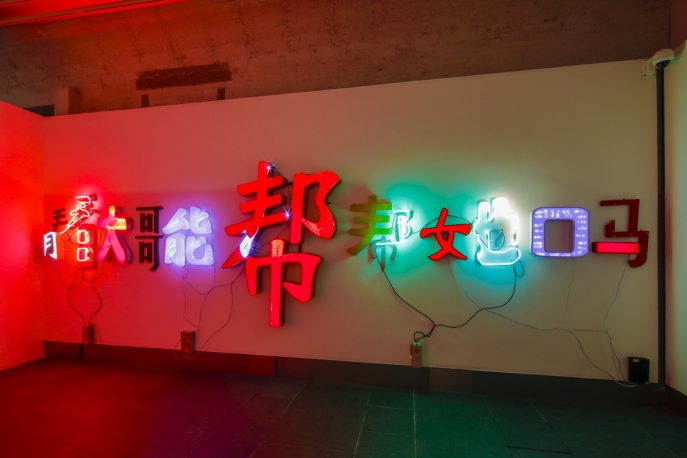 逢星期六 | 下午2時半 (英語) | 下午3時半 (粵語)
逢星期日 | 下午2時半 (英語) | 下午3時半 (粵語)

策展人現場導賞
2018年2月11日|下午2時半 (英語)
陳嘉賢 助理策展人
2018年4月1日|下午3時半 (粵語)
胡雅茜 助理策展人
2018年4月22日|下午2時半 (英語)
陳嘉賢 助理策展人
2018年5月19日|下午3時半 (粵語)
黃熙婷 助理策展人
2018年7月15日|下午3時半 (粵語)
陳少東 藝術館館長
展覽導賞團歡迎公眾人士參加,毋須登記。
Catalogue
LOVE Long: Robert Indiana and Asia will be published by Asia Society Hong Kong Center on the occasion of the eponymous exhibition held from February 7 to July 15, 2018. Edited by the curator, Miwako Tezuka, and the Center's Gallery Team, the book contains four essays and a catalogue of the exhibition with over 50 color artwork plates. The publication opens with a curatorial overview essay by Miwako Tezuka, followed by a contribution by Susan Elizabeth Ryan, a foremost Indiana scholar. The subsequent essay by assistant curator Kaitlin Chan reflects on Indiana's signs in a Hong Kong context, preceding a revised version of an essay by artist Xu Bing on the pictographic origins of Chinese characters. The catalogue is now available for purchase at the center's Asia Society Store, and as overseas delivery via email at enquiryhk@asiasociety.org.
---
Title: LOVE Long: Robert Indiana and Asia
ISBN: 978-988-12272-0-1
Size: 300 mm x 260 mm portrait, hardcover
Number of pages: 160
Price: HK$320
Publisher: Asia Society Hong Kong Center
展覽圖錄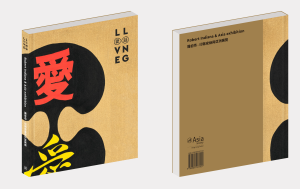 《愛話:羅伯特‧印第安納與亞洲》為亞洲協會香港中心策劃的同名展覽出版。圖錄由客席展人手塚美和子以及中心藝術館團隊編輯,透過美國知名藝術家羅伯特‧印第安納以及八位亞洲藝術家——谷特拉格‧阿塔曼、古郷卓司、張英海重工業、Chim↑Pom、何岸、洪強、蔡佳葳及徐冰——的作品探討以語言為本的藝術。本書配以50多張彩色圖片輯錄展覽作品,同時收錄四篇研究文章,分別為手塚美和子的策展概述、印第安納專研學者Susan Elizabeth Ryan的撰文、助力策展人陳嘉賢根據香港語境對印第安納「標誌」類作品的分析以及參展藝術家徐冰對於漢字象形根源的淺談。

 
Online Learning Resources
Downloadable learning resources are now available for primary and secondary school students. Teachers and educators can explore the background of the exhibition and the artist. Classroom activities and discussions are suggested to enhance the gallery experience, and foster conversation among students after visiting the exhibition.
Click here to download:
#LOVELongBest Instagram Photo Contest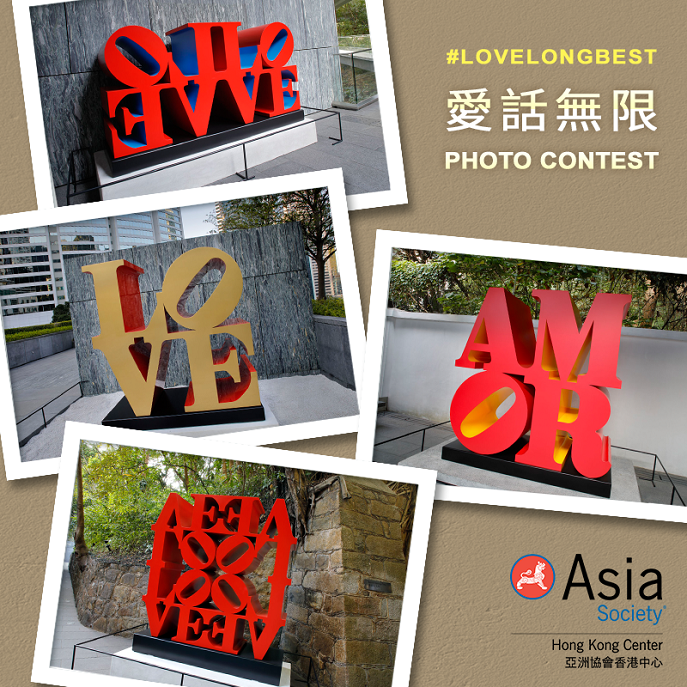 In celebration of Asia Society Hong Kong Center's new exhibition LOVE Long: Robert Indiana and Asia, we are thrilled to announce the #LoveLongBest Instagram Photo Contest!
What does LOVE mean to you? Come visit the exhibition with your loved ones and snap your loveliest shots with the artworks! Simply follow us on Instagram @AsiaSocietyHK, upload your best photo and tag us #LoveLongBest. Seize this opportunity to win a dinner voucher at AMMO valued at $800 and a one-year Asia Society family membership. All participating entries will also have the chance to be featured in our Center's booth at Art Central this year — a unique opportunity to spread the LOVE with your loved ones!
LOVE Long exhibition is made possible through the generous support of Morgan Stanley as platinum sponsor.
Prizes:
1st prize — AMMO dinner voucher ($800) and Asia Society Family Membership (1-year)
2nd prize — AMMO afternoon tea voucher for 2 ($796) and Asia Society Individual Membership (1-year)
3rd prize — AMMO afternoon tea voucher for 2 ($796) and Asia Society Individual Membership (1-year)
Up to five consolation prizes — Two Art Central Saturday entry tickets per winner)
• All winners will also each receive a copy of the LOVE Long exhibition catalogue
Contest period: February 7 to March 14, 2018, 11:59pm
Winners' announcement: March 28, 2018
Terms and Conditions
#LoveLongBest #AsiaSocietyHK #LoveLongHK #RobertIndiana #MSandtheArts #AMMO #AMMOHK #ShareLove #TellMeYourLoveStory
#LOVELongBest 愛話無限攝影比賽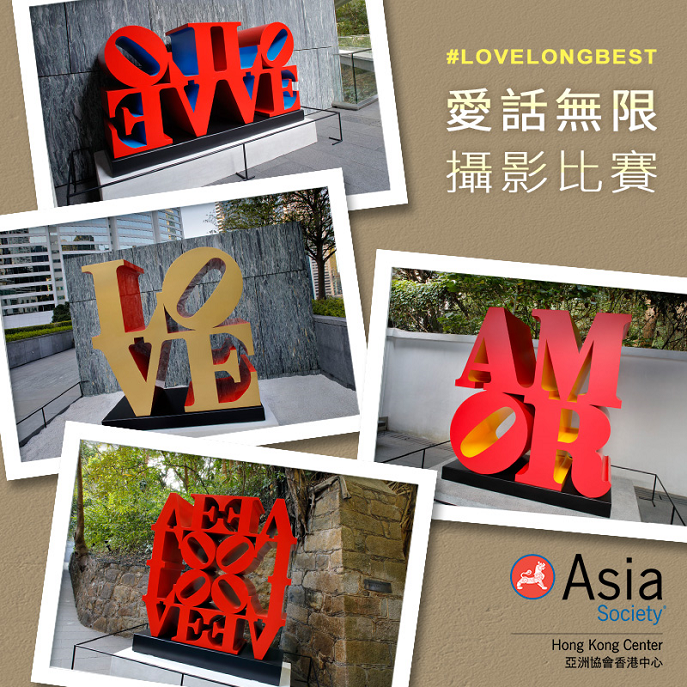 亞洲協會香港中心因應《愛話:羅伯特印第安納與亞洲》展覽,推出【愛話無限攝影比賽】!
「愛」在你心中又是一件怎樣的事?快來跟你所愛一起欣賞《愛話:羅伯特印第安納與亞洲》,為展品和自己拍下愛意綿綿的照片,追蹤 @AsiaSocietyHK 的 Instagram 帳戶 hashtag #lovelongbest,並上傳至你的 Instagram 帳戶,向家人、朋友、伴侶表達愛意。更有機會贏取AMMO晚巿 $800 現金券及亞洲協會家庭會籍一年。所有參賽作品均更有機會展示在亞洲協會香港中心在 Art Central 的單位內 ,快點藉著相片公開說愛你啦!
《愛話:羅伯特‧印第安納與亞洲》承蒙摩根士丹利的白金贊助,得以順利舉行。
獎品:
大奬: AMMO晚巿現金券(總值: $800) 及亞洲協會全年家庭會籍 (1份)
二奬: AMMO下午茶現金券2張(總值: $796) 及亞洲協會全年個人會籍 (1份)
三奬: AMMO下午茶現金券2張(總值: $796) 及亞洲協會全年個人會籍(1名)
最多五名安慰奬: Art Central周六入場券每位得獎者2張
所有得獎者均可獲得《LOVE Long》展覽圖冊乙本
活動日期:2018年2月7日至2018年3月14日晚上11點59分
得獎公佈:2018年3月28日
條款及細則
#LoveLongBest #AsiaSocietyHK #LoveLongHK #RobertIndiana #MSandtheArts #AMMO #AMMOHK #ShareLove #TellMeYourLoveStory #愛話