Family Programs
AsiaFest | Night Market | Family Days | Food Workshops | Asia Society Kids
---
Spring (Break) into Asia!
Celebrate Spring Break at Asia Society! Each day during the week will be devoted to a different Asian spring holiday or festival. You'll have the opportunity to learn about each holiday through storytelling and unique activities. Check back for updates about Spring Break 2019!
Recommended for ages 5-12.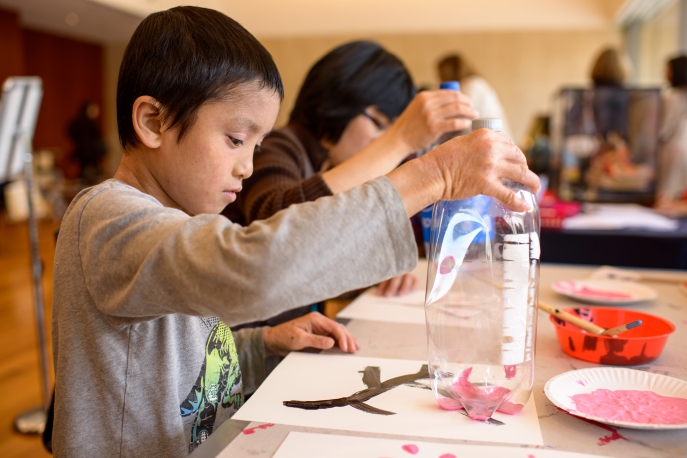 ---
AsiaFest
This free, family-friendly event in May celebrates Asian Pacific American Heritage Month through Asian and fusion cuisine, movement and fitness demonstrations, community performances, creative activities, local vendors, and visual art displays. Please stay tuned for details about our next AsiaFest in May 2019!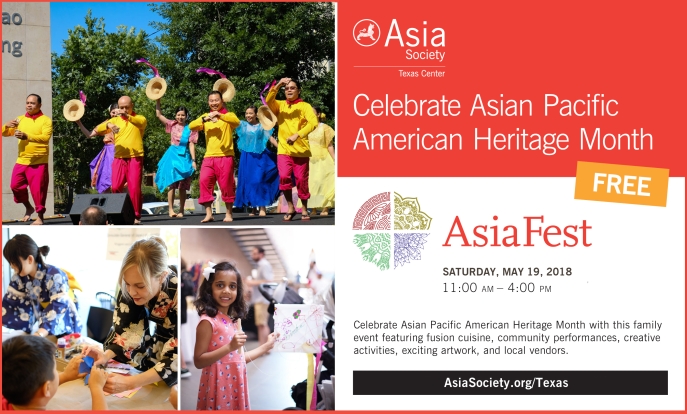 ---
Night Market
This festive, family-friendly night of tasty treats, local vendors, and crafts also features a free look at our exhibitions.
American First National Bank Night Market 2018
Friday, October 19, 6-10 p.m.
NEW this year: Japanese carnival games, a virtual reality station, and a ticketed beer garden featuring special culinary offerings!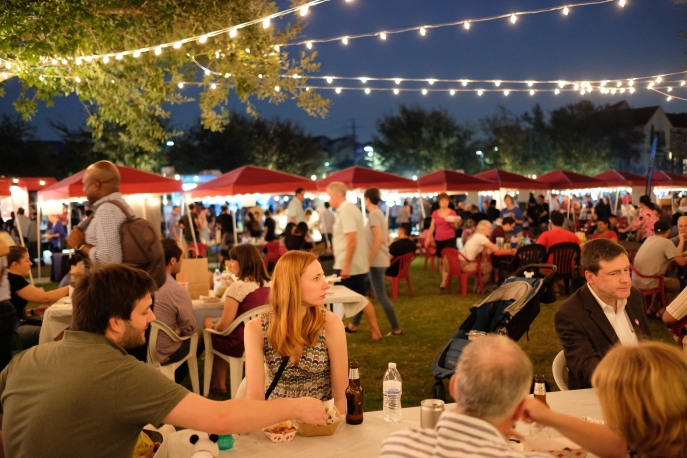 ---
Family Days
Held at Asia Society Texas Center throughout the year, Family Days give audiences of all ages the chance to learn more about Asian culture through demonstrations, exhibits, performances, and storytelling. Families may create crafts together, learn about Asian games and holidays, or have their faces painted with Asian-themed decorations.
Family Day: Strange Tales and Spooky Adventures
Saturday, October 27, 11 a.m. – 3 p.m.
Come with your costumes to this FREE Halloween-themed Family Day event, featuring movies, a haunted ghost trail, a costume contest, trick-or-treating for Asian candy, face-painting, and ticketed workshops to write your own ghost story and design your own yōkai (Japanese monster)!
---
Asian Food Tour Series
Learn about the different cuisines of Asia! Families with children, adults, and lifelong learners are invited to participate in these hands-on food workshops that will explore the history and traditions behind some of the most loved dishes across the continent. At the end, you'll leave with a new set of cooking skills to try out at home. All supplies and ingredients will be provided.
Please stay tuned for updates on our Food Tour Series!
---
Education and outreach programs at Asia Society Texas Center are made possible through generous funding from Karen Chang and the George and Mary Josephine Hamman Foundation. Additional support provided by Friends of Education & Outreach at Asia Society Texas Center.
Program Sponsor