Career Opportunities
Full-Time Employment Opportunity
---
Interested applicants should send their cover letter and resume to the Human Resources Department by email at HRDept@AsiaSociety.org. Please regard your materials as having been received unless your email is bounced back. Only those candidates considered for an interview will be contacted. All personal data collected will be used for recruitment purposes only. Applicants not hearing from us within two months may consider their applications unsuccessful and all personal data supplied will be destroyed within six months.
Asia Society Texas Center is a BBB Accredited Charity.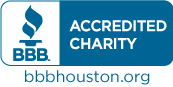 The ExxonMobil Community Summer Jobs Program at Asia Society Texas Center is made possible through the support of ExxonMobil.