Huffington Award Luncheon
VIEW EVENT DETAILS
Schedule | Tickets and Tables | Host Committee | Sponsors | About the Honoree | Related Links
The Huffington Award Luncheon recognizes an individual who has been a major force on the international stage. Named for the Houston oilman and former ambassador who played a leading role in creating Asia Society Texas Center, the Roy M. Huffington Award for Contributions to International Understanding is the highest honor bestowed by the Texas Center.
David W. Leebron, President of Rice University, has been selected for 2015. James A. Baker, III will be serving as Honorary Chair. Douglas L. Foshee will moderate the program. Shern-Min Chow will be the Master of Ceremonies.
Former recipients include President George Bush and First Lady Barbara Bush; Jon Huntsman, Jr.; Rex Tillerson, Mr. and Mrs. George Strake; Robert Mosbacher, Sr.; Mayor Bill White; Washington SyCip; Gordon M. Bethune; and The Honorable Lee Kwan Yew of Singapore.
Schedule
Guests check-in located outside the Ballroom of the Americas on the second floor of Hilton Americas-Houston.
VIP Reception: 10:30 am (only for table sponsors and VIP ticket holders)
Registration: 11:30 am
Luncheon: 12:00 pm
Tickets and Tables
Advance ticketing for this event has closed. Please call Patron Services at 713.496.9901 with any questions.
Host Committee
Chinhui Juhn and Edward R. Allen III
Nancy C. Allen
Hushang Ansary
Charles Butt
Brad W. Corson
Maya Dang
Henrietta H. Fore
Michelle Hebl and David Harvey
Y. Ping Sun and David Leebron
Sue and Lester Smith
Phoebe and Bobby Tudor
Mark Wallace
Allen Zhang
Sponsors
Presenting Sponsor
Hushang Ansary
Founders
Phoebe and Bobby Tudor
Chinhui Juhn and Edward R. Allen III
Texas Monthly, Official Magazine
United Airlines
Benefactors
Nancy C. Allen
Charles Butt
ExxonMobil
Henrietta H. Fore
Michelle Hebl and David Harvey
Sue and Lester Smith
Y. Ping Sun, David Leebron, and Rice University
Texas Children's Hospital
US Global Institute
Allen Zhang
Ambassadors
Sushila and Durga D. Agrawal
Baker Hughes
Laurie and Dr. Milton Boniuk
BP America
Alan Crain
Rania and Jamal Daniel
Anne and Charles W. Duncan
Sarah and Doug Foshee
Martyn Goossen
Lawrence Guffey
Memorial Hermann Health System
Regina J. Rogers
Marc Shapiro
Chairmen
Peggy and Bill Barnett
Muffet Blake
Peter Chang, MD
     Rice University Community of Asian Alumni (RUCAA)
The Honorable Theresa Chang and Dr. Peter Chang
     Chinese Community Center
Deloitte
Era Group Inc.
Jerry and Nanette Finger Foundation
Barbara and David Gibbs
Dr. Laura Ling Hsu
     Rice University Community of Asian Alumni (RUCAA)
The Marek Family Foundation
MasterWord Services
Petrello Family Foundation
Gordon J. Quan
Steven and Sheila Miller Foundation
Texas Capital Bank
Texas Medical Center
The University of Texas, MD Anderson Cancer Center
UTHealth
Vinson and Elkins LLP
Wells Fargo Bank
Yetter Coleman LLP
Michael Zilkha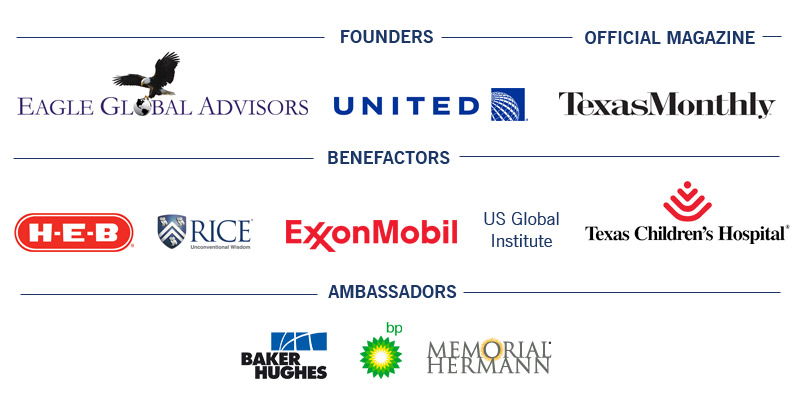 To sponsor this program, please fill out the online form or complete this print form. For questions, please contact Sadhavi Chauhan at SChauhan@AsiaSociety.org or 713.496.9907.
About the Honoree
David W. Leebron has served as Rice University's seventh president since 2004. Prior to taking the helm at Rice, Leebron was dean of Columbia Law School. A native of Philadelphia, he is a graduate of Harvard College and Harvard Law School, where he was elected president of the Law Review in his second year. After graduating in 1979, he served as a law clerk for Judge Shirley Hufstedler on the 9th Circuit Court of Appeals in Los Angeles. He began teaching at the UCLA School of Law in 1980 and at the NYU School of Law in 1983. In 1989, Leebron joined the faculty of Columbia Law School, and in 1996 he was appointed dean and the Lucy G. Moses Professor of Law. Leebron also served as a visiting fellow at the Max Planck Institute for Comparative and International Private Law in Hamburg, Germany, and as the Jean Monnet Visiting Professor of Law at Bielefeld University. He is currently part of the political science faculty at Rice and has authored a textbook on international human rights. In 2006, Leebron was presented with France's Commandeur de l'Ordre national du Mérite, and in 2008, he received an honorary doctorate from Nankai University. In 2010, Leebron and his wife, University Representative Y. Ping Sun, were selected by the Greater Houston Partnership as the city's International Executives of the Year for helping make Houston a center of international business. Leebron and Sun have two children, Daniel and Merissa.
About the Moderator
Douglas L. Foshee is chairman, president and chief executive officer of Sallyport Investments LLC. He is former chairman, president and chief executive officer of El Paso Corporation. Previously he served in executive positions at Halliburton, Nuevo Energy Company, Torch Energy Advisors Inc. and ARCO International Oil and Gas Company. Mr. Foshee earned a master of business administration degree from the Jesse H. Jones Graduate School of Business at Rice University and a bachelor of business administration degree from Texas State University. Mr. Foshee serves on the boards of Cameron International Corporation, Texas Business Hall of Fame Foundation, and NextOp, Inc., a Veterans Organization that he co-founded. He is a member of the Rice University board of trustees, the Council of Overseers for the Jesse H. Jones Graduate School of Business at Rice University, and KIPP's board of trustees. He is a recipient of the 2007 Ellis Island Medal of Honor for his commitment to helping children succeed and his leadership role in the business community. In 2008, Mr. Foshee was named Distinguished Alumni at Texas State University, and in 2012 he was inducted into the Texas Business Hall of Fame.
Related Links
Jon Huntsman Receives Huffington Award
Award Luncheon Honors Exxon Mobil Chairman and CEO
Event Details
Hilton Americas Houston 1600 Lamar St. Houston, TX 77010
General Seating: $150 Members, $200 Nonmembers, VIP Seating: $500 and $1,000, Tables: $2,500 and up.

Add to Calendar
20151104T180000
20151104T193000
UTC
Asia Society: Huffington Award Luncheon
Hilton Americas Houston 1600 Lamar St. Houston, TX 77010
---