Taiwan in the 21st Century
VIEW EVENT DETAILS
Rapid growth and industrialization led to Taiwan's economic ascent in the last half of the 20th century. Now Taiwan boasts the 19th largest economy in the world and leads the region in social freedom. However, issues of identity, relations with China, and a growing wealth gap divide society and politics in Taiwan. What challenges remain? How will Taiwan's economy fare in the 21st century? How are Taiwan's socio-political issues relevant to the global economy?
Four internationally distinguished thought leaders will assemble at Asia Society Texas Center for an in-depth discussion on Taiwan's role in the 21st century:
Dr. Rwei-Ren Wu, Academia Sinica
Professor June Teufel Dreyer, University of Miami
J. Michael Cole, Senior Staff Member, Thinking Taiwan Foundation
Moderator: Dr. Hans Stockton, University of St. Thomas
Schedule
Light Reception: 6:00 pm
Program: 7:00 pm
Program Sponsorship
For information on how your company can sponsor Taiwan in the 21st Century, please click here. For individual sponsorship opportunities, please click here.
Program Sponsors
This program is generously sponsored by Golden Bank, New Era Life Insurance Companies, and the Taiwanese Heritage Society of Houston, with additional support from Asia Chemical Corporation as well as Michael Rudelson & Company. Business and policy programs at Asia Society Texas Center are made possible by support from United Airlines—Official Airline of Asia Society Texas Center. Additional support provided by Friends of Business & Policy at Asia Society Texas Center.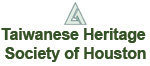 Event Details
1370 Southmore Blvd. Houston, TX 77004 713.496.9901
Buy Tickets
$8 Members, $12 Nonmembers. All sales final.
Bought tickets? Tell your friends on Facebook!
Join the Facebook Event »