Virginia
A new initiative, Global Virginia, will be holding part one of a virtual statewide summit on December 10, 2020. Part two will be held in March 2021. Learn more and join in. 

Virginia has had a long history of grassroots and policy-driven international education initiatives.  Read on.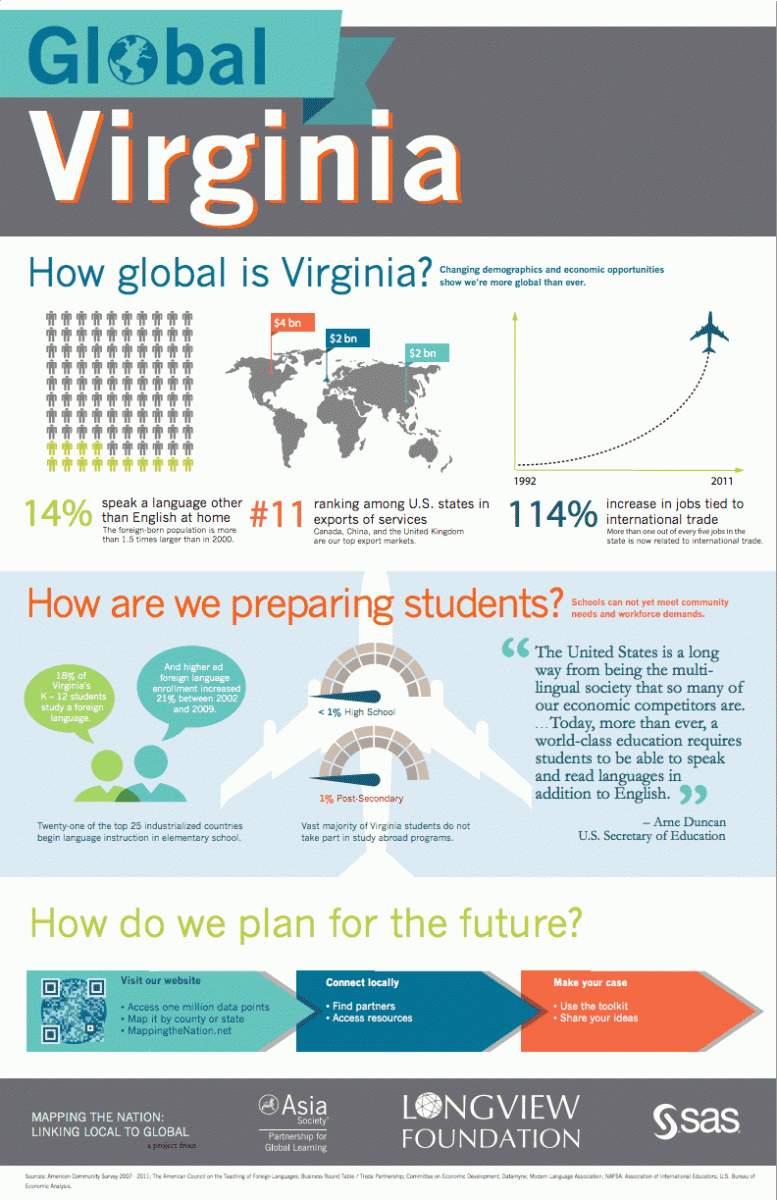 World Languages
Since 1987, the Virginia Department of Education (VDOE) has sponsored Governor's Foreign Language Academies, summer residential programs for Virginia's most motivated and talented foreign language students. As of 2013, more than 7,750 students have completed one of the programs. The current Governor's Summer Residential Foreign Language Academies include full-immersion academies in French, German, and Spanish; a partial-immersion Japanese Academy; and a Latin Academy.
Maggie L. Walker Regional Academic Year Governor's School provides a curriculum with an international focus.
Virginia includes foreign language as a requirement for the Advanced Studies Diploma, with a requirement for students to complete a minimum of 3 credits in a foreign language. The Virginia Standards of Accreditation also encourage local divisions to begin foreign language instruction in elementary school.
Virginia has general Standards of Learning (SOL) for Modern Foreign Languages, as well as separate standards for French, Spanish, German, and Latin.
Teacher Preparation and Professional Development
The VDOE works collaboratively with universities and community organizations to provide professional development (PD) opportunities for foreign language teachers around the Commonwealth. The Foreign Language Association of Virginia (FLAVA) and the VDOE have designed a uniform professional development framework to be used to help guide both the offerings and selection of PD material. The Virginia Foreign Language Professional Development (VA-FLPD) Framework is available on the Web at: http://www.flavaweb.org.
Washington and Lee University, in collaboration with FLAVA and VDOE, provide an annual Foreign Language Teachers Workshop Series (FLTWS). The topics for the FLTWS are chosen based on surveys completed by teachers who complete the Teacher Effectiveness for Language Learning (TELL) Self-Evaluation Inventory. Information about the FLTWS is on the Web at: http://www2.wlu.edu/x33602.xml. Virginia Commonwealth University's School of World Studies is a vibrant community of faculty, students, and practicing scholars actively creating synergies that promote innovative, interdisciplinary ideas. The School of World Studies provides students with the knowledge, skills, and experience necessary for success in a globalized world.
Virginia is home to two Confucius Institutes, at George Mason University and at the College of William and Mary. Each year, the Confucius Institute at Mason offers different teacher training programs for Chinese language teachers from both K-12 private and public schools, institutions of higher education, and Chinese heritage schools. The Institute also provides in-service training for general education teachers in K-12 private and public schools related to Chinese history, language, and culture.
There are 27 universities in Virginia with approved teacher preparation programs in one or more foreign languages.
Workforce Development
The Virginia's Workplace Readiness Skills (WRS) are included in all state-approved career and technical education (CTE) courses. The 21 WRS are required to be taught in the context of the students' career focus. Specifically, WRS #12, "Demonstrate an understanding of workplace organizations, systems, and climates", requires the students' demonstration to include: identifying "big picture" issues (e.g., the organization's structure, culture, policies, and procedures, as well as its role and status within the industry, economy, and community); acknowledging the economic, political, and social relationships that exist at multiple levels (e.g., local, national, international) throughout the world; and explaining one's role in fulfilling the mission of the organization.
Business and industry technical panels review all of the state-approved CTE courses on a 3-5 year cycle and based on industry changes some courses are reviewed annually to ensure CTE courses and programs are relevant and meeting the labor market needs for a competitive global economy.
Afterschool/Extended Learning
The 21st Century Community Learning Centers (Title IV, Part B) program supports the creation of opportunities for academic enrichment during non-school hours for children, particularly students who attend high-poverty and low-performing schools. The program helps students meet state and local standards in core academic subjects, such as reading and mathematics; offers students enrichment activities that complement regular academic programs; and offers literacy and other educational services to the families of participating children. Virginia Department of Education (VDOE) funds, through a competitive process, projects that provide significant expanded learning opportunities for children and youth, and that will assist students to meet or exceed state and local standards in core academic subjects. Additional information is available on the Web at: http://www.doe.virginia.gov/federal_programs/esea/title4/part_b/
Students enrolled in Career and Technical Education (CTE) participate in the student leadership organizations which are an integral part of the curriculum and provide extended learning experiences. For more information about the Career Technical Student Organizations click on the following:    
Virginia FFA
Virginia Future Business Leaders of America–Phi Beta Lambda, Inc. (FBLA-PBL)
Virginia Association of Family, Career and Community Leaders of America (FCCLA)
Future Educators Association (FEA)
Virginia Future Health Professionals
Virginia DECA
Virginia Technology Student Association (VATSA)
Virginia SkillsUSA
Organizations
The VDOE works closely with the cultural affairs departments of the Embassies from a number of countries, as well as with various professional and community organizations. Other groups include:
VIF International Education
Foreign Language Association of Virginia
National Council of State Supervisors for Languages
Virginia Foreign Language Supervisors Association
The Virginia Department of Education (VDOE) and VIF International Education (VIF) have collaborated to establish a Virginia pilot program of the Global Schools Network (GSN) of member schools in Virginia dedicated to best practices in international education, including language learning and global awareness programs, international professional development, use of technology and cultural exchange.
The Virginia Department of Education, in partnership with Microsoft, provides the Microsoft Information Technology (IT) Academy Program for all high schools and CTE centers. The Microsoft IT Academy concept was developed to bridge the gap between education and the real-world by providing students with the IT skills they will need for college and a career in today's technology-centered job market. The Academy offers many unique 21st century education benefits. It provides classroom and online learning, hands-on labs, and access to hundreds of courses, books and cutting-edge resources that fully prepares students to obtain internationally recognized IT industry certifications. Students can enhance their resume with the Microsoft credentials recognized by employers around the world. The teachers and students have access to worldwide contacts for the Microsoft IT Academy Program.
Contact
Dr. Lisa A. Harris, Specialist for Foreign Languages
Virginia Department of Education
P.O. Box 2120
101 N. 14th Street
Richmond, VA 23218-2120
Phone: (804) 225-3666
Fax: (804) 786-1597
lisa.harris@doe.virginia.gov
---
Global Competence Resources
Asia Society Partnership for Global Learning and the Council of Chief State School Officers (CCSSO) partnered to define global competence and the skills and abilities that students need to demonstrate to be globally competent.