Nebraska
Nebraska has both policy and private-sector programs supporting the development of student global competence. Read on.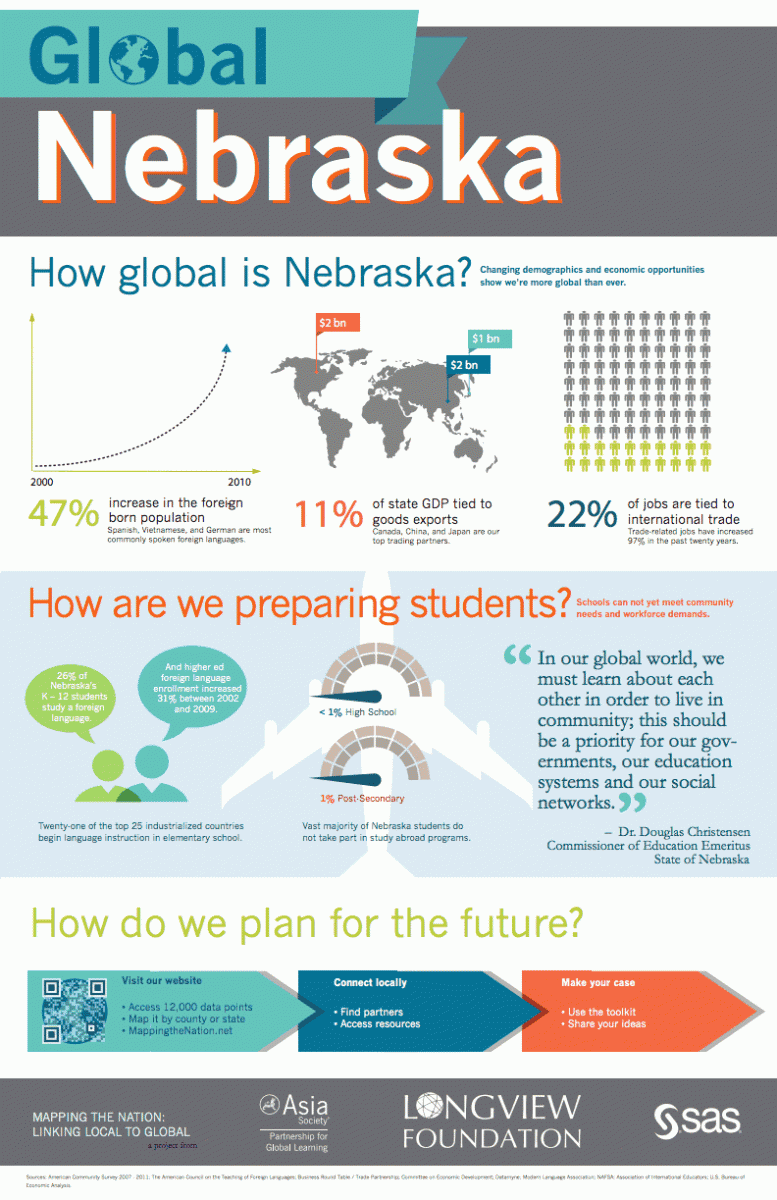 Teacher Preparation and Professional Development
Most colleges and universities in Nebraska provide opportunities for undergraduates to explore other countries and cultures through exchange experiences. Examples can be seen via the study abroad opportunities as listed at the following three state university links:
Many post-secondary institutions have initiated or are considering cultural centers, global education coursework, or entire programs focused on global studies. In 2006, the Creighton University Asia World Center was created to "promote a broad understanding of Asian cultures and an awareness of the important historical and international events happening in the Asian world through cooperative study, research and dialogue." A new online Global Concepts and Business course was offered to teachers and school counselors in 2014 by the University of Nebraska-Kearney. Also in 2014, the Malaika Foundation financed a the "Teacher Engagement in Global Education" summit at Nebraska Wesleyan University to discuss a Master's in Education with a focus on global studies.
Several professional development programs and opportunities are offered for practicing educators. A sampling of these programs and opportunities follows:
Workforce Development
The Nebraska Standards for Career Ready Practice states on page 21, "The career ready individual works productively in teams and demonstrates cultural competency." Standard C, "Social and Cultural Competence" states: gives and earns respect by interacting positively with people of different backgrounds, experiences and beliefs; stays aware of current local, national and global news and issues; and uses awareness of world cultures and languages to effectively communicate with co-workers and customer/clients.
Nebraska organizations encourage future and practicing professionals to develop global competence. Positive Engagement in the Global Community was the theme for the 2014 James E. Smith Midwest Conference on World Affairs at the University of Nebraska at Kearney campus. The conference included several presentations by Nebraska individuals and organizations with extraordinary stories of how their efforts have made a difference all over the world. Attendance consisted of high school and university students, faculty, and area community members. In 2013, the University of Nebraska Medical Center hosted the Midwestern Global health Conference, entitled Global Health is Local Health. Finally, in 2014, the University of Nebraska-Omaha and Mosaic, a non-profit organization in Omaha, partnered to send a small group of young community members to Moshi, Tanzania, for a learning experience that participants coined as being "transformational".
Afterschool/Extended Learning
Nebraska 21st Century Community Learning Center (21st CCLC) programs offer learning opportunities during non-school hours. One area of focus for professional development for individuals who work with students in 21st CCLC programs is global literacy. In order to prepare and support staff as they plan and implement activities intended to teach global literacy, a variety of communication techniques are currently utilized to share information and resources: presentations at conferences designed to inform educators, distribution of selected print resources, a webinar for program leaders, and a website with a compilation of current research, best practices, and resources for easy, ongoing access.
World Languages
The Nebraska Department of Education (NDE) and University of Nebraska at Lincoln (UNL) expanded efforts to increase Chinese language programs in Nebraska. The Nebraska Chinese Acquisition Program (NeCAP) promoted systemic approaches to Chinese learning goals. Notable efforts supported by NeCAP funding include 1) implementation of 2012-2013 Summer Chinese Institutes; 2) curriculum development to support K-12 programs for Chinese; 3) professional development opportunities designed for Chinese teachers; 4) work for meaningful partnerships to advance Chinese; and 5) dissemination of lessons learned about Chinese language. Educational Service Units and the Confucius Institute work collaboratively with UNL and NDE to sustain programs throughout the state of Nebraska. STARTALK programs for students and teachers support and ensure sustainability of the project.  Currently, ten teachers of Chinese are implementing programs at 15 Nebraska schools and impacting 381 elementary, middle, and high school students. In addition to Chinese, World Languages being taught in K-12 schools include French, German, Japanese, Latin, Russian, and Spanish. World Language Education collaborates with the countries of China, Spain and Mexico to provide opportunities for Visiting Teacher Exchanges as well as to sustain both Traditional and Dual Language programming for K-12 World Language Education.
Standards
Nebraska has not adopted the Common Core Language Arts Standards.
The state has several other educational documents relating to International Studies.
In December of 2012, the Nebraska Board of Education passed new Nebraska State Social Studies Standards. These include local, national and international connections.
In 2012, the Nebraska legislature amended one of the state laws regulating social studies to include "(5) In at least two grades of every high school, at least three periods per week shall be devoted to the teaching of civics, during which courses specific attention shall be given to the following matters: . . . (c) The duties of citizenship, including active participation in the improvement of a citizen's community, state, country, and world and the value and practice of civil discourse between opposing interests." I
In August of 2012, the Nebraska Board of Education passed a policy statement for developing global competence. The policy reads: "Global competence is the capacity, knowledge, skills, and disposition to understand, analyze, and act on global opportunities and challenges. The educational objectives for Nebraska students should include global competence as a result of the ever-increasing interaction and interdependence among people, states, and nations. It is imperative for students to have a current and historical knowledge of the great civilizations and cultures of the world. Through a better understanding of themselves and others, with respect for and recognition of the values and heritage of the United States, students will be prepared for successful participation in an interconnected world."
Nebraska's World Language Education Frameworks and Standards includes 1) gain knowledge and understanding of other cultures, 2) develop insight into the nature of language and culture, and 3) participate in multilingual communities at home and around the world.
Resources
The Malaika Foundation
Opportunity Education Foundation
Nebraska International Languages Association
Nebraska State Council for the Social Studies
Geographic Educators of Nebraska
Nebraska 21st Century Community Learning Centers Global Literacy resource page
The World Food Prize
The Confucius Institute
Case Studies
Dean Jacobs: Connecting Peoples to Cultures
Contact
Harris Payne
Director of Social Studies
Nebraska Department of Education
harris.payne@nebraska.gov
Janine Theiler
Director of World Language Education
Nebraska Department of Education
Janine.theiler@nebraska.gov
 
---
Global Competence Resources
Asia Society Partnership for Global Learning and the Council of Chief State School Officers (CCSSO) partnered to define global competence and the skills and abilities that students need to demonstrate to be globally competent.