Kentucky
Kentucky has had a long history of mostly grassroots international education initiatives. It's no surprise: the rapid globalization of the workforce means demand for a global education is going up. Read on.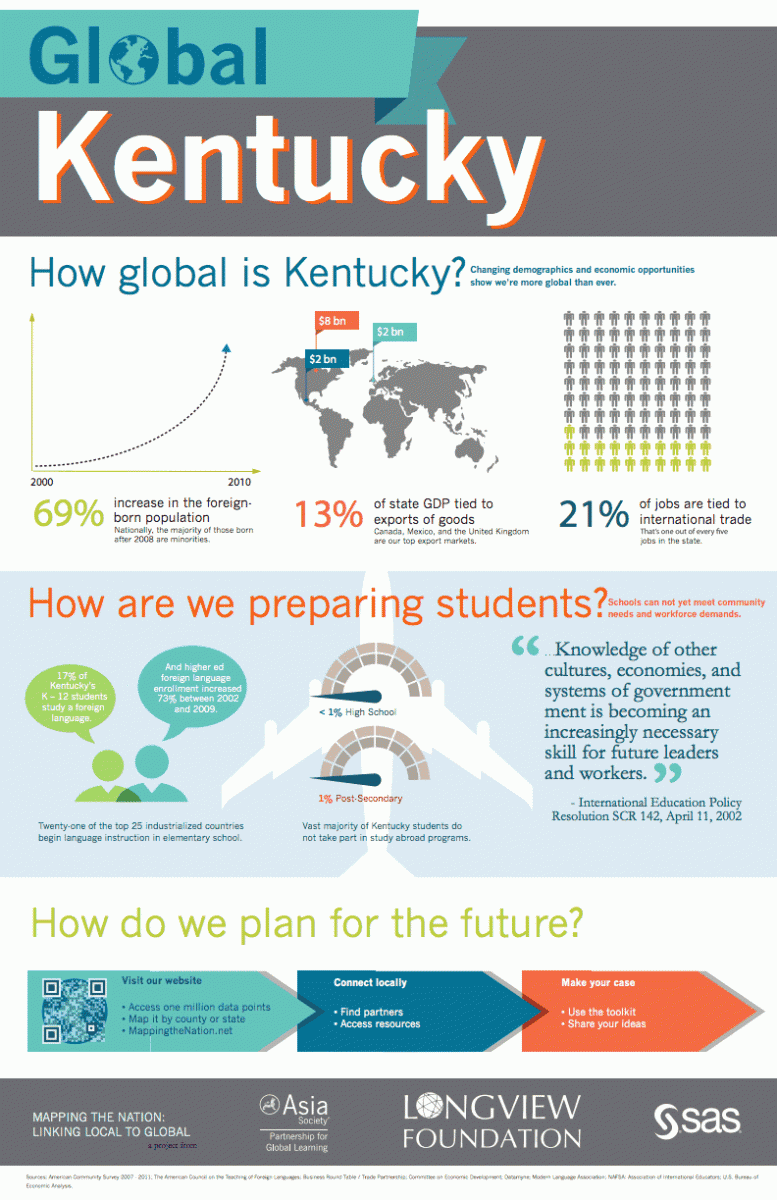 World Languages
Kentucky and South Carolina worked together to develop the nation's first model of a World Language Standards document to include both language and intercultural core competencies. Organized around ACTFL Proficiency Scale levels, intercultural competency benchmarks, learning indicators and learning targets describe what learners can do when they blend their language skills and cultural knowledge to interact in authentic cultural contexts. An online tool for learners to self-assess mastery of both the language and intercultural competencies and upload demonstrated evidence is being developed. The Kentucky standard document can be found at: http://education.ky.gov/curriculum/wlang/Pages/Curriculum-Documents-and… ACTFL has adopted the intercultural Can Do statements as an extension to their new World Readiness Standards for Learning Languages document.
The Kentucky Department of Education (KDE) is piloting a Program Review in World Languages that will eventually be part of school accountability (school report cards). This tool looks at Curriculum & Instruction, Formative & Summative Assessment, and Professional Development and School Leadership. The focus is on accessibility to world language learning for all students K-12, charting learners' progress according to the Kentucky Standard for World Language Proficiency and developing intercultural skills.
In 2013, grants were awarded to 6 schools to plan ($10,000) for or implement ($35,000) new dual language immersion programs. Eighteen $10,000 FLES grants were awarded to schools to improve or initiate elementary school world language programs that integrate the arts.
Teacher Preparation and Professional Development
Regional education cooperatives and school administrators are being provided training on: how to internationalize your school and what global competence and language proficiency look like, in an effort to strengthen the statewide global mindset and build language capacity in schools.
Last year, the state provided over 200 language teachers across the state proficiency training, through one-, two-, and four-day ACTFL workshops, to prepare them for the new standards and the Program Review.
Workforce Development
As a follow-up to last year's Preparing a Global Workforce events, KDE is partnering with the Global Education Advisory Council of Northern Kentucky and Cincinnati and U.S. Bank to increase the number of globally competent graduates, to look at how the EdSteps/Asia Society global competencies framework can be applied and to investigate a Global Scholars diploma.
KDE is engaged with our foreign Ministry of Education partners to develop career and technical exchanges and internships, starting with areas of technical education and early childhood training.
KDE representatives regularly interact with the two Kentucky World Trade Center offices, the Northern Kentucky International Trade Association, and the Kentucky Cabinet for Economic Development and participate in Kentucky World Trade Day.
Resources
University of Kentucky International Studies
The Crane House, an Asian Culture Center
Kentucky World Trade Center
KY Cabinet for Economic Development
Northern Kentucky International Trade Association
The Confucius Institute - Western Kentucky University
Western Kentucky University Flagship
University of Kentucky Confucius Institute
World Affairs Council of Kentucky & Southern Indiana
Contact
Jacqueline Van Houten
Kentucky Department of Education
Jacqueline.vanhouten@education.ky.gov
---
Global Competence Resources
Asia Society Partnership for Global Learning and the Council of Chief State School Officers (CCSSO) partnered to define global competence and the skills and abilities that students need to demonstrate to be globally competent.