Utah
The focus for international education in Utah centers on the growth and cultivation of world language proficiency; the development of globally competent educators and students; the building of alliances with partners in institutions of higher education and in the for-profit and non-profit sectors; and the sharing of information and resources through institutionalized coordination. Read on.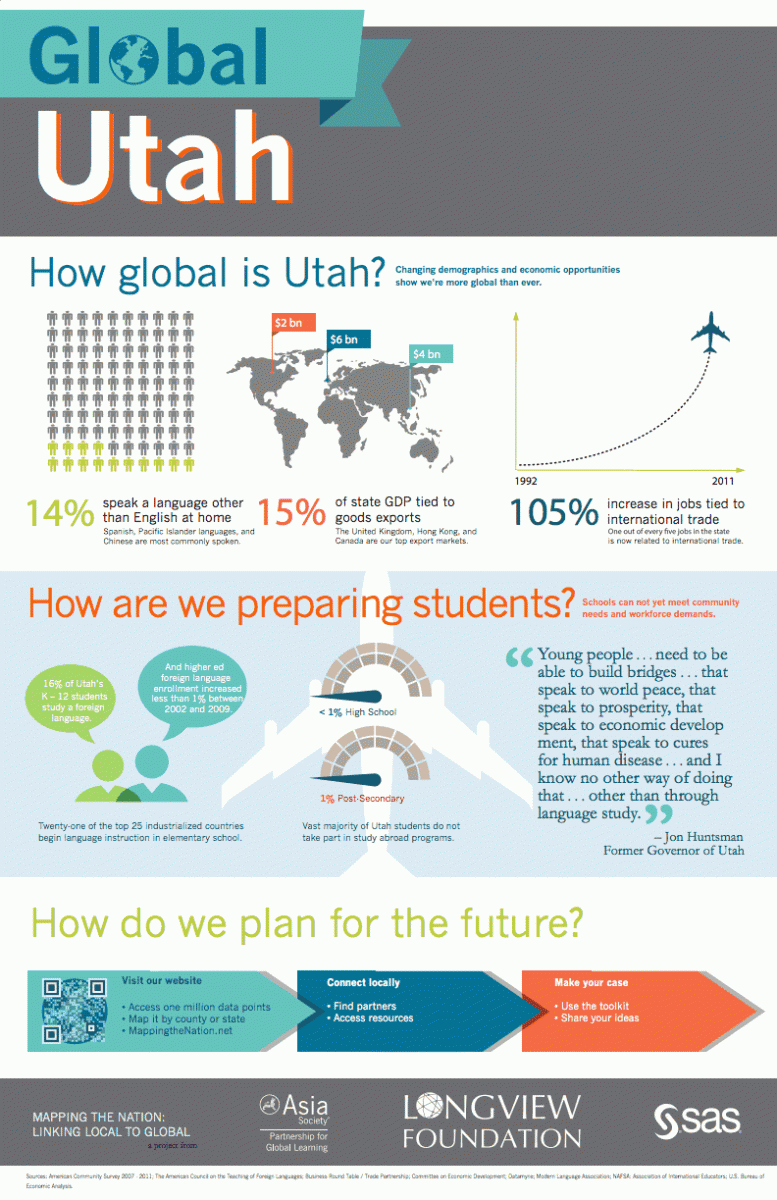 Afterschool/Extended Learning
There are no specific programs in afterschool and extended learning that focus on international education. Clearly this is an area of possibility, and one where Utah can learn from the examples of other states. There are some international clubs, volunteer international service groups and other interest groups that meet, but data has yet to be collected on their activities and their prevalence.
World Languages
Utah continues to grow its dual language immersion programs. There are now over 118 schools that have 50/50 dual language immersion programs. There are now programs in Chinese, French, German, Portugese, and Spanish. More details about the program can be found at the Utah DLI page: http://www.utahdli.org/index.html
Efforts are currently underway to require two years of world language study or a demonstration of world language proficiency as a condition of high school graduation. World language has not been a high school graduation requirement, but we are hoping to codify this requirements in order to incentivize the continuation of the language development that has been so successful in the elementary grades.
Teacher Preparation and Professional Development
Teacher preparation programs continue to innovate in terms of international education. An example of this innovation can be found at Utah Valley University (UVU), where teacher candidates can complete their student teaching in international settings including Tonga, China, Switzerland, with a plan to expand to Chile. UVU selects these sites either to support Dual Language Immersion or to target a local student demographic.
One highlight of professional development for Utah teachers has been the development of an online course specifically devoted to teaching global competency and the strategies teachers can use to incorporate international education into their classrooms. The course is eight weeks long and incorporates readings, web research, video, and discussion boards into the course outline.
Another highlight has been the development of an annual study of Europe offered for Utah teachers by Brigham Young University's Center for the Study of Europe. Last year over 30 teachers studied the education systems in Finland and Sweden, and this year more teachers will visit Spain to learn more about language, culture, and possibilities for partnerships with sister schools.
Workforce Development
The state of Utah has devoted extensive resources and attention to the development of competitive and skilled workers, particularly with its attention to the STEM fields. The STEM Action Center is charged with promoting STEM through best practices in education to ensure connection with industry and support Utah's long-term economic prosperity, with an emphasis on the global marketplace.
International Education
We have developed a web page that we will continue to populate with more content: http://www.uen.org/international_ed/contact.htm
We have begun to grow our social media presence with a Facebook page: https://www.facebook.com/UtahIE
Organizations
Utah Council for Citizen Diplomacy
Salt Lake Education Foundation
Contact
Robert Austin
Specialist
International Licensing and Initiatives, K-12 Social Studies, Professional Development
Utah State Office of Education
250 East 500 South
P.O. Box 144200
Salt Lake City, UT 84114
801-538-7575   Fax: 801-538-7973
Robert.austin@schools.utah.gov
---
Global Competence Resources
Asia Society Partnership for Global Learning and the Council of Chief State School Officers (CCSSO) partnered to define global competence and the skills and abilities that students need to demonstrate to be globally competent.