Connecticut
University and non-profit organizations mobilized to offer teachers professional development coursework, conduct research, and more. Read on.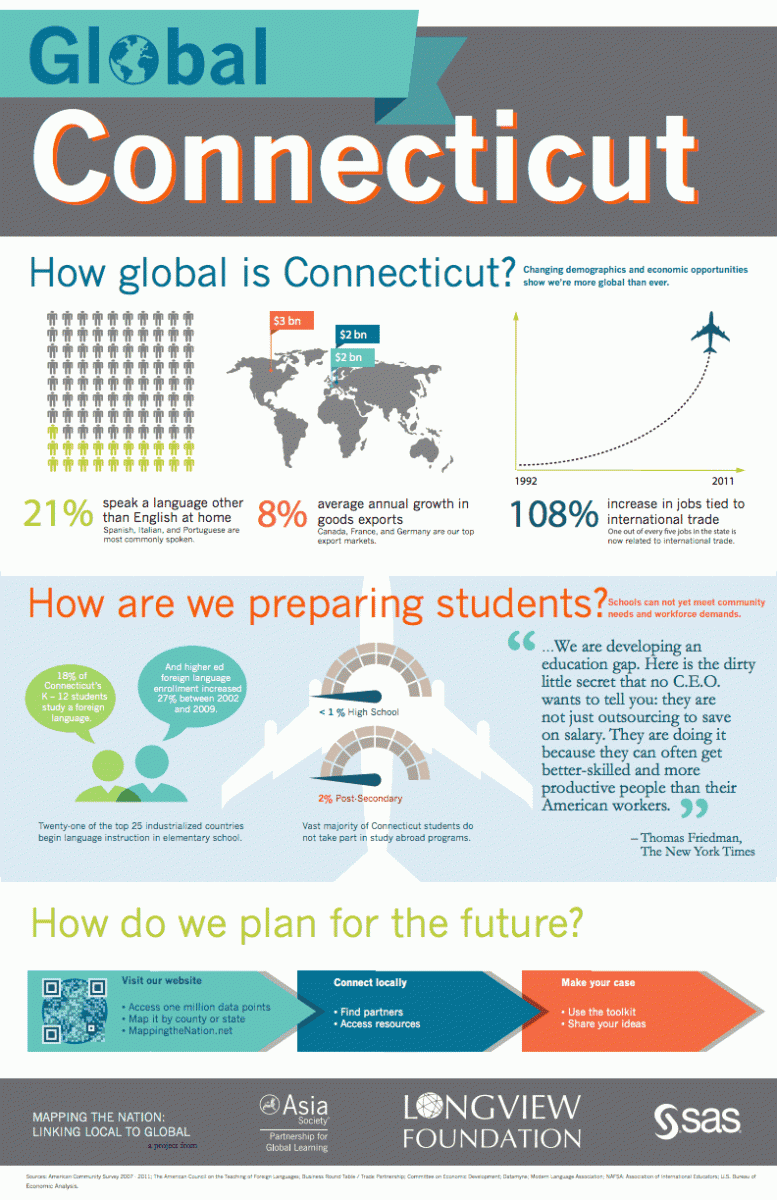 Afterschool/Extended Learning
The Connecticut After School Network continues to raise awareness of globally focused programs in after school and expanded learning settings through messaging, marketing, and offering workshops on global learning through various professional development opportunities. Legislators, governor's office staff, and the State Department of Education staff integrated global learning concepts into the Supporting Student Success (S3) report and planning process, which aims to improve existing programs pertaining to state and 21st CCLC funded sites. Future efforts include developing a globally focused comparison chart of program activities and highlighting area programs that can incorporate global learning into summer learning programs. Also, a professional development component will be offered at the Connecticut After School Network Spring Conference in 2014.
The Connecticut Geographic Alliance (CGA) delivered National Geographic Giant maps to schools in New Haven and New London and held its Family Geography Challenge at schools in Middletown and Windsor. Presentations and materials on fresh water were made with the League of Women Voters. Seventeen Geography lessons for Connecticut teachers and students were developed for the Newspapers/Media in Education program of the Hartford Courant. Lessons were put to audio for sight-impaired students.
World Languages
The Education Connection conducted a survey (2012): Status Report on World Language Instruction in CT Public Schools. 147 respondents out of 168 total districts responded. The survey showed that taken collectively, Connecticut schools offer many languages but the offerings are unequal and resource constrained: 137 offer world language; 19 offer five to nine languages. Spanish dominates. Chinese leads in growth and new initiatives as it has been added in 15 districts over the past three years and 16 more plan to add in the next two years. Seven districts are Confucius Classrooms and two districts run STARTALK summer camps.
Teacher Preparation and Professional Development
The University of New Haven (UNH) was awarded the Fulbright-Hays Group Projects Abroad (GPA) grant for a Short Term Seminar Project entitled "Global Classrooms and Cultural Connections for the 21st Century Learners: Morocco's Bountiful Perspectives". This program of study was offered to K-12 pre-service and practicing educators and took place in Morocco in 2014.
The World Affairs Council of Connecticut and its partner, the CT Council for the Social Studies offered two "hot topic" professional development programs for pre-service and practicing educators on cyberterrorism and understanding today's Muslim societies.
The World Affairs Council of Connecticut and its partners (CT Council for the Social Studies, The Stowe Center, and LOVE 146) held a workshop for educators and community members, "A Look at Modern Day Slavery," focused on human trafficking on a global scale.
 
The World Affairs Center and partners are in the process of creating professional development workshops focused on world geographic regions. PIER (Programs in International Educational Resources) also conducts summer workshops for teachers (at Yale).
Workforce Development
The Connecticut Association of Public School Superintendents' International Education Committee is developing a Global Competency Certificate for high school students.
Standards
There are new Connecticut Social Studies frameworks.  They flesh out the need for students to be citizens of Connecticut, citizens of the United States, and citizens of the world.  There will be a companion document that will explore the concept of "citizenship" at all levels in great detail.  In addition, workshops will be conducted in summer of 2015 for teachers: there will be a component that discusses how to be active citizens in all three of the categories listed above.
Resources
World Affairs Council of Connecticut
Southeast Connecticut World Affairs Council
World Affairs Council of Connecticut (Hartford)
World Affairs Forum (Stamford)
International Education Resources in Connecticut
Contact
Eve Pech, Director of Educational Programs
World Affairs Council of Connecticut
epech@ctwac.org
---
Global Competence Resources
Asia Society Partnership for Global Learning and the Council of Chief State School Officers (CCSSO) partnered to define global competence and the skills and abilities that students need to demonstrate to be globally competent.