New York
New York City is one of the world's great hubs, and many global learning opportunities center around the city. Read on.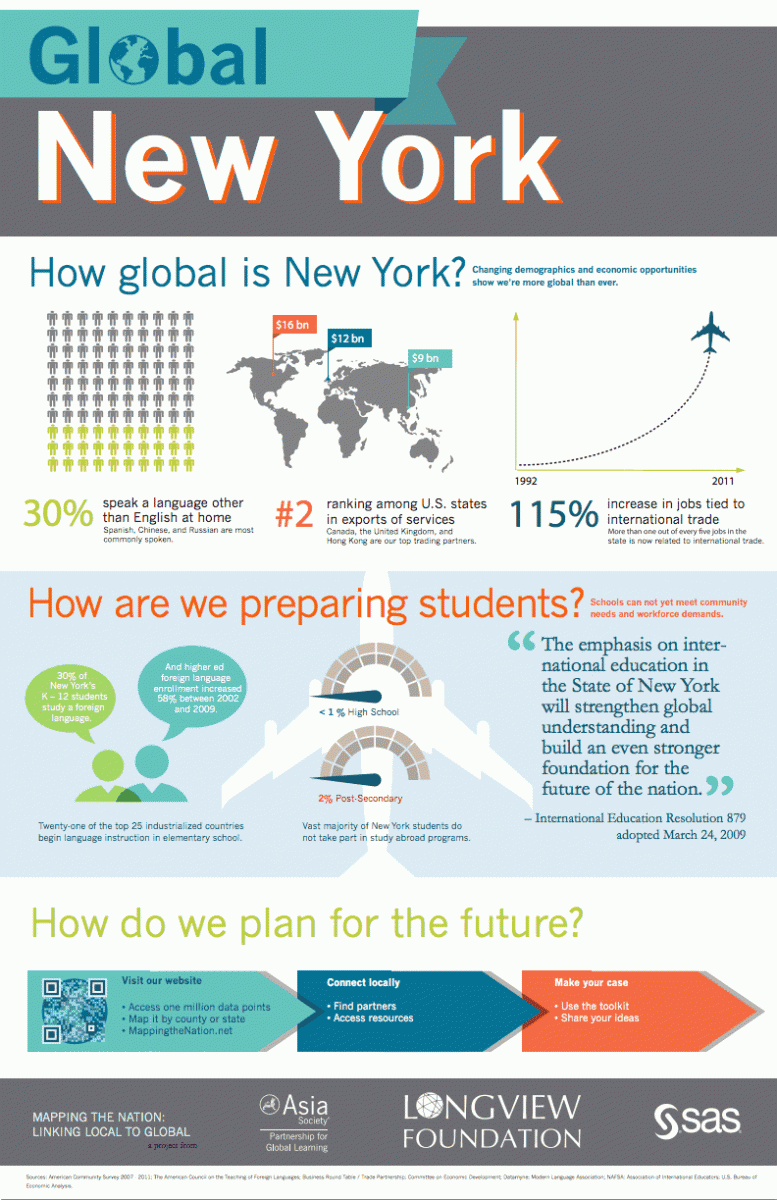 International Education
New York State ranked first in the Northeast region and second in the nation in attracting international students to our colleges and universities, according to the"Open Doors Report" for 2013. The Open Doors Report, published annually by the Institute of International Education (IIE) with support from the US Department of State's Bureau of Educational and Cultural Affairs, indicated that New York State welcomed 88,219 international students in 2012-13, an impressive increase of 7.1 percent from the previous year. International students contributed over $2.8 billion to New York State's economy, and with their families, created or supported 35,211 net jobs. The report was released on the heels of Governor Cuomo's designation of International Education Week for New York State, November 18-22, 2013, by Executive Proclamation.
Colleges and universities are key drivers of economic growth and opportunity in many communities within New York State, with at least 160 institutions, public and private, from every region of New York, benefiting from international student enrollment. Three New York State universities—New York University, Columbia University and University at Buffalo-SUNY, rank in the top 20 of U.S. institutions. This impressive level matches first ranked California, and exceeds all other states. Other top ranked universities in New York State for international students include Cornell University and Stony Brook University-SUNY. The leading five countries sending the most students to New York State include (first) China, (second) India, (third) South Korea, (fourth) Canada and (fifth), Taiwan.
Attracting international students directly benefits New York State's educational, business and tourism economy and international students help make our communities more dynamic, diverse and globally competitive. New York's success in attracting the best and brightest from overseas will continue to grow thanks to the creation of innovative university-based high technology hubs supported by the Governor's START-UP incentive program and key initiatives such as Study New York. Launched in 2009, the Study NY consortium was founded through the collective efforts of representatives from the New York State Governor's Office, Empire State Development, Commission of Independent Colleges and Universities, State University of New York, City University of New York, and the U.S. Department of Commerce to promote New York as the destination of choice for students from around.
Recent examples of Study New York promotional efforts in the U.S. and overseas include: providing a gold sponsorship for the July 2013 20th anniversary Overseas Association for College Admission Counseling conference at Marist College, thereby reaching over 1,000 university/college admissions professionals from over 80 countries around the world and showcasing Hudson Valley tourism; convening Virtual Trade Fairs; supporting promotional booth displays at NAFSA conferences; hosting foreign delegations; participating in EducationUSA events and presenting to educational audiences overseas. The consortium's website, www.studynewyork.us, continues to improve and evolve for effective outreach.
Afterschool/Extended Learning
There are several programs in New York City that have a global focus during out-of-school time. Many of these programs incorporate video exchanges to introduce students to other cultures. Others involve curriculum that culminates in trips abroad. Concern US-Global Concerns Classroom, Global Kids, One To World's Global Classroom, and Reach The World are some organizations that include expanded learning in their global education work. Additionally, New York State Afterschool Network has focused on global learning and helped create toolkits and curriculum around global learning for the field. In New York City, the Partnership for After School Education has also been involved in this work and has offered professional development opportunities to afterschool providers around global learning.
Teacher Preparation and Professional Development
The Global Education Coalition of New York City GEC-NYC has partnered with Bank Street College to offer Global Competency professional development for teachers. This training has been piloted once, and is expected to be offered again during the summer of 2014. Additionally, the GEC-NYC offers an annual Global Education Open House to introduce teachers in New York City to organizations and resources that they may utilize in implementing global learning. UClass has also offered a Global Education Forum for teachers.
Many individual organizations also offer professional development at conferences around global learning as well. These organizations include TeachUNICEF, AFS-USA, Tanenbaum, and Global Concerns Classroom. Some of these organizations also work with the Department of Education to offer teacher training.
Common Core
The professional development workshop offered at Bank Street in Fall 2013 included a break out session on the integration of global learning and the Common Core. This session included discussion around Common Core requirements that include global learning and discussion around how to incorporate these into the classroom. This was the first time that this session has been offered.
Individual organizations within the GEC-NYC have also ensured that their own curriculum has been aligned to the Common Core.
List organizations in the state that are involved in the work and their URL so people can connect with them for more information/resources/tools:
The following organizations are members of the GEC-NYC:
AFS-USA Intercultural Programs
American Jewish World Services
Avenues: The World School
Center for Global Education at Asia Society
Concern US-Global Concerns Classroom
Girl Scouts
Global Kids
Global Nomads Group
International Debate Education Association IDEA
iEARN-USA
InterExchange
Intercultural Virtual Exchange of Classroom Activities IVECA
New York State After School Network
One To World's Global Classroom
Partnership for After School Education
Reach The World
Tanenbaum Center for Interreligious Understanding
TeachUNICEF
uClass
World Savvy
Case Studies
A Long Island District Integrating Global Competence
Global Concerns Classroom annual student summit workshops
Herricks Union Free School District Goes Global
---
Global Competence Resources
The Center for Global Education at Asia Society and the Council of Chief State School Officers (CCSSO) partnered to define global competence and the skills and abilities that students need to demonstrate to be globally competent.