North Carolina
North Carolina has had a long history of policy-driven and grassroots international education initiatives. Its university system is a central resource for statewide activities. Read on.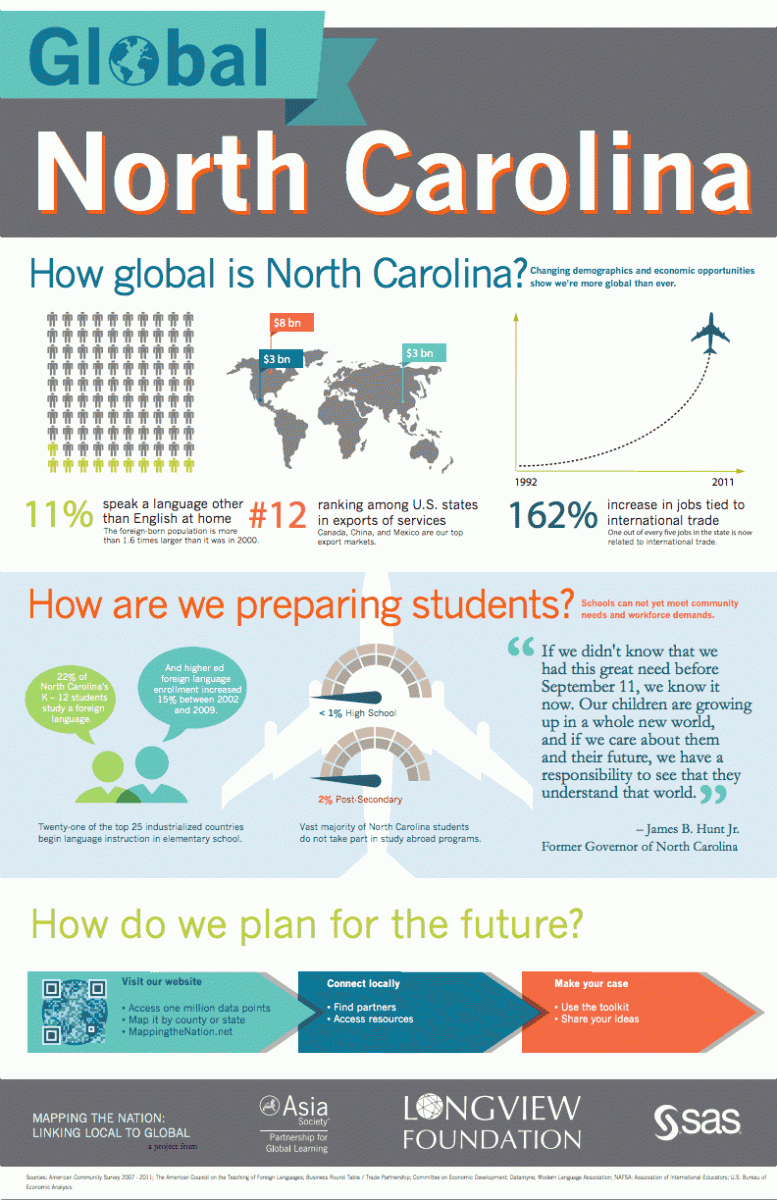 World Languages
There are 15 languages offered in North Carolina's K-12 public schools: American Sign Language, Arabic, Cherokee, French, German, Greek (Ancient and Modern), Hebrew, Hindi, Italian, Japanese, Latin, Mandarin, Russian, and Spanish.  Statewide enrollment data indicates that approximately 11% of K-8 students are enrolled annually in a World Language program, with 9% in proficiency-building courses and 2% in exploratory courses. At the high school level, 50% of students are studying a language in a given year. In addition, there are over 90 dual language/immersion programs in North Carolina using seven target languages (Cherokee, French, German, Greek, Japanese, Mandarin, and Spanish).
Commitment two of the NC State Board of Education (SBE) Task Force on Global Education Report (January 2013) is dedicated to language programs and teacher development. Among those is the expansion of K-12 dual language/immersion programs.  Additional information on the SBE Commitments can be located at: www.ncpublicschools.org/globaled/actions/  and on NC dual language/immersion programs and resources at http://bit.ly/NCDLIprograms. 
Chinese has become a strategic language of focus for many school systems in North Carolina. The Confucius Institute at North Carolina State University (NCSU) provides Chinese Culture as well as Chinse Language courses to NCSU students and the public in general. Additionally, more than 8,500 North Carolina K-12 students are studying Mandarin through Go Global NC's (formerly the Center for International Understanding) 33 Confucius Classrooms. Go Global NC's guest teachers are licensed by the State of North Carolina and are employees of the districts in which they work. In partnership with Hanban, College Board, and the N.C. Department of Public Instruction, Go Global NC recruits, places, and supports Chinese Guest Teachers, offering classroom observation and professional development in areas such a classroom management. Go Global NC accounts for approximately 10% of Confucius Classrooms in the United States, and about 5% worldwide.
For more information: www.goglobalnc.org
Teacher Preparation and Professional Development
The University of North Carolina member campuses and private campuses across the state are working together via a Longview Foundation grant to internationalize teacher education. The work centers on sharing best practices related to teacher candidate global experiential learning, including global student teaching opportunities and case studies of in-service teachers who have had global experiences.
In addition, collaboration is underway to design professional development for future school administrators and pre-service teachers, which focuses on integrating global topics, travel overseas, and connecting that learning to curriculum integration.
Commitment 1 of the NC State Board of Education (SBE) Task Force on Global Education Report (January 2013) is dedicated to teacher and administrator professional development and ensuring that there are professional development and instructional resources available to meet that commitment. The Global Educator Digital Badge for Teachers policy is the first policy action taken by the SBE in October 2014. Additional information on this policy and the SBE Commitments can be located at: www.ncpublicschools.org/globaled/actions/

Workforce Development
Work & World Ready
Entering the heart of the 21st century, North Carolina's workforce must be nimble, savvy, and globally aware if the state is going to continue to prosper and be a national and global economic powerhouse. NC has already developed into an internationally diverse economy and society:
207,000 NC workers are employed by foreign –owned firms
309 languages are spoken in the homes of public school students
$27 billion in NC produced goods are exported by 9,000 companies annually
1 in 6 NC manufacturing jobs depends on exports
NC ranks 3rd in the number of jobs created through international direct investment
Recognizing this, NC's Board of Education and Department of Public Instruction are committed to:
Producing high school graduates who are prepared and ready to embrace the challenges of a global economy.
Providing teachers and administrators the instructional support necessary to meet the global educational objectives.
Taking a comprehensive approach to an international education that encompasses language, economy, history and culture.
Building partnerships between educators at all levels, business and industry, cultural and civic organizations, to take education beyond the classroom.
Providing resources to build a successful and sustainable global effort that becomes "education" in North Carolina.
Standards
For NC promoting global competence throughout the entire North Carolina Standard Course of Study is a priority, which includes 14 content areas.

Efforts in Community Colleges
The North Carolina Global Distinction Initiative (NCGDI) is a partnership between North Carolina community colleges and World View at UNC at Chapel Hill to globalize the curriculum and increase faculty and student involvement in global issues and dialogue at participating colleges. The initiative's goals include enabling students to develop global competencies and skills for the 21st century workforce and developing a state and national model for globalizing colleges and curriculum. Students in the Global Distinction program must complete at least 15 hours of globally intensive coursework, participate in intercultural activities and experiences abroad or domestically, and give a capstone presentation about their global learning prior to graduation.
Resources
NC Department of Public Instruction
The NCDPI has established a partnership with the following global education partners, which have been working with NC public schools for fifteen plus years globalizing the curriculum through professional development opportunities and visiting faculty from other countries.
North Carolina Association of International Educators
World Affairs Council of Charlotte
World Affairs Council of E. North Carolina (Greenville)
World Affairs Council of W. North Carolina (Asheville)
---
Global Competence Resources
Asia Society Partnership for Global Learning and the Council of Chief State School Officers (CCSSO) partnered to define global competence and the skills and abilities that students need to demonstrate to be globally competent.