Minnesota
University and non-profit organizations drive strong global learning programs in the Land of 10,000 Lakes. Read on.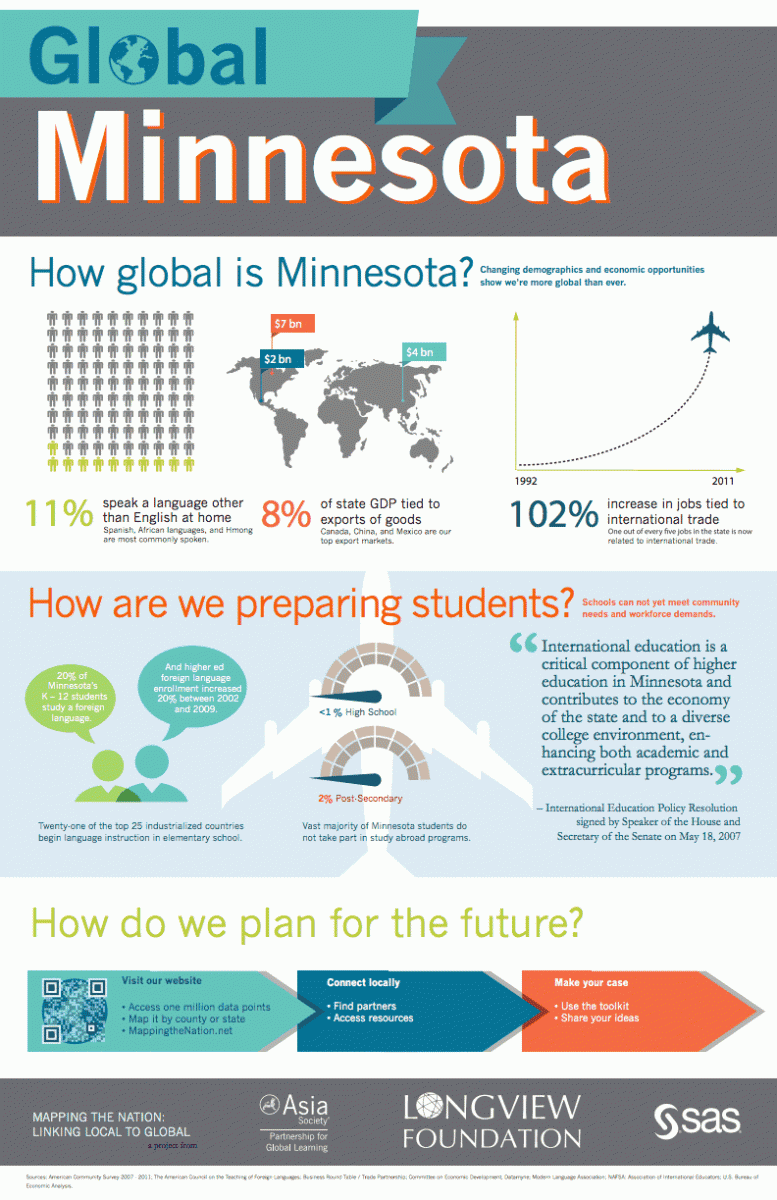 World Languages
World Languages are quite strong in the state of Minnesota and the community is involved in the global education movement in a big way. Concordia Language Villages has been at the forefront of this movement for many years. In 2010 the Minnesota Council on Teaching Language and Culture had World Savvy's Executive Director keynote their annual conference, demonstrating a commitment to connecting world languages and global competency. Immersion schools are also growing in popularity in Minnesota.
Teacher Preparation and Professional Development
There is still a long way to go in embedding global competency in teacher preparation in Minnesota, however there is an open conversation about the importance of doing so. The Minnesota Associate of Colleges of Teacher Education invited members of the Global Learning Advisory Board to their meeting in the Spring of 2013 to discuss where global education was already happening in teacher ed in the state and where there were gaps.
Afterschool/Extended Learning
There is an extensive afterschool/extended learning community in Minnesota with a taskforce committed to connecting afterschool with global learning. This task force is led by Youthprise and the Department of Education, with membership from agencies including World Savvy, Youththrive/PeaceJam, and many others.
Workforce Development
The Global Learning Advisory Board worked to identify a number of key business partners and groups who saw the connection between global competence and workforce development. Some of the groups that were open to the conversation included the Governor's Workforce Development Council, the Department of Employment and Economic Development DEED, the MSP Export Initiative, among others.
Common Core
The Global Learning Advisory council looked at Common Core and other state standards, particularly the new MN state social studies standards, because the Common Core is less of a strong movement in the state of Minnesota.
Resources
World Savvy
Minnesota International Center
Youththrive/PeaceJam
Concordia Language Villages
University of Minnesota Institute for Global Studies
Case Studies
Contacts
Charmagne Campbell-Patton
Program Manager
World Savvy
1304 University Avenue NE, Suite 307
Minneapolis, MN 55413
612-564-6938
charmagne@worldsavvy.org
Dr. Kathy Johnson
Associate Professor
Department of Special Education
College of Education
St. Cloud State University
St. Cloud, MN 56301
320-308-3268
kejohnson@stcloudstate.edu
Rose Chu
Formerly Assistant Commissioner
Minnesota Department of Education
Currently Interim Dean
The School of Urban Education
1450 Energy Park Drive
Saint Paul, MN 55108
rose.chu@metrostate.edu
---
Global Competence Resources
Asia Society Partnership for Global Learning and the Council of Chief State School Officers (CCSSO) partnered to define global competence and the skills and abilities that students need to demonstrate to be globally competent.