Washington, D.C.
Rich with embassies, museums, think tanks, and other resources, DC's schools are in a prime spot to leverage school-community partnerships. See what's happening in the nation's capital. Read on.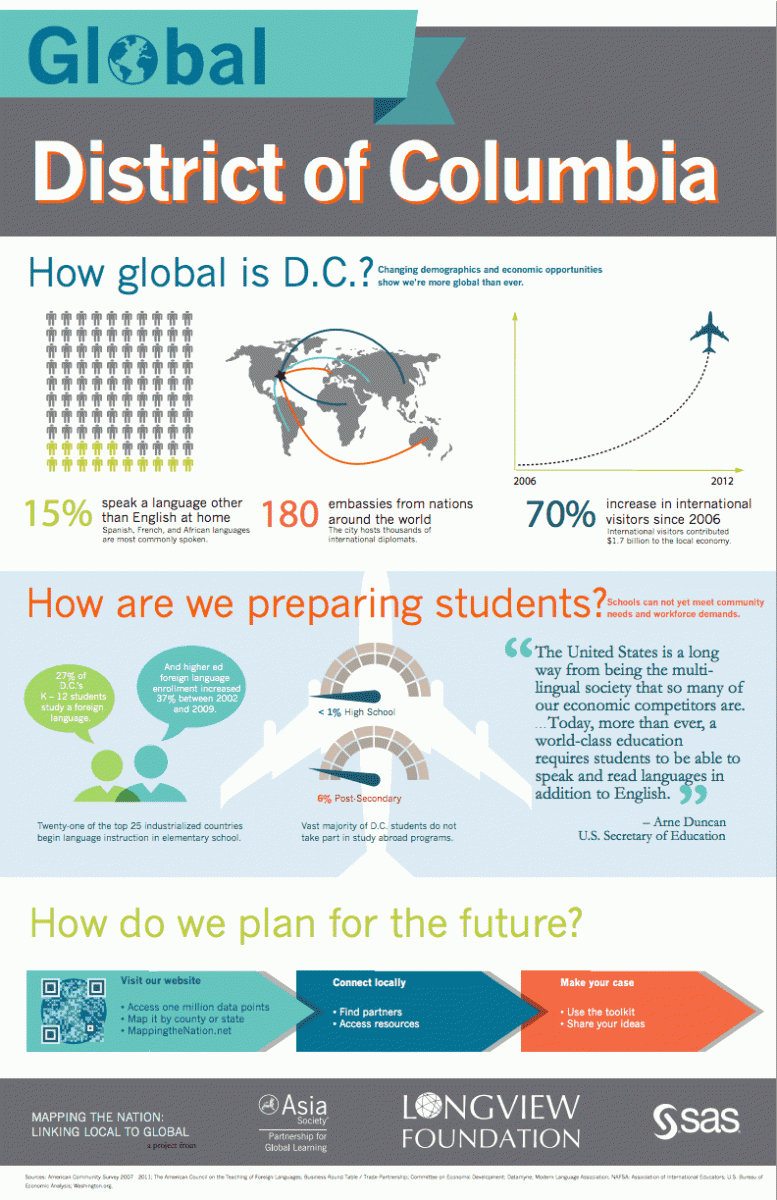 Background
DC Public Schools (DCPS) currently serves 55% of the public school student population in the District of Columbia; the remaining 45% attend public charter schools. PK-12 schools in Washington, DC benefit enormously from their proximity to a unique concentration of international organizations, embassies, US State Department and other internationally focused government agencies, NGOs, think tanks, cultural institutions, and universities with strong international studies programs. Much of the work to teach and expose DC students is driven through short and long-term partnerships with these community-based entities, and by educators at the local school level. In fall 2014, DCPS established a Global Education team, as part of the Office of Teaching and Learning, to increase equity, access, and rigor of global programs, world languages, and international travel.

An increasing number of DC public schools (DCPS and charter) have established global education and language programs. Every DCPS site, Pre-K through high school, now offers at least one of the seven World Languages taught within DCPS. Several years ago DCPS supported the development of three World Cultures Catalyst Schools (Columbia Heights Education Campus, Eaton ES, Payne ES). One DCPS high school, Wilson SHS, has a long-established academy, the Wilson international Studies Program (WISP). In recent years, other high schools have worked to incorporate global learning and enrichment activities that advance student global competence. School Without Walls, for example, an application high school located near the State Department, has developed extensive global offerings and study abroad opportunities for its students. Roosevelt SHS, now undergoing modernization, will re-open as a global studies school in August 2016, alongside a global studies middle school, the newly reopend MacFarland Middle School. Both sites will offer a global focus and dual language track. On the other side of town, in Southeast DC, Ballou SHS's growing International Program offers international educational travel opportunities for 11th & 12th graders. In the charter school sector, the new Paul International High School, an expansion of Paul PCS, has joined the Asia Society's International Studies Schools Network. Other new charter secondary schools with intensive language and global focus - DC International (grades 6-12) and Washington Global (grades 6-8) – have recently been established. In the 2016-2017 school year, DCPS will offer Dual Language programs at 11 school sites.
 
Afterschool/Extended Learning
Since 1974, DCPS, in partnership with Washington Performing Arts and the diplomatic community, has offered the award-winning Embassy Adoption Program (EAP), which matches embassies with 5th and 6th grade classrooms for a year-long program of diplomatic visits and cross-curricular study of the adopted country's culture, history, and politics. Over 50,000 DC students have been served since the program's founding. As part of the EAP's 40th anniversary, DCPS and Washington Performing Arts have launched a strategic plan to double the number of participating classrooms and embassies from 50 to 100 by 2017. Schools throughout the city benefit from enriched global learning in the classroom through community partners, such as the Pulitzer Center on Crisis Reporting, US Institute of Peace, Kids Euro Festival, and The US Diplomacy Center. Many international visitors, representing a range of professions and interests from all over the world, regularly visit DC schools and administrative offices. Global education afterschool programs include LearnServe International and Global Kids.
International Travel
DC students also have opportunities to travel abroad, through APSA, the H Street Community Development Corporation, Amigos, BuildOn, Globalize DC (CGEL), and other organizations. This is in addition to the many international educational travel experiences organized at the initiative of individual DC classroom teachers. In January 2016, DCPS announced the launch of DCPS Study Abroad, an ambitious new initiative aimed at providing all DCPS 8th and 11th grade students with access to travel opportunities. Rooted in the belief that every student deserves a world of possibilities, DCPS Study Abroad helps ensure that travel becomes the expectation rather than the exception for students. All 8th and 11th grade DCPS students who are studying a World Language are eligible for short-term study abroad programs on language immersion, global leadership, or service learning, and in June 2016, 400 students and educators will travel for the programs inaugural year. All costs (transportation, lodging, food, passports, visas, suitcases) will be covered by DCPS Study Abroad.
World Languages
DC requires students to complete two years of a consecutive world language for high school graduation. DCPS launched a district-wide rollout of FLES (Foreign Language in Elementary Schools) in 2011, with expansion to all DCPS schools and all grades, PK3 through graduation. Current language offerings include American Sign Language, Arabic, French, Italian, Latin, Mandarin Chinese, and Spanish. DCPS offers dual language English-Spanish immersion program at eight schools, and in 2016-2017 will expand to 11 school sites. DCPS recruits teachers from Spain and Italy to support language programs through agreements with the Embassies of Spain and Italy. The Embassy of Spain has also supported the development of International Spanish Academies at Powell ES and Columbia Heights Education Campus. DCPS's K-12 Chinese language program was introduced in 2007 through an MOU with Hanban, facilitated by the Embassy of China. Charter schools offer immersion programs in Chinese (Yu Ying), Hebrew (Sela), Spanish (Mundo Verde, LAMB, DC Bilingual), and Elsie Whitlow Stokes offers Spanish and French immersion. Five of these elementary charter schools have collaborated to form the DC International High School to ensure their students have access to advanced language study and global education at the middle and upper grades. In addition to embassies, area universities and other community partners support K-12 language learning. Through a partnership with Globalize DC (CGEL), Americans Promoting Study Abroad (APSA) provides fully funded summer Chinese language study in Beijing to DC students.
Teacher Preparation and Professional Development
DC educators benefit from an extremely rich menu of professional development and curricular resources on a broad range of international issues, global education, and language learning. These are offered through area universities, the Smithsonian museums, Kennedy Center, Library of Congress, Peace Corps, US Institute of Peace, and nonprofits such as the World Affairs Council of Washington, DC. Teachers benefit from area Title VI Centers (Middle East at George Washington University; East Asia and Arab Studies at Georgetown University: Africa at Howard University) and three local Confucius Institutes (at George Mason University, University of Maryland, and GWU), which support Chinese language learning and teacher preparation. Two local universities have graduate programs focused on internationalizing American classrooms. George Washington University Graduate School of Education & Human Development offers a new certificate, "Incorporating International Perspectives in Education." American University's International Training and Education Program (ITEP) within the School of Education, Teaching, and Health, now offers a concentration in global education. DC teachers also take advantage of international educational travel opportunities, including State Department-funded programs. In recent years, Fund For Teachers has become a major source of funding for high quality teacher-developed summer learning opportunities abroad.
Workforce Development
In FY 2014, the DC Department of Employment Services (DOES) established a Global Education Program as an essential component of the Mayor's Youth Leadership Institute (MYLI). The purpose of the program is to help youth participants develop greater international awareness, appreciation of cultural diversity, and critical skill-sets in international discourse, so they can fulfill their promise as leaders in a highly competitive and rapidly changing global economy. This year-round program has both afterschool and summer components.
Common Core
The DC State Board of Education, which was an enthusiastic early adopter of the Common Core, is currently in the final stages of revising DC high school graduation requirements to better align with the Common Core. Under consideration are provisions to grant elective credit for study abroad, to offer high school world language credit for online and study abroad language learning, and to move towards competency-based credit. DC Public Schools has engaged the local nonprofit, One World Education, to implement its high school writing program, which is aligned to the Common Core, as a citywide program. Every 9th and 10th grade DCPS student and teacher has the opportunity to participate in the One World Writing Program, which publishes student essays about cultural and global issues, promoting peer-to-peer learning and building the skills necessary for college and career writing.
Resources
DCPS Global Education works with educators and partners to provide DCPS' 114 schools and 50,000 students the resources, expertise and opportunities necessary to ensure that every DCPS graduate is an inquisitive, informed and active world citizen, prepared for success in college, career and life in an increasingly diverse international community.  
Globalize DC (CGEL) promotes and supports a systemic approach to global education in DC. Its website lists and provides links to partner organizations that are supporting global education for K-12 public school students across the city.
World Affairs Council of Washington, DC
Elliot School of International Affairs – GWU
Institute of International Education
Case Studies
Embassy Adoption Program (A global education program that matches 5th and 6th grade classes with embassies)
"Beyond The Wall" (A new documentary that follows four DCPS students on their summer language experience in Beijing, China)
www.beyondthewalldoc.com
Contact
Kate McNamee
Director, Global Education
Office of Teaching and Learning
District of Columbia Public Schools
1200 First Street, NE
Washington, DC 20002
E kate.mcnamee@dc.gov
W dcps.dc.gov
Sally Schwartz
CGEL/Globalize DC
sally@dc-cgel.org or sally.schwartz@verizon.net
202-251-1692 (p)
202-244-2152 (f)
www.dc-cgel.org
 
---
Global Competence Resources
Asia Society Partnership for Global Learning and the Council of Chief State School Officers (CCSSO) partnered to define global competence and the skills and abilities that students need to demonstrate to be globally competent.