Ohio
Ohio's global connections are reflected in its schools: 48% of students study foreign languages, and the policy, private sectors, and public education work together to create opportunities for students to become globally competent. Read on.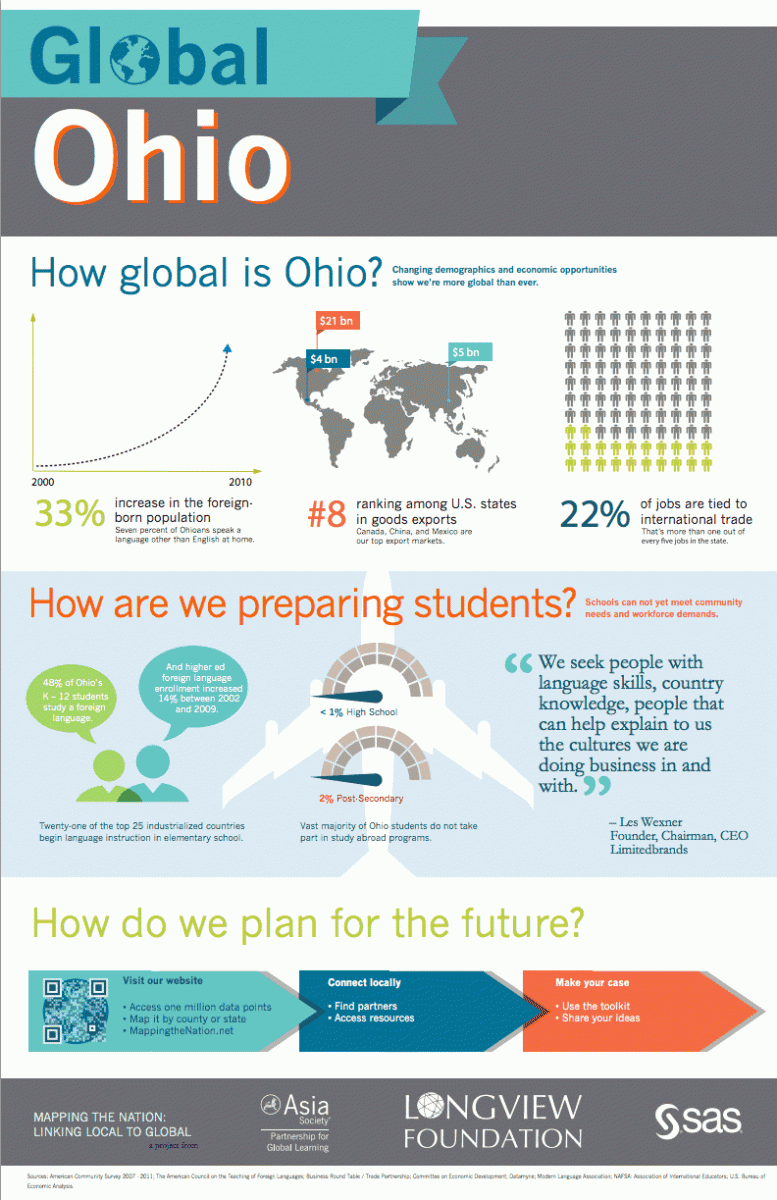 Afterschool/Extended Learning
The Ohio Afterschool Network is the main source of information for international education in extended learning settings. The resource section of their website offers ideas and resources on global education for their members.
World Languages
Ohio continues to see the growth of Chinese language programs K-12, making Chinese the fourth largest program in the state, after Spanish, French and German. Currently 27,000 students are enrolled, up from just 400 less than a decade ago. The rapid growth in Mandarin programs has created staffing challenges that are currently being met by licensing programs at four of the state's universities and visiting teachers from China. There will be a critical need for teachers in all languages, as it is estimated that as many as two thirds of all language teachers will be retiring in the next five to ten years.
Program improvement continues with new standards and a new teacher evaluation system that is placing a great emphasis on students' communication skills in the target language.
Teacher Preparation and Professional Development
Teacher preparation programs at the University of Akron, Kent State, and Miami University have developed a framework for a global learning certificate. Global Learning Scholars at each institution have developed learning modules for their courses. The faculty members at Bowling Green State University are continuing their international work which allows both in-service and pre-service teachers to interact with educators from other countries.
Teachers in eight International Studies School Network (ISSN) schools have participated in job-embedded professional development to globalize their curriculum using the Asia Society's Graduation Performance System.
The Columbus Council on World Affairs and the Educational Service Center of Central Ohio, with support from the Longview and the Martha Holden Jennings Foundations have convened school districts to form the GlobalEd Network of Central Ohio. The group hosted over 200 educators and community members at their June 2013 Global Education Showcase. Sessions focused on partnerships, travel opportunities, Common Core, STEM, blended learning, language programs and project-based learning with a global emphasis. Watch the videos.
Similar partnerships between Councils on World Affairs and education partners are taking place in Cincinnati, Cleveland, and Toledo. The participating organizations are sharing resources and successes as the GlobalEd Network of Ohio.
Workforce Development
Colleges and universities across the state realize that students will be participating in a global marketplace. They are recruiting more international students and establishing partnerships abroad. The college of engineering at the Ohio State University has created a global option and other colleges across the university are exploring similar enhancements to their programs. Franklin University and Capital University require a global issues course for all undergraduates. Ohio University's Global Leadership Center offers a two-year undergraduate certificate that prepares students to become lifelong learners in order to serve as internationally-minded leaders in all walks of life.
Employers such as Honda, Battelle, Cardinal Health, and Procter and Gamble are among those that have training programs which foster a global mindset. The City of Columbus has a comprehensive New American Initiative which includes workforce development programs for immigrants and training local students to interact effectively with people from diverse cultural backgrounds.
Common Core
Most Ohio districts have emphasized the Common Core State Standards (CCSS) and the new assessment system in professional development during the 2012-2013 school year. The GlobalEd Network of Central Ohio has developed a fact sheet on global education and the CCSS and incorporated a session called Global to the Core into their recent Global Education Showcase. The ISSN is also incorporating CCSS into its professional development. As districts become more comfortable with the new standards teachers will be ready for more globally focused work in this area.
Resources
Columbus Council on World Affairs
Cleveland Council on World Affairs
Greater Cincinnati World Affairs Council
Akron Council on World Affairs
Dayton Council on World Affairs
World Affairs Council of Northwest Ohio
Cuyahoga County ESC
Martha Holden Jennings Foundation
Teacher Education Goes Global
Columbus International High School
Jackson Academy of Global Studies
Kenton Middle School
Cleveland Heights High School – Renaissance Academy of Humanities and International Studies
Oak Hills High School
Winton Woods High School
The Ohio Afterschool Network
Case Studies
Get on the Map for Global for Global Education in Central Ohio
Global Education is Contagious in Ohio
Contact
Donna Nesbitt
dnesbitt@columbusworldaffairs.org
Ryan Ouellette
International Visitors Program Officer
Cleveland Council on World Affairs
216-255-9008 direct
216-781-2729 fax
rouellette@ccwa.org
---
Global Competence Resources
Asia Society Partnership for Global Learning and the Council of Chief State School Officers (CCSSO) partnered to define global competence and the skills and abilities that students need to demonstrate to be globally competent.