Massachusetts
Massachusetts has a long history—and it has a long history of global learning. Its first exchange program with China started in the 1980s. Read on to see how that, and other programs, impact the state.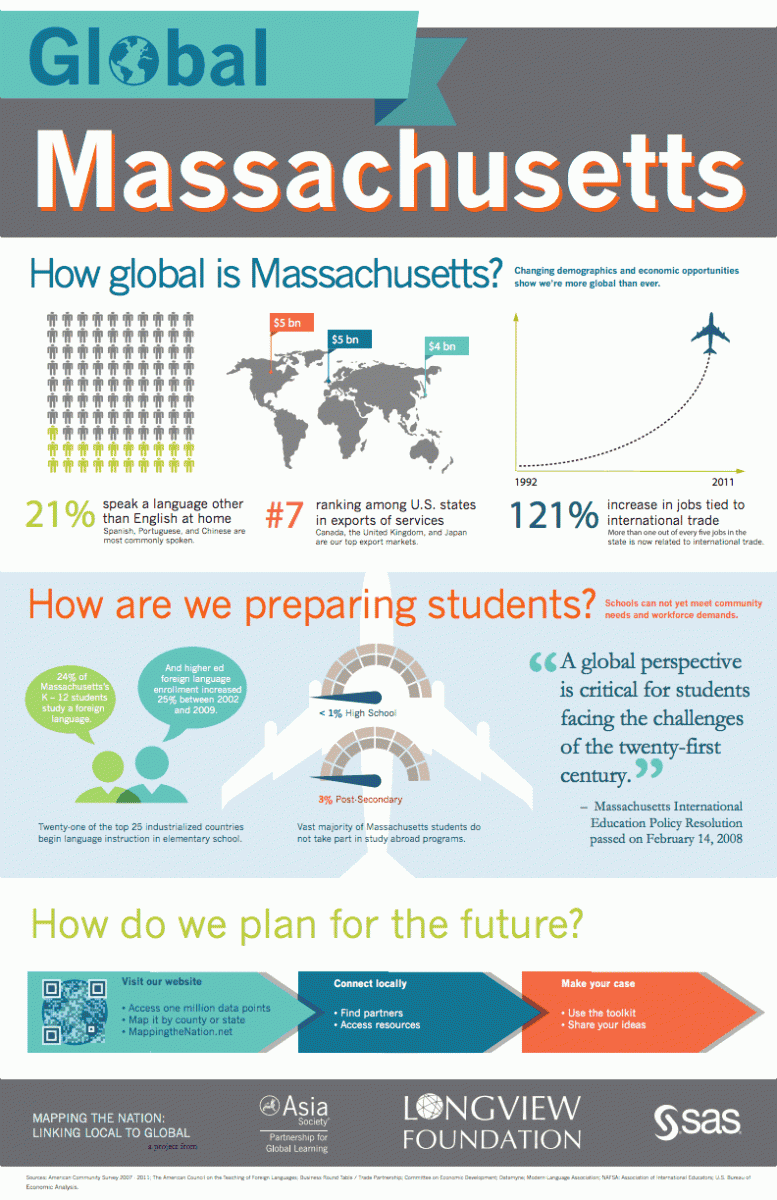 Afterschool/Extended Learning
Several Massachusetts school districts have initiated Global Competence Certificate Programs in an effort to encourage students to think globally over the course of their high school careers. Districts select criteria for participating students, such as years of language study, international travel experiences, community service, and globally oriented coursework. They then develop a meaningful way for students to reflect on their global learning and complete a capstone project in order to qualify for a special designation on their high school diploma. Many Massachusetts' districts have developed exemplary models of such programs. Hingham High School's program has been a huge success since its inception, encouraging students to develop as global citizens and to share that learning with the broader community. In addition to a certificate program, they have also created a special club that fosters global thinking and cross-cultural learning.
World Languages
Massachusetts continues to be a state where the study of critical languages is important. Chinese language programs have taken off across the state, and there has been an increased focus on Chinese history and culture in schools. In 2013, Massachusetts began pursuing a new program called Gateways to China. This innovative program will increase the number and diversity of Massachusetts secondary public school students who study Mandarin. By participating in this program, students have the opportunity to reinforce their language skills by studying abroad in China. The initiative will target schools in Gateway Cities across Massachusetts. Gateway Cities are identified as midsize Massachusetts cities that confront social and economic challenges while having unfulfilled potential.
The objective of the Gateways initiative is to enrich the academic and personal lives of participating students by providing them with opportunities to study and travel in China, thereby preparing them to participate more fully in the economy of the 21st century. Gateways is linked to the 100,000 Strong Initiative announced by President Obama and then Secretary of State Hillary Clinton in 2008 to increase the number of American students and educators studying in China. The program hopes to launch officially in 2014.
Teacher Preparation and Professional Development
Teacher professional development is an area where Massachusetts continues to thrive. Primary Source is a Boston-area non-profit that continues to offer cutting-edge professional development for K-12 teachers both online and face-to-face focused on cultural proficiency, cultural study, and global understanding. In recent years, the organization has development two signature courses on global issues with a new online course to launch in 2014 focusing on taking action to improve the global community. Now with free access to online global resources and curriculum, Primary Source's expertise is available to teachers nationwide.
Massachusetts boasts some of the best colleges and universities in the country. Universities like Wheelock College continue to focus on teacher development with a global orientation. In 2013, Wheelock hosted its first-ever international conference on global challenges and opportunities facing children and families, attended by hundreds of educators from all over the world.
Workforce Development
School leader consortia, such as Global Studies/21st Century Skills and the South Shore Global Group have emerged as a way for superintendents from diverse districts to get together on a regular basis to discuss global issues and encourage global teaching and learning in their schools. Their ultimate goal is to consider how we are preparing students for the competitive global landscape. These groups often select a book to read throughout the year that pushes the group's thinking about global education. They also welcome districts to showcase best practices by featuring innovative programs from their schools.
The Massachusetts Business Alliance for Education is another active group focused primarily on workforce readiness in a global economy. They are thought leaders in the community and host engaging forums, as well as an ongoing blog on the intersection between education and business.
Common Core
Primary Source continues to encourage districts to see the Common Core State Standards as an opportunity to bring global issues and perspectives into curricula that have not always traditionally been oriented as such. The organization has hosted numerous one-day workshops, some in collaboration with WriteBoston, to encourage ELA and social studies teachers to examine new ways of bringing primary sources and authentic voices from around the globe into the classroom to encourage Common Core aligned thinking skills. They have also worked in close collaboration with Boston Public Schools to design Common Core-aligned curriculum at the 2nd-5th grade levels to provide support on how to use global primary sources as informational texts to push analytical thinking among students.
Resources
Primary Source
Massachusetts Business Alliance for Education
Hingham High School Global Citizenship Program
Massachusetts Council for International Education
Massachusetts Foreign Language Association
World Affairs Council of W. Massachusetts (Springfield)
Worcester World Affairs Council
World Boston
United Nations Association of Greater Boston
United Planet
EF Education
The China Exchange Initiative
Contact
Julia de la Torre
Executive Director, Primary Source
Julia@primarysource.org
---
Global Competence Resources
Asia Society Partnership for Global Learning and the Council of Chief State School Officers (CCSSO) partnered to define global competence and the skills and abilities that students need to demonstrate to be globally competent.