Lee Ufan: Relatum – signal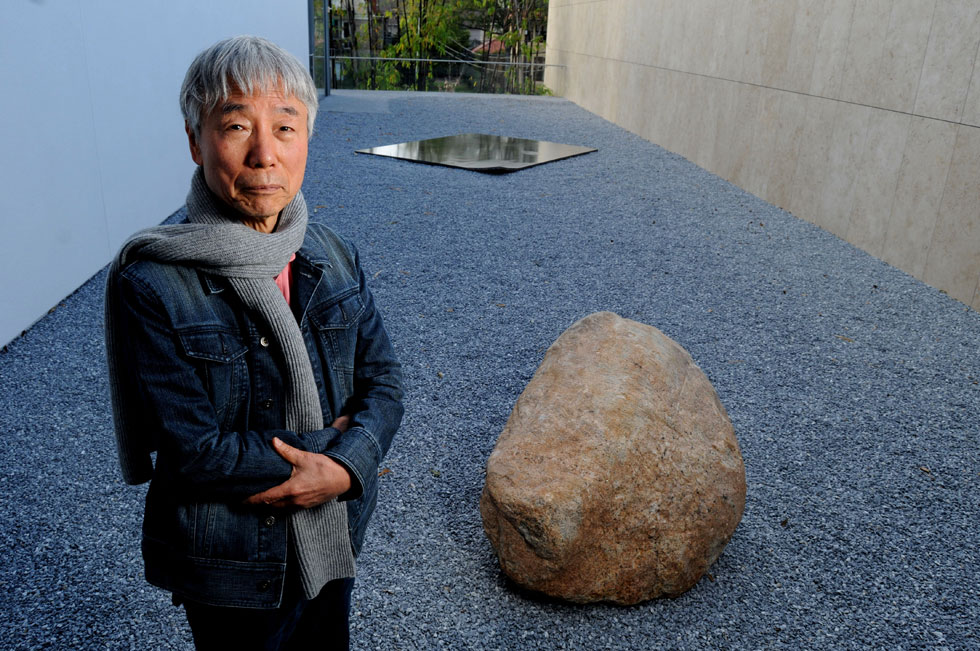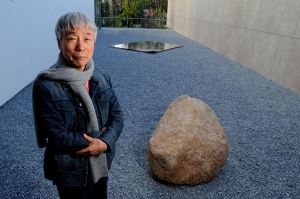 Artist Lee Ufan poses with Relatum — signal. © 2014 Lee Ufan / Artists Rights Society (ARS), New York / ADAGP, Paris. (2012 Dave Rossman)
Korean artist Lee Ufan's Relatum — signal, his first commissioned piece for a public institution in the United States, inaugurates Asia Society Texas Center's Allen Sculpture Garden. Lee oversaw installation of the 2011 site-specific sculpture on February 29, 2012. The work consists of a large stone in juxtaposition with a slab of steel, creating a conversation between the two and the surrounding environment.
"Lee Ufan's sculptural work engages and tantalizes the imagination," former Texas Center Executive Director Martha Blackwelder said. "He is an important artist, and by commissioning this piece we have underscored our commitment to exhibiting contemporary art of the highest quality."
A radically innovative artist long admired in Europe and Asia, Lee was not well known in this country until recently. He is often described as a "philosopher-artist," reflecting his extensive body of theoretical writing and enduring concern for the interplay of self and the world. Born in southern Korea in 1936, he lived through the Japanese occupation and the Korean War. In 1956 he moved to Japan, where he earned a degree in philosophy from Nihon University, Tokyo. During the 1960s and '70s he emerged as the best-known practitioner of Mono-ha, an antiformalist, materials-based movement that grew out of the artistic experimentation and leftist activism of the era.
Since 1972 Lee has titled all his sculptural work Relatum, a philosophical term that denotes terms, objects or events among which a relation exists. His oeuvre was the subject of a five-decade retrospective that closed in September 2011 at the Guggenheim Museum in New York.
Lee is represented in major museum collections including the Museum of Modern Art, Guggenheim Museum, Centre Georges Pompidou, Tate Gallery, National Museums of Modern Art in Tokyo and Kyoto, and National Museum of Art in Osaka. He divides his time between Japan and France.
Plan Your Visit