SOLD OUT: Asian Food Tour Series: Traditional Persian Food with Chef Parvaneh Miri of Garson Restaurant
VIEW EVENT DETAILS
Situated between the Mediterranean Sea, Central Asia, the Caucuses, the Indian Subcontinent, and Anatolia, Iran shares its history and ingredients with the Mesopotamian and Mediterranean regions. Traditional Persian cuisine combines vegetables, fresh green herbs, spices, and occasionally fruits and nuts to produce exotic culinary flavors. Marinated and grilled meats complement fragrant basmati rice garnished with saffron, dried limes, cinnamon, and parsley. Over the last few decades, a large Persian community has settled in Houston and brought with them their culture, language, and delightful cuisine, adding to the diversity of our local culture.
During this workshop, learn how to make:
DOLMEH – Grape leaf cooked with a filling of vegetables or ground meat mixed with herbs and rice. Common vegetables to stuff include tomato, pepper, onion, zucchini, eggplant, and garlic.
BONELESS CHICKEN – Charbroiled boneless chicken breast, marinated in lemon juice and saffron.
DILL RICE – Persian recipe of rice with dill herbs and lima beans.
This class is designed for those with little to no experience, and is appropriate for all ages. Families with children, adults, and lifelong learners are welcome! This class complements the Wondrous Worlds: Art & Islam Through Time & Place exhibition. Participants will receive FREE admission to the exhibition the day of the workshop.
Limited spots are available to the first 75 registrants. Tickets will not be available on the day of the program. 
---
About Chef Parvaneh Miri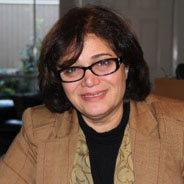 Chef Parvaneh Miri has over 30 years of experience as a professional chef and is currently the head chef and manager at Garson Restaurant which is one of the oldest Persian restaurant in Southwest Houston operating since 1992. Raised and trained as a chef in Iran, Parvaneh went back to school when she arrived in the U.S. and graduated with a degree in Hotel and Restaurant Management. Parvaneh has lived in Houston since 2000.
---
Related Links
Buzzfeed: 20 Persian Foods To Blow Your Taste Buds Away
Food Republic: Persian Food Primer: 10 Essential Iranian Dishes
NPR: From Candy To Juleps, Persians Left Imprint On Many Edible Delights
---
Education and outreach programs at Asia Society Texas Center are made possible through generous funding from Karen Chang, Greater Houston Community Foundation, and the George and Mary Josephine Hamman Foundation. Generous funding also provided by the Friends of Asia Society Texas Center, a premier group of individuals and organizations committed to bringing exceptional programming and exhibitions to Asia Society Texas Center.
Program Sponsors

Event Details
11 a.m. - 12:30 p.m.
1370 Southmore Blvd, Houston, Texas 77004
SOLD OUT. $10 Members, $15 Nonmembers. $30 Member families of four, $50 Nonmember families of four.
Join the Facebook Event »