Making Home: Artists and Immigration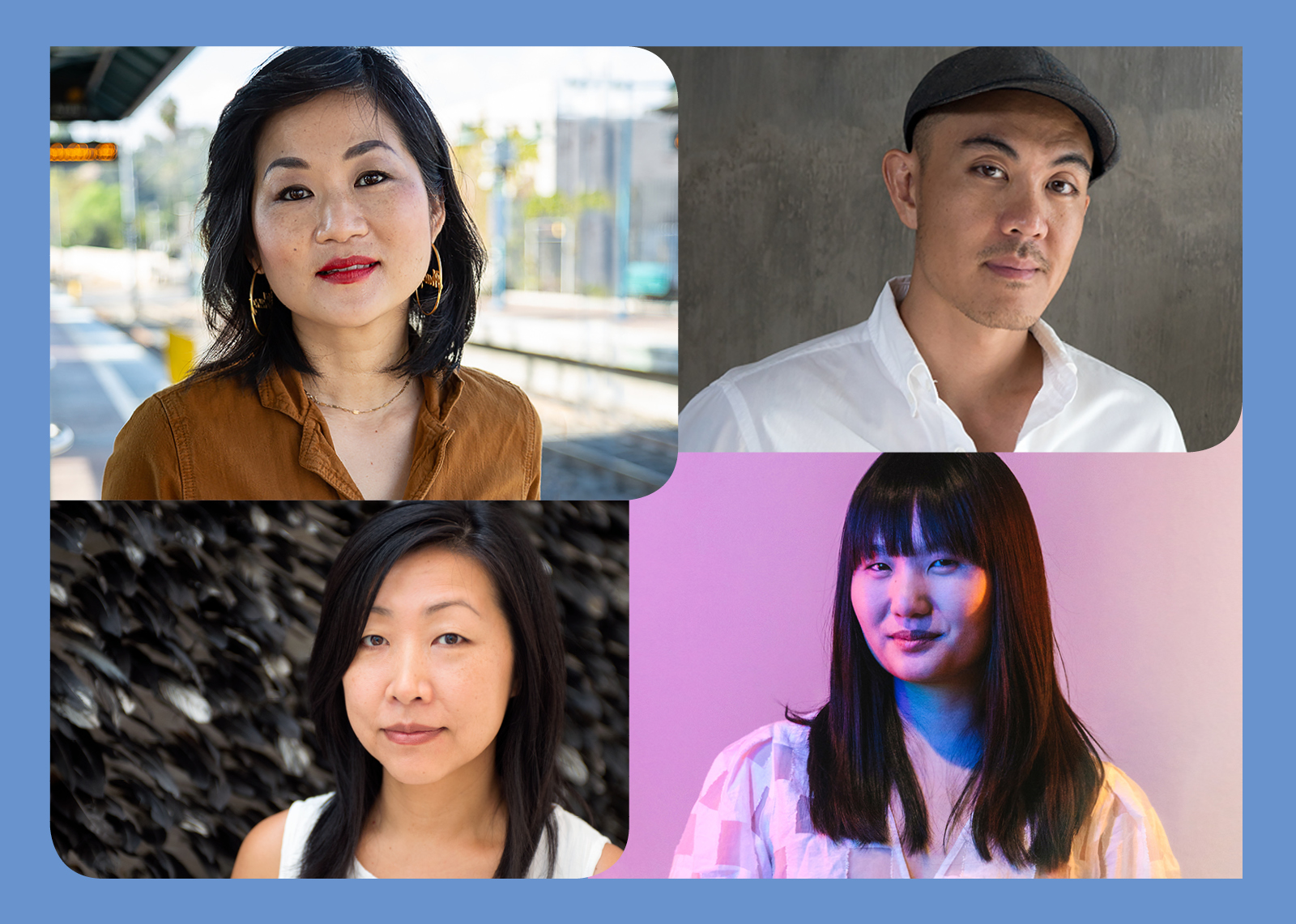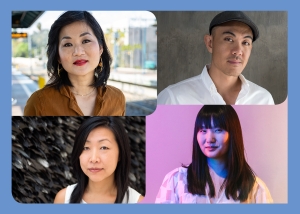 Phung Huynh, 'Phung,' 2019, Cotton fabric and embroidery thread, Courtesy of the artist
Phung Huynh, 'Monica Khun Donut Box,' 2021, Silkscreen print on pink donut box, Courtesy of the artist
Phung Huynh, 'April 30, 1975 Snowglobe,' 2021, Mixed media sculpture, Courtesy of the artist
Beili Liu, 'Each and Every,' 2019, Installation and performance, Children's clothing, cement, cotton thread, table, chair, scissors, needle, sound track, Courtesy of the artist, Photograph by Amos Morgan
Beili Liu, 'Each and Every,' 2019, Installation and performance, Children's clothing, cement, cotton thread, table, chair, scissors, needle, sound track, Courtesy of the artist, Photograph by Katie Miller
Making Home: Artists and Immigration focuses on immigration and related themes through the works of Phung Huynh, Beili Liu, Tuan Andrew Nguyen, and Amanda Phingbodhipakkiya. The exhibition engages with the individual, lived experiences of immigration through the paintings, prints, drawings, sculptures, and installations of the four featured artists. Making Home centers the complexities of deeply personal histories of immigration, as the artists consider topics of intergenerationality, the repercussions of colonial histories, dislocation, memory, otherness, belonging, and resilience.
Admission Information
Regular admission to this exhibition is free for Asia Society members and children ages 12 and under, $5 for students and seniors with ID, and $8 for nonmembers.
---
Hours
Wednesday – Friday・11 a.m. – 6 p.m.
Saturday – Sunday・10 a.m. – 6 p.m.
---
Photography
Photography without flash is permitted.
About the Artist: Phung Huynh
Phung Huynh is a Los Angeles-based artist whose practice is primarily in drawing, painting, and public art. Her work investigates notions of cultural identity from a kaleidoscopic perspective, a continual shift of idiosyncratic translations. The contemporary American landscape is where she explores how "outside" cultural ideas are imported, disassembled, and then reconstructed. In an overwhelmingly diverse metropolis such as Los Angeles, images flood our social lens through mass reproduction and social media, taking on multiple [mis]interpretations and [re]appropriations. Such reflections have guided Huynh in re-stitching traditional Asian iconography within the loosely woven fabric of American popular culture. There is a purposeful "Chinatown" aesthetic in Huynh's paintings, alluding to kitsch souvenirs that tourists purchase and the commodification of eastern icons into tchotchkes. Huynh considers how cultural authenticity disintegrates within a capitalist framework, and she paints images of Chinese cherubs, lotus, and carp with a "pop" veneer of delight and horror to challenge the viewer with a western-leaning perspective.
Huynh's current work is informed by her experience as a refugee of Cambodian and Chinese descent from Vietnam. Inspired by her family's migration story, personal research, and interviews with Cambodian and Vietnamese refugees and immigrants, Huynh makes drawings on pink donut boxes and cross-stitches images of personalized California license plates with unanglicized names. Her work unpacks the complexities of immigration, displacement, and cultural assimilation. Each drawing or cross-stitched piece is meant to be a sensitive portrayal of a unique personal story. Close to 90 percent of California's donut shops are mom-and-pop businesses run by Cambodian immigrants or Cambodian Americans (Khmericans). The trend that links pink boxes with donuts can be traced back to the Khmerican donut ecosystem. Ultimately, Huynh's work is rooted in the practice to unravel ideas of cultural representations and stereotypes, to challenge how we consume and interpret ethnographic signifiers, and to de-center whiteness in constructing visual and historical narratives.
Huynh received her BFA in Illustration from Art Center College of Design, and her MFA in Studio Art from New York University.
Website: http://www.phunghuynh.com/home.html
Instagram: https://www.instagram.com/phungxion/
About the Artist: Beili Liu
"I make environments that resonate with the experience of migration and cultural memory. My site-responsive installations and performances are rooted in the essence and history of a place and negotiate personal, cultural, and environmental concerns. I explore resilience, healing, and hope through humble materials and accumulated labor. Topics of diaspora, assimilation and the ultimate question of otherness versus belonging are at the core of my work."
Beili Liu is a visual artist who creates material-and-process-driven, site-responsive installations. Working with commonplace materials such as thread, needle, scissors, feather, salt, wax, and cement, Liu manipulates their intrinsic qualities to extrapolate complex cultural narratives. As Kay Whitney wrote about Liu's work in Sculpture Magazine: "Liu's installations leap from obsession and repetition to something profound and expansive, merging the personal with the political."
Liu exhibits internationally in locations including Norway, Finland, UK, Germany, France, Italy, Spain, Lithuania, China, Poland, Taiwan, and across the United States, with solo exhibitions at venues including Galerie An Der Pinakothek Der Moderne, Munich, Germany, Elisabeth de Brabant Art Center, Shanghai, China, Chinese Culture Foundation, San Francisco, CA, the Crow Museum of Asian Art, Dallas, TX, Art Museum of Southeast Texas, Beaumont, TX, and Women & Their Work, Austin, TX. Her work has received support from numerous grants, fellowships, and awards including: Fulbright Arctic Chair, a Fulbright Distinguished Scholar Award, Norway (2021-2022), New York Foundation for the Arts Fiscal Sponsorship (2021), and Joan Mitchell Foundation Painters and Sculptors Grant (2016). Liu has been honored by the Texas Legislature and the Texas Commission on the Arts as the Texas State Artist (2018, 3D). Liu's work has been featured by PBS Arts in Context series, Sculpture Magazine, Art in America, New York Times, Washington Post, Wall Street Journal, Huffington Post, and ARTnews, among others.
Born in Jilin, China, Beili Liu now lives and works in Austin, Texas. Liu received her MFA degree from the University of Michigan, Ann Arbor (2003). Liu is an Institute for the Humanities Fellow (2020-2022) and the Leslie Waggener Endowed Professor in the College of Fine Arts at the University of Texas at Austin.
Website: http://beililiu.com/
Instagram: https://www.instagram.com/beililiu/
About the Artist: Tuan Andrew Nguyen
Tuan Andrew Nguyen's work explores the power of storytelling through video and sculpture. His projects are based on extensive research and community engagement, tapping into inherited histories and counter-memory. Nguyen extracts and re-works dominant, oftentimes colonial histories and supernaturalisms into imaginative vignettes. Fact and fiction are interwoven in poetic narratives that span time and place.
Tuan Andrew Nguyen was born in 1976 in Ho Chi Minh City. In 1979, he and his family emigrated as refugees to the United States. Nguyen graduated from the Fine Arts program at the University of California, Irvine in 1999 and received his MFA from The California Institute of the Arts in 2004. He currently lives and works in Ho Chi Minh City, where he is a co-founder and former board member of Sàn Art. Nguyen was a founding member of The Propeller Group in 2006, an entity that positions themselves between a fake advertising company and an art collective.
The Specter of Ancestors Becoming, 2019, is a four-channel video installation that envisions the memories and desires of descendants of the tirailleurs sénégalais, West African colonial soldiers who were among the French forces sent to combat Vietnamese liberation uprisings in the 1940s. After the French defeat at Dien Bien Phu, hundreds of Vietnamese women migrated to Africa with their children and their Senegalese husbands who had been stationed in Indochina. Other soldiers left their Vietnamese wives behind and took only their children, sometimes raising them without knowledge of their origins. Nguyen collaborated with members of the Vietnamese community in Senegal to write and stage imagined conversations with or between their parents or grandparents that highlight nuances in strategies of remembering. As narrators and actors, the voices of these descendants embody a historical conscience that challenges understandings of decolonizing societies.
Nguyen's videos and films have been included in major international festivals, biennials, and exhibitions including Manifesta 13, Marseilles, France (2020); Sharjah Architecture Triennial, Sharjah, UAE (2019); SOFT POWER, SFMoMA, San Francisco, CA (2019); the 2019 Sharjah Biennial, Sharjah, UAE (2019); 2017 Whitney Biennial, New York, NY (2017); the 55th International Short Film Festival, Oberhausen, Germany (2009); 8th NHK Asian Film Festival, Tokyo, Japan (2007); 18th Singapore International Film Festival (2005) and 4th Bangkok Experimental Film Festival, Bangkok, Thailand (2005). His work is included in the permanent collections of institutions including Carré d'Art, Nîmes, France; Queensland Art Gallery, Brisbane; SFMoMA, San Francisco, CA; Philadelphia Museum of Art, Philadelphia, PA; Museum of Modern Art, New York, NY; Solomon R. Guggenheim Museum, New York, NY and the Whitney Museum of American Art, New York, NY.
Website: https://www.tuanandrewnguyen.com/
About the Artist: Amanda Phingbodhipakkiya
Amanda Phingbodhipakkiya is a multidisciplinary artist, educator, and activist. As artist-in-residence with the NYC Commission on Human Rights, Amanda's art series celebrating the resilience of the AAPI community, "I Still Believe in Our City,'' reached millions in New York City and worldwide through her Atlantic Terminal billboard, subway domination, and social media amplification. In the wake of the Atlanta shootings in March 2021, art from the series appeared on the cover of TIME magazine. From large-scale murals, augmented reality (AR) experiences, 3D printed sculptures, and interactive installations, Amanda makes the invisible, visible. She has explored microscopic universes, familial memories, and the power of collective action, challenging viewers to rethink the world around them and revealing the often-unseen depth, resilience, and beauty of marginalized communities.
Her work has been shown at the Cooper Union, Times Square, Google, Lincoln Center, and recognized by The New York Times, Fast Company, and the Guardian. She has received support from the Sloan Foundation, the Café Royal Cultural Foundation, and the Jerome Foundation. Her work is held in permanent collections at the Goldwell Open Air Museum, the Library of Congress, the Museum of Chinese in America (MOCA), and the Victoria and Albert Museum in London. Earlier in her career, Amanda worked as a researcher studying Alzheimer's Disease at Columbia Medical Center and received her MFA from Pratt Institute. She is currently working on FINDINGS, a national mural series celebrating women and science, in partnership with the Heising-Simons Foundation.
Born in Atlanta to Thai and Indonesian immigrants, Amanda studied neuroscience at Columbia University and worked at an Alzheimer's research lab before becoming a full-time artist, educator, and activist based in Brooklyn, NY. Through writing, speaking, and art, she is trying to challenge audiences to rethink the world around them.
Website: https://www.alonglastname.com/
Instagram: https://www.instagram.com/alonglastname/
Related Programs and Tours
Very Asian Feelings Mural Painting
Friday, February 18 – Saturday, February 26, 2022
Experience Amanda Phingbodhipakkiya's site-responsive mural as it unfolds. We welcome guests to view the mural painting in progress during our public hours.
Exhibition Reception
Thursday, February 24, 2022
Meet the artist Amanda Phingbodhipakkiya and see her work progress in the gallery.
Members-exclusive access: 5:30–6 p.m. | Public hours: 6–7:30 p.m.
Artist Talk and Zine Workshop: Phung Huynh
Saturday, June 4, 2022
Artist Phung Huynh joins us for an artist talk, followed by an interactive zine workshop where participants will create their own personalized publication.
Artist Talk: 1 p.m. | Zine Workshop: 2:15 p.m.
Beili Liu Performance and Talk
Saturday, June 18, 2022
To accompany her installation Each and Every, artist Beili Liu joins Asia Society Texas for a performance and artist talk.
Performance: 3 p.m. | Artist Talk: 3:30 p.m.
---
Additional Asia Society Programming of Interest
No-No Boy in Concert
Friday, March 4, 2022
Inspired by jazz musicians inside internment camps, Saigon rock 'n' roll, and Filipino cruise ship bands, No-No Boy (aka Julian Saporiti) explores Asian American and transpacific histories, as well as Texas and the southern border, in this intimate live concert.
Film Screening: Flee
Sunday, March 20, 2022
A timeless exploration of the effects of war and displacement, his groundbreaking animated documentary tells the story of Amin Nawabi, his extraordinary journey as a child refugee from Afghanistan, and a 20-year secret that threatens to derail the life he has built for himself and his soon-to-be husband.
Cooking at Home, Writing From the Heart With Priya Krishna
Tuesday, March 29, 2022
In an age of food blogs, social media, and innumerous cooking shows, a more diverse cadre of women chefs and food writers are rising to fame — among them, Asian American women who are sharing their identities. New York Times food writer Priya Krishna speaks on the industry's transformation and how her food and writing reflect her relationship with herself and the world.
Permission to Come Home: Dr. Jenny Wang on Asian Americans and Mental Health
Thursday, May 5, 2022
In her new book, Permission to Come Home, Dr. Jenny Wang weaves together personal stories of strength, pain, and resilience with incisive analysis of Asian American and immigrant identities — and how they affect our individual and collective mental health.
Credits
This exhibition is organized by Asia Society Texas. Exhibitions and their related programs at Asia Society Texas are presented by Nancy C. Allen, Chinhui Juhn and Eddie Allen, and Leslie and Brad Bucher. Major support comes from The Brown Foundation, Inc., Houston Endowment, and the City of Houston through Houston Arts Alliance. Generous funding also provided by Art Dealers Association of America Foundation, The Anchorage Foundation of Texas, The Clayton Fund, Texas Commission on the Arts, National Endowment for the Arts, Wortham Foundation, Inc., Agnes Hsu-Tang, Ph.D. and Oscar L. Tang, and Ann Wales. United Airlines is our official airline partner. Funding is also provided through contributions from the Exhibitions Patron Circle, a dedicated group of individuals and organizations committed to bringing exceptional visual art to Asia Society Texas. 
Special support for this exhibition given by Art Dealers Association of America Foundation, Quan Law Group, PLLC, and Kashif Aftab.
Presenting Sponsors
Nancy C. Allen
Leslie and Brad Bucher
Chinhui Juhn and Edward Allen
Special Sponsor

Official Airline Sponsor
Program Sponsors
Plan Your Visit