Spotlight Asia: Cocktails and Cultural Fusions
VIEW EVENT DETAILS
Guests, please note that Spotlight Asia parking is at the Children's Museum of Houston (1500 Binz Street) with shuttles going to and from Asia Society Texas Center.
Host Committee Members may park in the Texas Center parking lot with parking pass (sent via mail with ticket purchase) placed on vehicle dash.
About | Sponsorships, Tables, and Tickets | Sponsors | Host Committee | Event Production
Asia Society Texas Center lights up the night again with the third annual Spotlight Asia: Cocktails and Cultural Fusions, this year with event chairs Janae and Kenneth Tsai, in collaboration with Zulu Creative. The Tsais are joined by a host committee of Houston's most energetic and best connected social scene patrons. Presented by American First National Bank, the lantern-themed event will illuminate the Texas Center's internationally acclaimed Yoshio Taniguchi-designed building at 1370 Southmore Boulevard, Houston, Texas 77004 from 8:00 pm to midnight.
The glimmery evening will feature New York-based turntablist and producer DJ Kalkutta, back by popular demand. Also casting a mesmerizing musical glow on the dance floor is Vietnamese-American Houston-based Baohaus.
Boheme Cafe & Wine Bar will ignite a sense of culinary wonder with signature appetizers, and sushi will be offered courtesy of Glen Gondo & Sushic. An open bar will also be available with signature cocktails. For $25, guests may also purchase a Champagne Pass at the event only for unlimited sparkling wines, curated by 13 celsius. Decadent luxuries provided by Monica Pope's Sparrow Bar + Cookshop are sure to capture the essence of the season.
A series of luminary lounges hosted by Houston's leading restaurants and media will allure guests with respites from the party-going limelight. Little Soya and Uchi will dazzle guests with unexpected textures and flavors that push the boundaries of Japanese cuisine. Guests can also browse enlightening works of literary art in the PaperCity Light Reading Lounge, displaying curated coffee-table books and more to pique visual interest. Texas Hookah Lounge will offer guests relaxing draws from hookah pipes in the Jasmine Garden, while FlashBox photo booth captures the fun inside.
For guests seeking the ultimate enlightening experience, a raffle will be held for two Business/BusinessFirst® round trip airfare tickets from Houston to Taipei, courtesy of United Airlines. Raffle tickets can be purchased only at the event for $25 each or five tickets for $100. Airfare tickets must be used before December 31, 2014.
Sponsorships, Tables, and Tickets
Advance ticket sales have ended.
Tickets will be available for purchase at the door: $75 Members, $100 Nonmembers.
Nonmember ticket includes one-year membership to Asia Society.
Click here for more information on sponsorship options, tables, and tickets.
Sponsors*
Red Lantern $25,000
American First National Bank
Golden Lantern $15,000
Sushic
Purple Lantern $10,000
Eagle Global Advisors
United Airlines
White Lantern $5,000
Boheme
Orange Lantern $2,500
13 celsius
FlashBox
Hines
Little Soya
Sparrow Bar + Cookshop
Texas Hookah Lounge
Uchi
* As of April 2, 2014.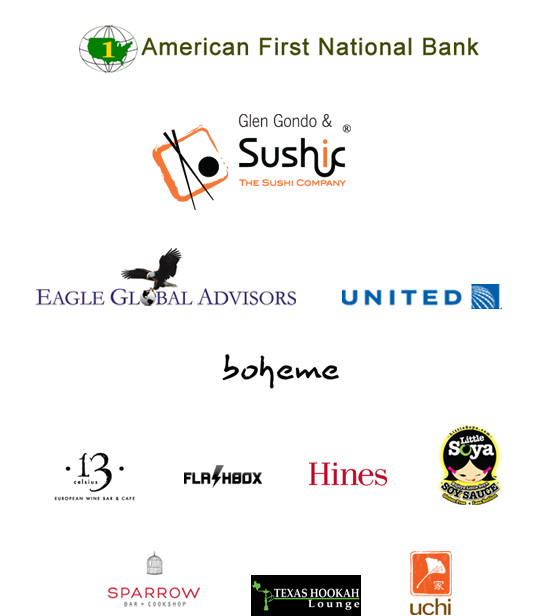 Host Committee*
Farida Abjani
Chinhui and Eddie Allen
Stacy and John Andell
Catherine Anspon, PaperCity
Beverly Barrett
Catherine and William Barrows
Kevin Batchelor, Hines
Jennifer Black and Charles Hamilton Houston
Lynn Borker
John Bradshaw Jr. and Travis Jenner
Kristy and Chris Bradshaw
Divya and Chris Brown
The Honorable Peter H. Brown
Patsy Brown
Tessa Cabello and Kevin Richardson
William Chang
Johnny Chau, re:creative
Yvonne and Rufus Cormier
Marisa and Geoffrey Cormier
Adele Corrigan and Mike Sammons, 13 celsius
Julie Cruz and Ian Rosenberg, 13 celsius
Tu Dao
Jennifer and Steve Dolman
Richard Dyo
Kaz Edwards, Uchi
William Elser, Hines
Mary Sapp Fischer and Carl Fischer
Lily and Charles Foster
Gretchen Gardener and Jack Watson
Lotty Gautschi
Kathy and Glen Gondo
Sara Beth Good Jay Goossen
Kathy and Marty Goossen
Lacey and Matthew Goossen
Walt Hoffman
Karen and Byron Hood
Sunita Huang
Saki Indakwa
Lily Jang, KHOU
Kaitlin Kargar, FlashBox
Kaori and Mike Nebgen
Kellye and Fritz Lanham
Harriet and Truett Latimer
Jim Leavens
Crystal Lee, Little Soya
Francis Lim
Rima and Cain Linville

Lori and Neil Martin
Kenneth Mazzu
Tausheli McClure
John McGarry
Margaret McHattie
Sharon and Errol Mclaughlin
Pamela and Matt Merhan
Kathryn Miles
Gary T. Murphy, Little Soya
Feibi and Benjamin Ong
Nimesh H. Patel, Texas Hookah Lounge
Rajesh H. Patel, Texas Hookah Lounge
T. Paresh Patel
Erin Pikoff
Monica Pope, Sparrow Bar + Cookshop
Rosemin Premji
Ragu Raghavan
Candace Renaud, Renaud Sero Advisors
Allen Richards, United Airlines
Carolyn and James Robertson
Sandhya and Naresh Sabhnani
Eva Sagisaka and Morgan Holleman, Boheme
Anita Shaffer
Lila Sharifian
Isabel Song and Steven Knapp
Philip Speer, Uchi
Tom Stringer, AJ's Urban Petals
Vivek and Ishwaria Subbiah
Grey Summa
Hasti Taghi
Claire and Rick Thielke
Emalie Vann Thok
Janae and Kenneth Tsai
Stephen Tsai
Claudia and David Vassar
Seth Vaughn, PaperCity
Bronwyn Walker
Yudo Wibisono, FlashBox
Jordan Witherspoon
Eliza Wright
Jenny and Henry Wu,
American First National Bank
Christine Wysong and Dr. Barry Gritz
Clinton Yu
Katherine and Mark Yzaguirre
Beth and Nick Zbedlick
Tina and Josh Zulu, Zulu Creative
* As of March 26, 2014.
Event Production
Event Details
1370 Southmore Blvd. Houston, TX 77004 713.496.9901
$75 Members, $100 Nonmembers. Tickets available at door.
Bought tickets? Tell your friends on Facebook!
Join the Facebook Event »