Coming Attraction: Asia Society Screens 'Red Sorghum,' Based on Mo Yan's Novel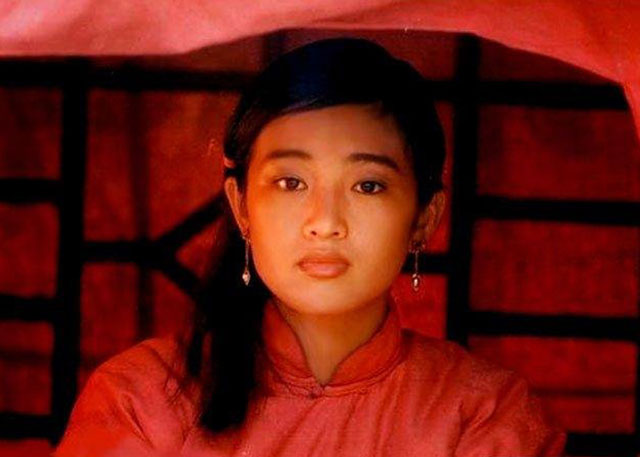 Gong Li in 'Red Sorghum' (1987), directed by Zhang Yimou.
Mo Yan's Nobel Prize in Literature, announced last week, has given his novels unprecedented international attention, but his writing has been renowned in China for decades. Several of his novels have been adapted to film by China's most accomplished directors, and one of these films, Zhang Yimou's 1987 award-winning Red Sorghum, will be showing at Asia Society New York on December 2 as part of the series GODDESS: Chinese Women on Screen, running from November 9 to December 8.
Asia Society film curator La Frances Hui chose the seminal Fifth Generation piece as part of the collection long before the Nobel Prize announcement. To provide some background information on both the film and the series, AsiaBlog asked Hui to discuss the experiences of Zhang Yimou and Mo Yan's generation and the significance of this film to both Chinese cinematic history and the evolution of women's roles on screen.
Can you describe your interest in including this film as part of the series?
This film series celebrates the most significant screen divas in the history of Chinese cinema, beginning with the silent period. Without a doubt, Gong Li, who is one of the world's most recognized actresses, must be included in the series. She is known especially for her collaborations with director Zhang Yimou. Together, they have made eight films, including Red Sorghum (1987), Ju Dou (1990), Raise the Red Lantern (1991), and The Story of Qiu Ju (1992). Red Sorghum is the acting and directorial debut of Gong Li and Zhang Yimou, respectively. It is one of the defining films that marked the rise of Chinese Fifth Generation filmmakers, those who graduated from the Beijing Film Academy in 1982 (the first class since the reopening of the preeminent film school following the end of the Cultural Revolution). Red Sorghum's fresh narrative approach and the emphasis on the visual language, decidedly different from the social realist aesthetic dominant earlier, announced the arrival of a new cinematic vision. It won the Golden Bear (Best Picture) award at the Berlin International Film Festival and catapulted Gong and Zhang to international stardom.
L to R: Gong Li, Mo Yan, Jiang Wen, and Zhang Yimou on the set of Red Sorghum. (http://ent.xinmin.cn/)
In retrospect, this film not only launched the careers of the director and actress, but it also played a pivotal role in the professional lives of two other individuals. The actor who plays the male lead, Jiang Wen (Let the Bullets Fly, 2010; In the Heat of the Sun, 1994), is now one of China's most successful actors/directors. And now that Mo Yan is recognized with the Nobel Literature Prize, we can really say that Red Sorghum is a major breakout film for four celebrated individuals.
Red Sorghum has received a lot of recent attention with the selection of its author, Mo Yan, for the Nobel Prize in Literature. Both the novel and film were released in 1987, a time when art and literature could be produced in a comparatively relaxed environment before the Tiananmen protests. How is this story contextualized in the time period in which it was written, and are there any themes still relevant today?
1989 was an earth-shattering moment in recent Chinese history. China's open door policy, launched in 1979, suffered a devastating blow. But I wouldn't say that the Tiananmen protests form a dividing line — that there was more freedom in creative expression before than after. If anything, the Tiananmen protests inspired and motivated artists in China to further push their boundaries. What happened after 1989 was that a lot of artistic activities moved underground. Artists and filmmakers started to make their works independently, rather than through official channels. The result was an unprecedented bloom in creativity, as evident in the cutting-edge achievements made in visual and cinematic arts.
The difference between those who were coming of age professionally before 1989 and those after lies in the difference in life experience. Zhang Yimou and Mo Yan's generation experienced the Cultural Revolution in their teens. Many were forced to leave school during that time. Some went to the countryside to live among peasants. Others worked in factories. They saw the discrepancy between reality and ideology firsthand. When people like Zhang and Mo depict the lives of peasants and the working class, they project a perspective that's unique to their experiences.
This is a seminal film for the "Fifth Generation" of Chinese directors; how did roles for female characters in this generation differ from previous time periods in Chinese film?
Red Sorghum is about a young woman, Jiu'er (Gong Li), who is being married off (or sold) to a leper, a much older man who owns a winery. In its especially memorable opening sequence, Jiu'er is being carried on a sedan by a group of men to her new home. She is overcome with a sensual experience when she peeps out of her covered sedan and sees the bare back of one of the men. Suddenly, as the entourage passes through the sorghum fields, a masked bandit with a rifle appears. He orders all the men to drop their money and move to the back of the sedan. Intrigued, he approaches the sedan, lifts the curtain, and pulls off the veil covering the young bride's face. Strangely, Jiu'er projects no fear. She stares coldly at the bandit and lets out an unexpected smile that startles the masked man. What is that smile about? For a woman who is about to marry a much older leper, it is a smile that perhaps says, "What could be worse (or better)?" Seconds later, the bandit orders the bride to get off the sedan and walks into the sorghum field. It is clear what he intends to do next. As Jiu'er makes her move into the field, she turns around to exchange glances with the man whose bare back so captivated her earlier. She is using her commanding sexual power to say, "Are you not going to rescue me from this bandit?" And of course this man complies and jumps on the bandit.
This sequence marks a major breakthrough in the representation of women's sexuality on screen. Although Jiu'er has little choice but to submit to what's arranged for her, she is in full control of her agency. Forefront in its portrayal of desire and sexuality, the film broke the code of modesty that governed the conduct of a virtuous woman that had been dominant on screen in the previous decades.
In fact, if you watch the films in this film series, it will be apparent to you how much the representation of Chinese women's sexuality has changed over time: from innocent women forced into prostitution due to economic oppression in the '30s, to androgynous revolutionary heroines during the Cultural Revolution, to women who make bold expression of sexual desire after the '80s.
Also showing in Asia Society New York's GODDESS series will be The Goddess (1934), New Women (1935), Hibiscus Town (1986), Daybreak (1933), Two Stage Sisters (1964), The Red Detachment of Women (1970), Ashes of Time Redux (2008), and Center Stage (1992). For a full schedule, see the series overview.