#TBT: In 2012, Aung San Suu Kyi Embraces Hillary Clinton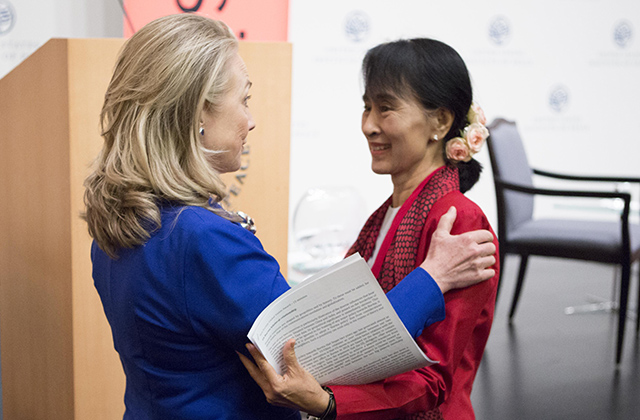 Then Secretary of State Hillary Clinton (L) greets Aung San Suu Kyi before the Myanmar parliamentarian spoke at an event co-hosted by Asia Society and the U.S. Institute of Peace in Washington, D.C. on September 18, 2012. (Asia Society/Joshua Roberts)
In September 2012, as Myanmar was in the midst of a democratic transition and opening up to the world after decades of isolation, President Thein Sein and opposition leader Aung San Suu Kyi made coinciding trips to the United States. In the preceding years, the Asia Society Policy Institute had been one of several organizations facilitating informal discussions with experts from the U.S. and Myanmar with the aim of strengthening bilateral relations and supporting the country's moves toward democracy. So it was no surprise that during their trips to the U.S., Thein Sein and Aung San Suu Kyi both spoke at separate Asia Society events. In their remarks, they gave each other gentle praise in their respective efforts toward Myanmar's democratic reform with the tacit message that relations between their rival parties were easing, as were relations between Myanmar and the United States.
In the above photo from September 18, 2012, Aung San Suu Kyi meets then U.S. Secretary of State Hillary Clinton at the event co-hosted by Asia Society and the U.S. Institute of Peace in Washington, D.C. In the below photo, taken nine days later, President Thein Sein addresses a crowd at Asia Society in New York.
Each week for "Throwback Thursday" (#TBT), we'll reach into our archives to find a photo from the organization's nearly 60-year history. Some photos will feature important moments, some will feature important people, and others still will just be photos we love. Do you have an Asia Society photo you'd like us to consider including in this series? Please email the photo and any related details to photos@theasiablog.org (we regret that we won't be able to respond directly to each inquiry).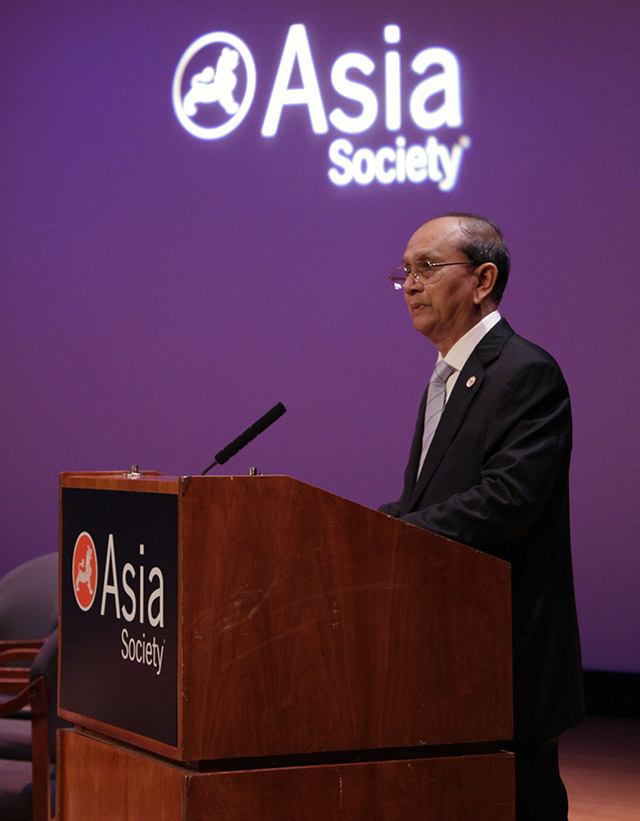 Myanmar President Thein Sein speaks at Asia Society in New York, Sept. 27, 2012. (Kenji Takigami/Asia Society)