Five Creative Ways the Internet is Changing the Way Asian People Eat

And we're not just talking about this. (Rick Chung/Flickr)

On Wednesday, December 18, at 6:30 pm, join Keizo Shimamoto, the creator of the Ramen burger, Kenshiro Uki, head of operations of Sun Noodle, and Michael McAteer, director of award-winning film Ramen Dreams for a discussion about Asian food and social media at Asia Society New York, followed by a food tasting. More info here.
A lot of people bring their phones to the dinner table. But for many in Asia, it's now the phones that are bringing people to the table.
Whether it's through microblogs, mobile apps, or viral campaigns, studies show that Asian net users lead the world in the using social media to figure out what to eat. In their most recent annual social media report, global research firm Nielsen found that 72% of online consumers in the Asia now turn to social media to decide what kind of food to purchase (just 38% of Europeans do the same).
For many Asians, eating is no longer just a family experience — but an experience shared with entire online communities. We're not just talking about taking pictures of your food. Thanks to the Internet, original new food ideas spread faster than ever, and innovative food trends can suddenly explode overnight. That's why we're taking a look at five creative ways social media is changing the way Asian people eat:
1. Mashups
People love ramen, and people love burgers. Why not combine both? Renowned ramen chef Keizo Shimamoto got the idea while working as a ramen chef in Tokyo, where some chefs started making pork sandwiches with ramen buns.
But nobody had created a ramen burger with all-American beef patties, and so a few months ago Shimamoto did just that. He launched his new creation in New York City, where news quickly spread through platforms like Twitter and Buzzfeed.
On the first day he brought the ramen burger to the Brooklyn Smorgasburg food festival, over 500 people lined up to try it, though Shimamoto warned social media users that he only had 150 burgers prepared. "I can't believe how fast news can travel," wrote Shimamoto on his blog, GoRamen.com. "In two days, the Ramen Burger went from dream to Internet superstar before I even sold a single one."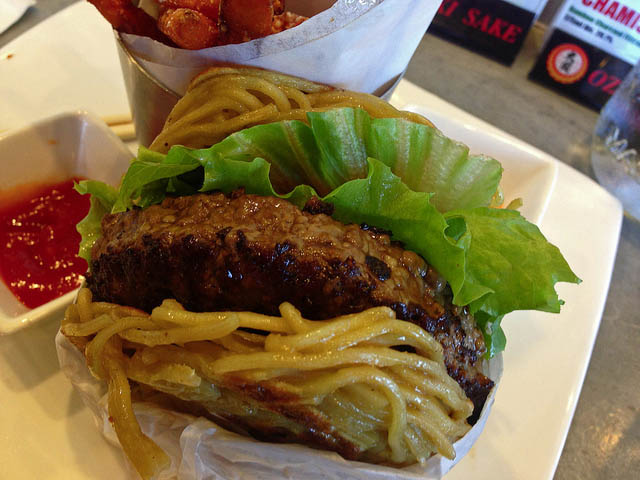 A ramen burger. (mmyoso/Flickr)


A Google Trends result shows an astronomical surge in online searches for "ramen burger" around August 2013.
But using social media to create viral new food hits isn't new. In 2009, Filipino American Mark Manguera and Korean American chef Roy Choi created a Korean taco that they started selling out of a truck, called Kogi BBQ. The item was slow to catch on, but everything changed when the team started using the Internet to promote their creation.
First, they asked popular food bloggers to try their tacos and spread the word. Then they started using Twitter to announce where the truck would be parked every day, creating a buzz wherever they went. By mid-2009 the truck had 36,000 followers, according to the Wall Street Journal. Newsweek proclaimed Kogi "America's first viral eatery."
2. Pop-up restaurants
For the last couple of years, boldly enterprising chefs in large American cities like have started launching temporary "pop-up" restaurants to try out interesting new food concepts. Now chefs in social media-addicted countries like South Korea are starting to do the same.
In 2012, two food bloggers started a pop-up called Back Kitchen Seoul in the Anguk-dong district of Seoul, offering an "extremely experimental" five-course Korean meal, with items such as Cajun-style shrimp boil, dough-flake pasta with soju tomato sauce, and braised pork belly with marbled quail eggs. After the concept was announced on social media, seats sold out almost immediately.

A rack of ribs. Note: Not Linus Kim's. (anotherpintplease/Flickr)
A Korean American chef, Linus Kim, started a pop-up restaurant in Seoul serving Alabama-style BBQ. Lacking an advertising budget, Kim simply promoted his restaurant through social media. "I originally just sent it out to friends only on Facebook, but then it got picked up by friends of friends and some bloggers," he told CNN Travel.
Like viral videos on the Internet, pop-ups burst onto the scene quickly, gain massive interest, and then fade away to make room for something new. But because of the low cost of social media, almost anyone with an idea can make their dream into a reality. "There's a lot of people here who have great ideas, they have a lot of good skills, but they just don't have the money," said Kim. "The beautiful thing about pop-ups is they are the future."
3. You don't have to eat alone
Social media helps people connect with each other. So does eating. That's why Lynn Park combined the two into the a Korean online service called Zipbob, meaning "homemade meal," which allows social media users to share a meal with people who have similar interests. According to the Yonhap news agency, any user can propose a meal, and once seven people sign up, the event is on.

Korean dinner (nayoungkang/Flickr)
Park In, another Zipbob official, told Korea Joongang Daily that loneliness was a major reason for the rising interest in Zipbob. "The social diners are mostly people in their 30s with a job," she said. "And the number of people taking part in social dining has been increasing dramatically."
A similar concept is Social Lunch, a start-up created in 2011 by Japanese techies Makoto Fukuyama and Kota Uemera. According to the Japan Times, the idea is that you pair up with a friend, and then the app matches you with another pair of similar professionals who might be useful to network with.
4. You know what hazardous foods to avoid
While lunch dates sound nice, many Chinese microbloggers are more concerned about simply knowing which foods are safe to eat. In a country repeatedly rocked by food safety scandals, China's tech users have invented ways to inform one another quickly about new health warnings.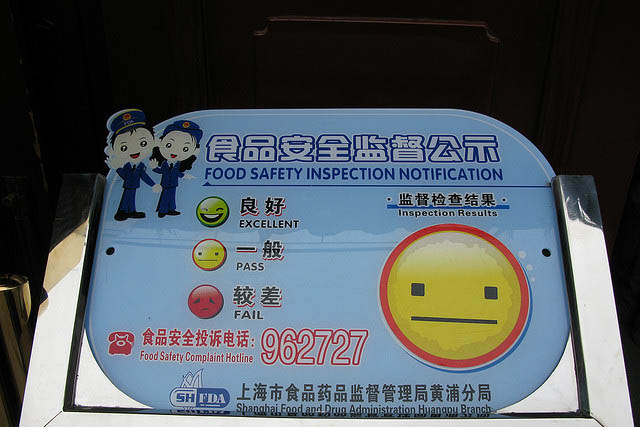 This Chinese food safety inspection sign in front of a restaurant isn't terribly inspiring.. (rothar/Flickr)
As mentioned in Asia Blog last year, after Shanghai graduate student Wu Heng discovered that restaurants were using toxic chemicals to make pork taste like beef, he started a website called ZCCW (short for zhi chu chuang wai or 掷出窗外, Chinese for "throw out the window"). The site publishes articles about how to avoid problematic food, and lists products that might be suspect.
Another option is the China Survival Guide iPhone app, which launched in 2012 and became the top download on the Chinese iTunes store within three days of launching, according to Business Insider. Every day, the app provides users with a list of known food problems in the country.
A spokesman for the product explained to Business Insider that the app was created when its founder realized that "friends and family around him had gone from feeling really depressed and angry about the food safety situation to feeling terrified and anxious."
5. You're motivated to finish your plate
In China, food is an important symbol of hospitality, and no one wants to be caught without enough food for a guest. People dining out will order excessive amounts of food to convey friendship and respect, and almost nobody brings home leftovers. The problem is notorious at Chinese government banquets, where tons of delicious food have been thrown away uneaten. According to the World Watch Institute, $32 billion worth of food is discarded annually in China.
Fed up with the practice, in 2012 a man named Xu Zhijun took a photo of his empty plate after eating a meal and posted it on China's Weibo microblogging platform, and asked others to do the same, according to BBC News China. For months it received little attention, until Chinese leader Xi Jinping commented on a news piece about Xu's "empty plate" campaign. "These wasteful habits must stop immediately!" Xi is alleged to have said.

Xu Zhijun encouraged Chinese microbloggers to post pictures of their empty plates. (vialbost/Flickr)
Within a few days Xu's campaign became a front-page story in China's state-run media, and his social media accounts gained a massive amount of followers. Now, "Operation Empty Plate" is a well-known Internet phenomenon. In Asia, social media doesn't just help you find good food — it asks you to finish it all as well.