Meet the 2018 Asia Game Changers: Featuring Indra Nooyi and Survivors of the Thai Cave Rescue
VIEW EVENT DETAILS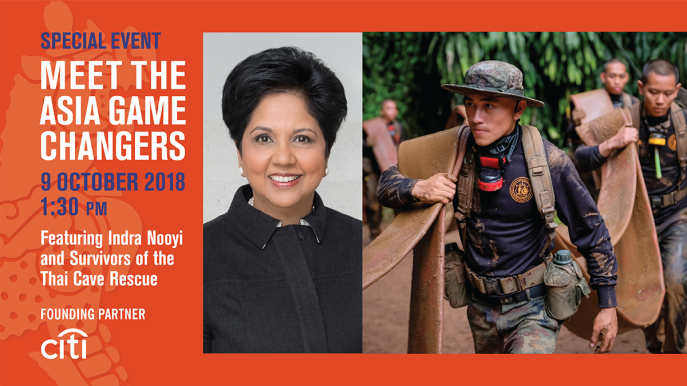 It's one of the highlights of the Asia Society calendar: The day we honor the annual class of Asia Game Changers — a remarkable group of leaders who are transforming Asia and the world. Their leadership has contributed towards creating a world in which peace, equality, sustainability, and selfless acts have the roots to flourish. Before the awards dinner, join us for a special preview to meet some of the remarkable members of the "class of 2018" and hear their incredible journeys of breaking barriers, defining courage, and making miracles.
Among our Game Changers this year are some incredible game-changing women. Their fearless leadership has shattered countless stereotypes and serves as a powerful inspiration to girls and women around the world. 
---


This year, be in the room with trailblazing Asia Game Changer of the Year Indra Nooyi, an exemplary figure of leadership and perseverance, who leads this group of inspirational Asia Game Changers.

 
The program will also feature members of the Thai soccer team rescued from the Tham Luang caves. In their first-ever visit to the United States, Wild Boars coach Ekkapol Chantawong, player Adul Sam-on, and Narongsak Osatanakorn, the governor of Chiang Rai province who supervised the rescue, will share their incredible stories.

Also with us:
The Afghan Girls Robotics Team who overcame obstacles and heartbreak — and emerged as champions for girls all over the world.
Dr. Munjed Al Muderis whose courage led to his freedom — and whose groundbreaking work has given patients new hope.
Mira Rai who has defied steep odds, shattered records, and inspired — and helped — millions of girls.
The Syrian White Helmets who have shown game-changing, life-saving heroism — in the world's most unforgiving and desperate places.
Wang Shi who has championed the environment — from the cities of China to the farthest reaches of the planet.
The Asia Game Changer Awards, launched by the Asia Society in 2014, are designed to fill a vital gap, identifying and honoring true leaders who are making a positive contribution to the future of Asia. These awards are bestowed annually to individuals, organizations, and movements that have inspired, enlightened, and shown true leadership in areas that reflect Asia Society's core pillars of policy and business, arts and culture, and education.
Learn more about the 2018 Asia Game Changer award ceremony at Cipriani on October 9, 2018, at 6 p.m.
Event Details
1:30 - 3:30 p.m.
Asia Society
725 Park Avenue
New York, NY 10021
Buy Tickets
Member: $20; Students/Seniors: $30; Non-Member:$40

Add to Calendar
20181009T173000
20181009T193000
UTC
Asia Society: Meet the 2018 Asia Game Changers: Featuring Indra Nooyi and Survivors of the Thai Cave Rescue
Asia Society 725 Park Avenue New York, NY 10021
---
If you plan to attend, tell your friends on Facebook!
Join the Facebook Event »