Ten Events That Shaped Asia in 2015
From Singapore to Syria, Iran to Nepal, 2015 marked another tumultous year across the world's largest continent. The year saw its fair share of tragedy, from a refugee crisis that threatened Middle Eastern stability to a devastating earthquake on the doorstep of the Himalayas. But 2015 will also be remembered as a year of diplomatic breakthroughs in respect to climate, trade, and nuclear proliferation.
Here at Asia Society, we've covered the year's events through our unique mix of artistic and cultural programming, public policy discussion, and insight from some of the world's foremost experts on all things Asia. The following is an accounting, drawn from the Asia Society staff, of the 10 events that most shaped the continent in 2015 — in (more or less) chronological order. Beneath each item, you'll find links to related Asia Society posts and events.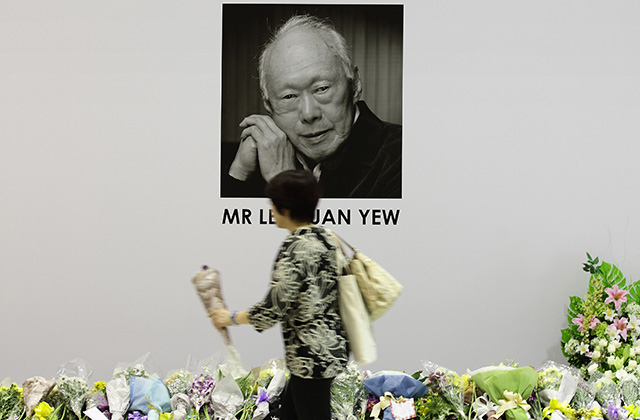 A woman walks to place a flower tribute at Tanjong Pagar Community Club following the passing of former Prime Minister Lee Kuan Yew on March 23, 2015 in Singapore. (Suhaimi Abdullah/Getty Images)
Lee Kuan Yew Dies
Perhaps no single individual played a larger role in his country's history than Singapore's Lee Kuan Yew, who died in March at the age of 91. Upon Singapore's independence in 1965, the urbane, cosmopolitan Lee transformed an impoverished country lacking in natural resources into a wealthy state that became one of Asia's great centers for trade and commerce. Lee's model of authoritarian capitalism — he openly dismissed the importance of individual rights — earned him much criticism in the West. But Singapore's influence, particularly in post-Mao China, belied its modest size.
Remembering Singapore's Lee Kuan Yew, 1923-2015
Orville Schell Remembers Singapore's Lee Kuan Yew and 'His Alternative to the Messiness of Liberal Democracy'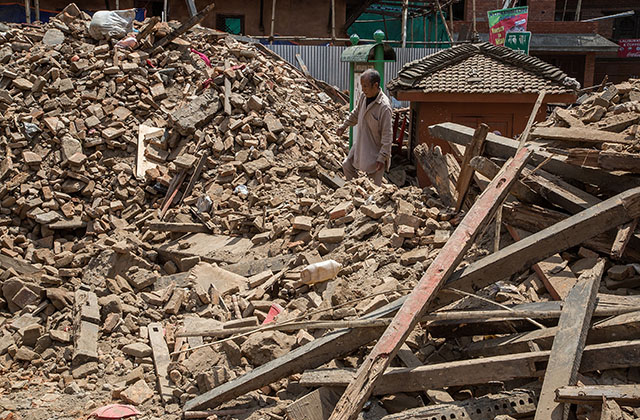 A resident walks on top of the debris of one of the temples at Basantapur Durbar Square on April 27, 2015 in Kathmandu, Nepal. (Omar Havana/Getty Images)
An Earthquake Shakes Nepal
On April 25, a magnitude 7.8 earthquake struck a low-lying valley in Nepal, where much of the country's population lives. The results were devastating: over 9,000 dead and 23,000 injured in and around the capital, Kathmandu, and severe damage to numerous UNESCO World Heritage sites. The tremor also triggered an avalanche at Mount Everest that killed 19, marking the deadliest day on the mountain's history. The destruction — and the first, tentative steps of recovery — underscored the infrastructure needs of one of Asia's poorest countries.
Watch: Asia Society Staffer Discusses Nepal Earthquake Rescue Effort on 'Charlie Rose'
Videos: How Local Artisans Are Rebuilding Nepal

British Foreign Secretary Philip Hammond (2nd R), US Secretary of State John Kerry (R) and European Union High Representative for Foreign Affairs and Security Policy Federica Mogherini (L) talk to Iranian Foreign Minister Mohammad Javad Zarif as they wait for Russian Foreign Minister Sergey Lavrov (not pictured) for a group picture of Iran nuclear talks at Austria International Centre in Vienna, Austria on July 14, 2015. (Carlos Barria/AFP/Getty Images)
Iran and the West Sign a Nuclear Deal
In June, the five permanent members of the United Nations Security Council plus Germany persuaded Iran to suspend its capacity to make a nuclear weapon in exchange for sanctions relief. The deal didn't wash away the enmity between Tehran and the West — if anything, fiery rhetoric only increased in the ensuing months. But it did secure a political victory for Iran's moderate leader Hassan Rouhani — and offered ordinary Iranians a chance to participate more fully in the global economy.
Podcast: Iran's Political 'Midlife Crisis'
The Iran Nuclear Deal: A 'Monumental Outcome,' With a Long Backstory

Investors monitor screens showing stock market movements at a brokerage house in Shanghai on August 18, 2015. (Carlos Barria?AFP/Getty Images)
China's Stock Market Swoon
For six months, China's two main stock exchanges — Shenzhen and Shanghai — enjoyed a remarkable bull run, as the country's burgeoning middle class invested in equities in unprecedented numbers. But over a four-week period this summer, the party came to a halt: Chinese companies lost $3.9 trillion in value, causing some analysts to fret that the world's second-largest economy was on shaky footing. The government scrambled to contain the crisis, and by the end of the year China's stock markets posted respectable year-on-year returns. The rollercoaster, however, raised the question of whether the country can achieve its goal of fostering an economy less reliant on government intervention.
Will the Next Global Recession Be Made in China?
Can the Other 'Asian Giants' Deal With China's Slowdown?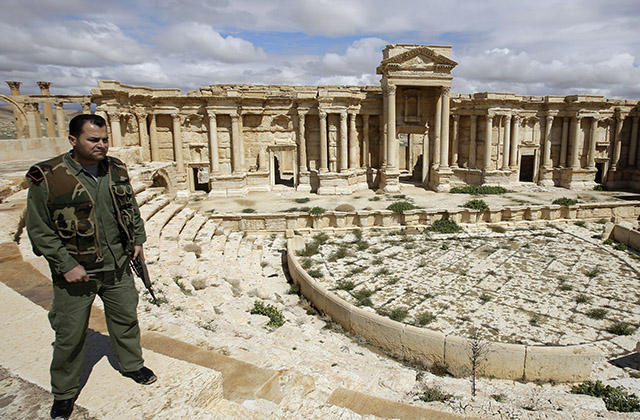 A Syrian policeman patrols Greco-Roman ruins in the ancient city of Palmyra, Syria, on March 14, 2014, before Islamic State forces seized the city the following year. (Joseph Eid/AFP/Getty Images)
ISIS Attacks Palmyra
In August, the Islamic State seized the Syrian city of Palmyra, a UNESCO World Heritage site, and began the systematic destruction and looting of its ancient artifacts. Despite ISIS's nihilistic rhetoric, a central motivation behind their attack was money — the illicit sale of antiquities is the second-most lucrative revenue stream for terror group after ransom money extracted in kidnappings. Palmyra's seizure elicited international outrage from political, military, and artistic voices concerned about terrorist threats to culture — but finding a solution to the problem in the midst of a deadly civil war will remain a challenge into 2016 and beyond.
Podcast: Financing Terror Through 'Cultural Cleansing'
Before and After: This Is What's Happening to Historic Sites in the Middle East
Can the World Save Antiquities Under Terrorist Threat?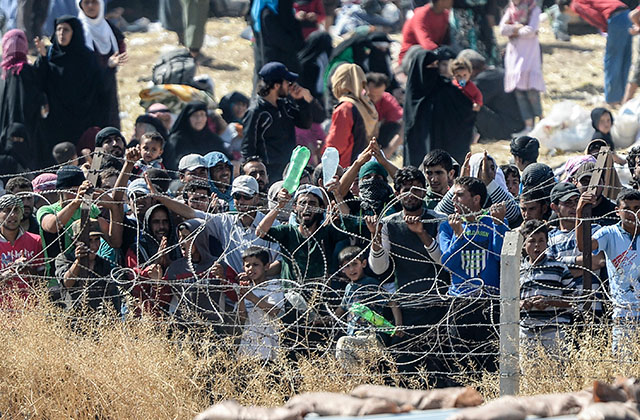 Syrians fleeing fighting in the city center of the Syrian town of Tal Abyad ask for water as they gather at a border crossing on the Syrian side of the border, as seen from Turkey at the Turkish crossing of Akcakale in the southeast Sanliurfa province, on June 14, 2015. (Bulent Kilic/AFP/Getty Images)
Syrian Refugees Spark Global Crisis
In 2015, more than a million Syrians fleeing the country's civil war completed a perilous journey to Europe, prompting a continent-wide debate over how many should be allowed to settle there. In September, German Chancellor Angela Merkel announced that her country would welcome up to 800,000 Syrians; her Hungarian counterpart, meanwhile, hastily constructed a fence and warned the migrants to stay out. In the United States, Barack Obama's proposal to accept 10,000 Syrian refugees triggered intense domestic controversy and became a central issue in the country's upcoming presidential election. The United Nations Security Council finally approved a "road map" aiming to resolve Syria's war in December — but the refugee crisis is unlikely to abate in 2016.
Flashback to 2014: Ian Bremmer's Prescient Remarks on Syria's Refugee Crisis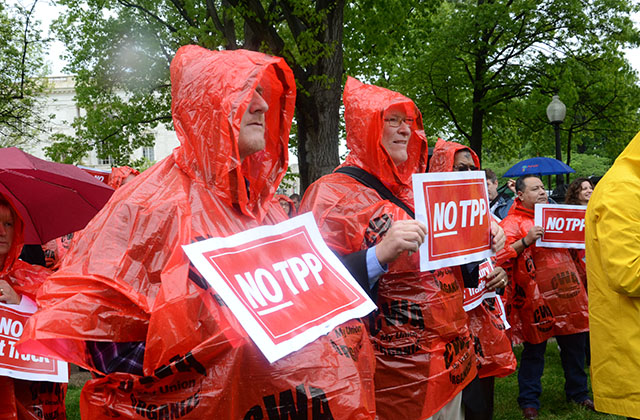 Protestors in front of the capitol building in Washington, D.C. on May 7, 2014 hold signs opposing the Trans-Pacific Partnership agreement. (AFGE/Flickr)
The Trans-Pacific Partnership Is Approved
After several years of negotiations, 12 countries adjacent to the Pacific Ocean agreed to the landmark Trans-Pacific Partnership (TPP) deal in early October. Supporters of the pact argue that it will reduce the cost of goods and services and lead to stricter environmental and labor standards. But the deal isn't free of controversy. Critics within the United States warned that TPP could have a pernicious effect on American workers, while geopolitical thinkers warned that China's exclusion could exacerbate Sino-American tensions. The scope of the deal, however, is undeniable — if implemented, TPP would set trade rules governing 40 percent of the world's economy. The United States Congress is expected to vote on the pact's approval some time in 2016.
Wendy Cutler: Why Free Trade Standards in Asia Are Rising
Video: New Zealand's Leader Says China Sees Opportunity in the TPP

A crowd stands outside the headquarters of the National League of Democracy (NLD) party displaying a portrait of Myanmar opposition leader Aung San Suu Kyi in Yangon on November 9, 2015. (Romeo Gacad/AFP/Getty Images)
Myanmar Holds Historic Elections — and the Opposition Wins
For the first time since an abortive 1990 election ushered in a quarter century of repressive rule, Burmese citizens took to the polls in November. The results were unambiguous: The National League of Democracy, a party led by the iconic Nobel laureate Aung San Suu Kyi, achieved a sweeping and historic victory. Euphoria aside, Myanmar's many problems — including poverty, underdevelopment, and the persecution of the country's Rohingya minority — will not disappear overnight. But Aung San Suu Kyi's election offered the possibility of positive change in one of the world's most stagnant countries.
Podcast: Myanmar's Road to Democracy
Myanmar as a Democracy: What's Ahead for Aung San Suu Kyi's Majority Party?
The Significance of Myanmar's Historic Elections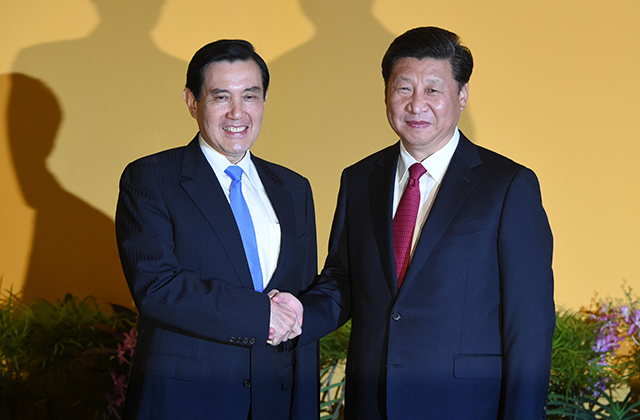 Chinese President Xi Jinping (R) shakes hands with Taiwan President Ma Ying-jeou (L) before their meeting at Shangrila hotel in Singapore on November 7, 2015. (Roslan Rahman/AFP/Getty Images)
Xi Jinping Shakes Ma Yingjeo's Hand
A handshake may just be a handshake, but when President Xi Jinping of China greeted President Ma Yingjeo of Taiwan in December, it marked the first meeting of the two sides' top leaders since the Chinese Civil War erupted in 1945. Relations between the two have thawed somewhat in recent years, as economic and transportation links have expanded. But Taiwanese elections in January — in which the pro-independence Democratic Progressive Party is currently expected to win — may complicate Cross-Strait relations in 2016.
ChinaFile conversation: The China-Taiwan Summit
What Xi and Ma Really Said
With Historic Ma-Xi Summit, Chinese State Media Walks a Fine Line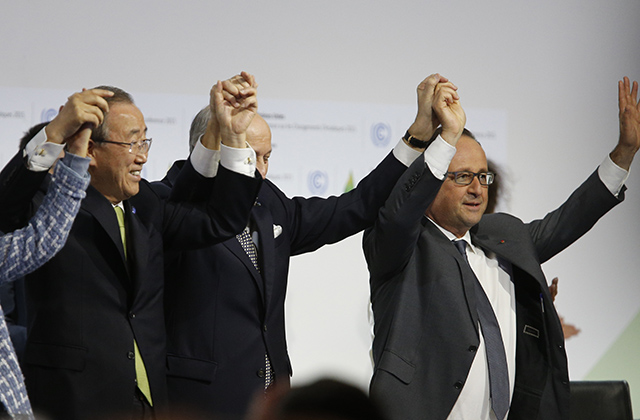 (L to R) Secretary General of the United Nations Ban Ki Moon, Foreign Affairs Minister and President-designate of COP21 Laurent Fabius, and French President Francois Hollande raise hands after the adoption of a global warming pact at the COP21 Climate Conference in Le Bourget on December 12, 2015. (Francois Guillot/AFP/Getty Images)
A Climate Agreement Is Reached in Paris
Six years — and countless emissions — ago, international environmental talks held in Copenhagen ended in dismal failure. But in December, nearly 200 nations came together in Paris and pledged to lessen reliance on fossil fuels and prevent global temperatures from rising above 2 degrees Celsius. Many climate scientists have argued that the goals agreed to in Paris are "too little, too late" to prevent the catastrophic consequences of climate change. But the accord confirms that the world's two largest emitters — the United States and China — could overcome past differences and agree on a matter of such international importance.
Kevin Rudd: U.S., China, and India Must Lead Together for a Climate Deal in Paris
Solving Climate Change Problem Rests on U.S.-China Cooperation
Also in 2015
King Abdullah dies in Saudi Arabia; A proxy war intensifies in Yemen; Russia launches air strikes in Syria; China constructs artificial islands in disputed maritime territory; Narendra Modi's party loses key regional elections in India; and leaders of the two Koreas meet.