Remembering Singapore's Lee Kuan Yew, 1923-2015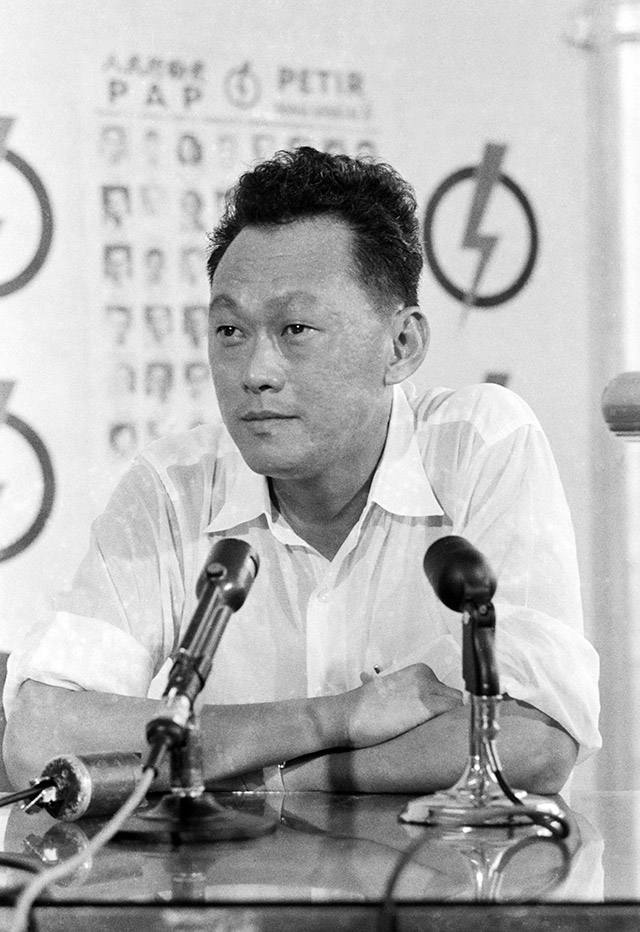 In a picture taken on June 5, 1959 Lee Kuan Yew, leader of People's Action Party poses after winning the elections in Singapore. Lee served as prime minister from 1959, when Singapore gained self-rule from colonial ruler Britain, until he stepped down in 1990. (Terence Khoo/AFP/Getty Images)

Asia Society's Orville Schell recently reflected on Lee Kuan Yew and his 'alternative to the messiness of liberal democracy' in The Wall Street Journal. Read more
The people of Singapore woke up Monday morning to news that their founding father had died. Lee Kuan Yew, who served as prime minister from 1959 to 1990 and was instrumental in turning the former colonial trading post into what he called "a first world oasis in a third world region," succumbed to severe pneumonia at Singapore General Hospital at 3:18 am Monday local time. He was 91.
Singapore Prime Minister Lee Hsien Loong declared a seven-day period of national mourning.
"The people and the nation of Singapore are in our thoughts today," Asia Society President Josette Sheeran said. "With the passing of Lee Kuan Yew, the world has lost a true visionary, a great leader, nation-builder and historic strategist. He will be so missed."
Speaking to Channel News Asia, Asia Society Trustee Chan Heng Chee, Singapore's former Ambassador to the United States, said, "This is a sad day for Singapore, as we mourn the passing of our founding father, a peerless statesman who has left an indelible mark on Singapore, the region and the world stage." Chan also noted, however, that "Even as all Singaporeans weigh the profound loss of Mr. Lee's passing, the impact he has made on modern Singapore is enduring and will continue to inspire many."
Lee's obituary in Singapore's Straits Times hailed "a visionary and a radical thinker":
He would lead a pioneer generation of Singaporeans to overcome a series of daunting challenges, from rehousing squatters in affordable public housing, rebuilding the economy after the sudden pull-out of British forces and the oil shocks of the 1970s, and a major economic recession in the mid 1980s. Through it all, Mr Lee would exhort his people to take heart and "never fear" as they looked forward to a better life.
But, the paper also noted, Lee's "decades in office were not uncontroversial." In its obituary, The New York Times expands:
His "Singapore model," sometimes criticized as soft authoritarianism, included centralized power, clean government and economic liberalism along with suppression of political opposition and strict limits on free speech and public assembly.
The Times concluded that "the nation, reflected the man: efficient, unsentimental, incorrupt, inventive, forward-looking and pragmatic." Times columnist Roger Cohen struck a similar balanced note: while Lee "cowed Singaporeans into fear," at the same time "the 20th century produced few greater statesmen and perhaps no greater pragmatist."
---
Below, please find thoughts on Lee's passing submitted by Asia Society staff, friends and family. This page will be updated throughout the week.
Kevin Rudd
President, Asia Society Policy Institute
With the passing of Lee Kuan Yew, Singapore has lost the leader who guided it for the full 50 years of its independence since 1965.

— Kevin Rudd (@MrKRudd) March 22, 2015
Lee Kuan Yew was a rare statesman, both in Asia and the world, who always saw the big picture and we shall miss his counsel.

— Kevin Rudd (@MrKRudd) March 22, 2015
Thérèse and I send our condolences to his family, including his son Prime Minister Lee Hsien Loong. K

— Kevin Rudd (@MrKRudd) March 22, 2015
Ronnie Chan
Co-Chair, Asia Society
I know of no one in Asia throughout the past century of globalization that understands geopolitics like Lee Kuan Yew. Globally, only two others are in his league: Dr. Henry Kissinger of North America and Chancellor Helmut Schmidt of Europe. The three are able to look from a higher perspective than all others. They were all born within five years of each other (with Lee Kuan Yew being the youngest); perhaps the turmoil of their generation was necessary to produce such giants.
All three have a keen sense of history, but so do many others. What sets them apart is how they read it. They are able to do so according to human nature with minimal subjective interference. Before interpreting history, they are perhaps the most humble before it and so read it as close to the facts as possible.
Of late I have discussed Ukraine with two of the three. Uncannily, both started by pointing out that for almost a millennium, the country has only been independent for some 24 years.
All three are not mere theorists; their statecraft is also world-class. They are all immensely practical. Without it, Lee Kuan Yew could not have built Singapore into what it is today.
I separately asked two of them who of the next generation in their opinion are close to their level. Both of them had a difficult time coming up with names. At my prodding, a few were offered. For once I disagreed with the giants. I know all the ones mentioned and in no way is any of them in the league of the three.
So are we seeing the beginning of the end of an era? I fear so. What I fear more, however, is that the world ahead will not be any simpler than the one which created the giants. Yet we are without their wisdom and experience. Lee Kuan Yew will at least be spared the many traumas to come.
Orville Schell
Director, Center on U.S.-China Relations at Asia Society