The Significance of Myanmar's Historic Elections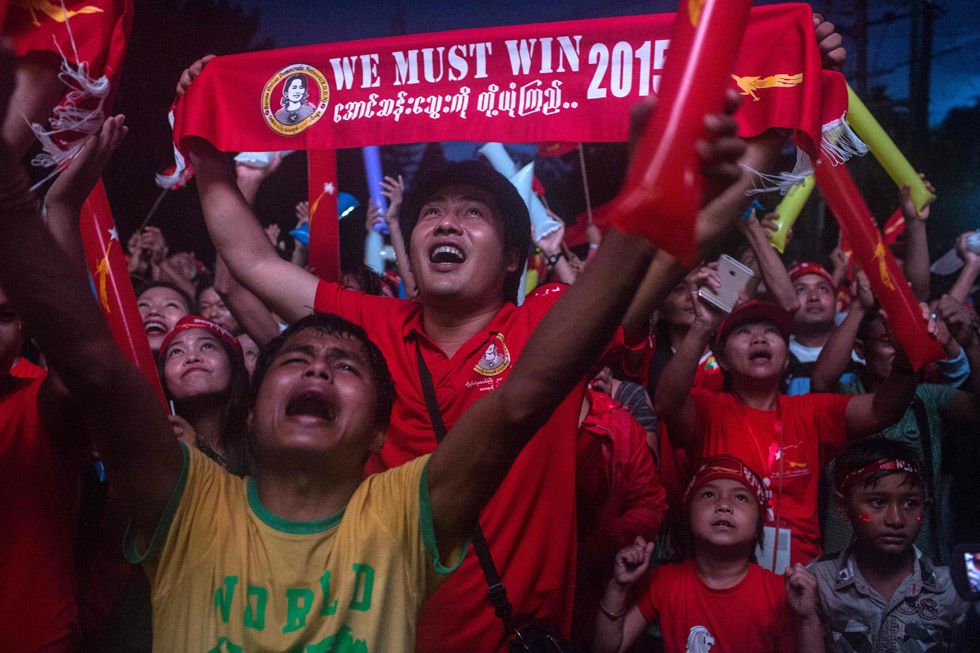 Residents of Yangon, Myanmar celebrate the results of the country's democratic elections on Sunday, November 8. (Lauren DeCicca/Getty Images)
On Sunday, Myanmar held its first national elections since 1990, the year a military junta seized power in the country. While all the votes have yet to be tallied, returns suggest that the National League of Democracy (NLD), the opposition political party led by the iconic Aung San Suu Kyi, has won a majority of the contested seats. On Wednesday, current Myanmar president Thein Sein congratulated Aung San Suu Kyi on her party's victory, and the two sides plan to hold "reconciliation talks" on the country's unprecedented transfer of power soon.
Priscilla Clapp, Senior Advisor to the Asia Society Policy Institute (ASPI) and former Chief of Mission to the U.S. Embassy in Myanmar, called Sunday's results in the capital Naypyidaw, where a number of Thein Sein's ex-military ministers lost their seats in the lower house of parliament, "a major defeat for the government." Clapp predicted that if the NLD maintains its margin of victory as the remaining votes are counted, then Aung San Suu Kyi, who is constitutionally barred from becoming president, will be able to elect the next president. Suu Kyi will probably be elected speaker of the lower house, which would entitle her to a seat in the government's top decision-making body.
ASPI Executive Director Debra Eisenman wrote that Sunday's elections proved that Myanmar's political transition "has been real." She added that the challenges and opportunities for the new government include "building democratic institutions and the rule of law, tackling corruption, addressing ethnic and religious intolerance and conflict and building on the current ceasefire agreement, and delivering the economic benefits of the transition to the populace."
On Tuesday, Asia Society Executive Vice President Tom Nagorski, appearing on The Takeaway with John Hockenberry, warned that "the world is littered with euphoric cases like [Myanmar's election] that, in the end, didn't turn out so well." But he urged listeners to not lose sight of the event's significance. "It's worth lingering on this a little bit: It's been 50-plus years since [Myanmar] had an election that free, not rejected, and not violent. That last point, which people skate over, is a huge thing."