Briefing MONTHLY #4 (2) | ASEAN-Australia Special Summit (Tue-Thu edition)
15 March 2018 | Risky Business | Marty Natalegawa and Chan Heng Chee | Bishop's rules | The week's agenda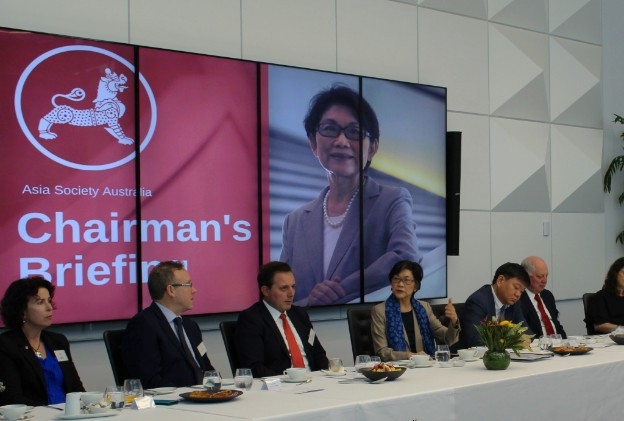 Asia Society Global Co-Chair and Singapore's Ambassador-at-large Chan Heng Chee at Asia Society Australia Chairman's Briefing on Tuesday. Asia Society Global Co-Chair and Singapore's Ambassador-at-large Chan Heng Chee at Asia Society Australia Chairman's Briefing on Tuesday.
---
This week, BRIEFING MONTHLY Editor is reporting from the ASEAN Special Summit week in Sydney. This is the second installement. The Vietnam Prime Minister Nguyen Xuan Phuc arrived yesterday and Singapore's Prime Minister Lee Hsien Loong arrives today kicking off the official part of the historic weekend Australia-ASEAN special summit. But the action so far has been at the many sideline events.
---
RISKY BUSINESS
Business Council of Australia chief executive Jennifer Westacott has complained business is being left out of Asia policy making. After a day of grand strategising about regional architecture by the country's academic and foreign policy elite at the ASEAN-Australia Dialogue on Tuesday, Westacott used her spot on the wrap-up panel to offer the reality break that architecture actually grows around business. She said it was necessary to separate the debate about ASEAN's political structure from the region as a business opportunity. While she acknowledged the economic opportunity, she argued it was not easy to do business in these countries. In rather elliptical terms about different business cultures in Australia and Asia, Westacott suggested that the culture of Australian business — especially reputational risk — and the economic opportunities in the region don't line up. "We will have to find new business models to find ways to go on," she said. Speaking earlier the other two key business speakers Australia Post chief executive and Australia ASEAN Council chair Christine Holgate and former Telstra chief executive David Thodey, now at the CSIRO, declared themselves to be glass-half-full thinkers on Australian business in the region. Thodey said that with research collaboration more important to businesses, Australia needed to find new ways of partnering with ASEAN countries on the basis that each side had something to offer. Meanwhile, former ANZ Bank chief executive Mike Smith was enjoying his new life spending most of the day at the conference soaking up the academic vibe.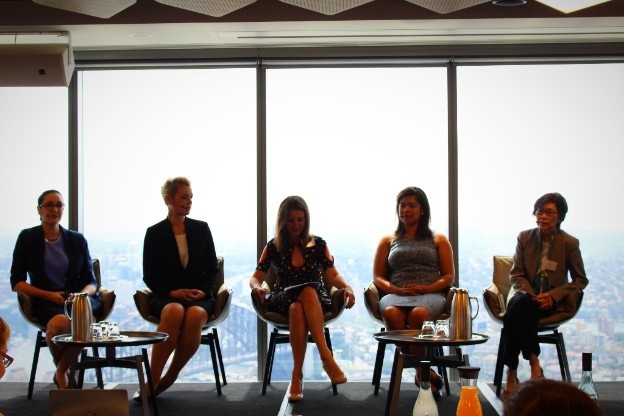 Asia Society Global co-chair Chan Heng Chee (right) speaking at ASEAN 360º with (from left) Dr Melissa Crouch, Anna Green, Jewel Topsfield and Dr Aim Sinpeng
---
ASEAN: TAKES 1 & 2
Two of Asia's most experienced diplomats have underlined the diversity of views within the region over ASEAN's future at the first sideline events to be held this week. Indonesia's former foreign minister Marty Natalegawa told a Sydney University function on Monday that the 50-year-old institution risked becoming irrelevant if it could not overcome divisions and come up with new ideas. But Singapore's ambassador-at-large Chan Heng Chee told Asia Society Australia's ASEAN 360º forum at King & Wood Mallesons that ASEAN would have to be invented if it didn't exist. Natalegawa said: "ASEAN is extremely good at convening conferences but … but what are we offering in terms of ideas?" Chan, who is also now the Asia Society's global co-chair, said: "ASEAN has been a platform where other countries can take their ideas." She said the existence of ASEAN had prevented conflicts unlike regional institutions in most other parts of the world.
---
BISHOP'S RULES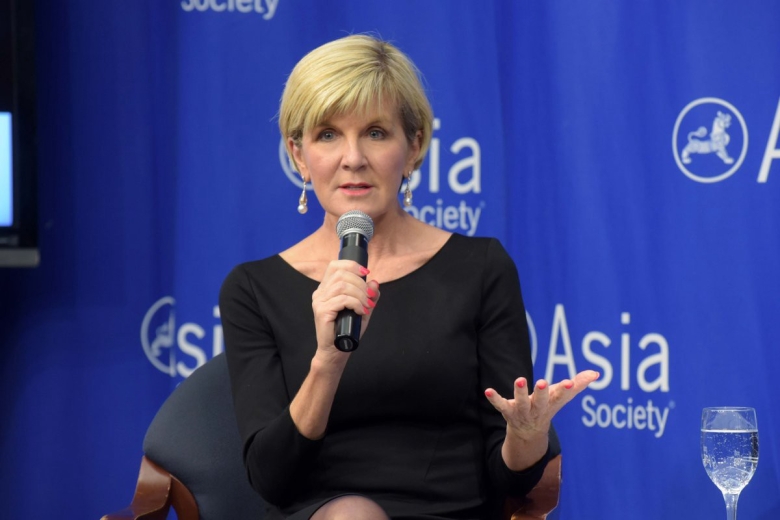 Defending small states … Julie Bishop speaking at Asia Society New York on 8 March 2018
Echoing her address to Asia Society New York on the 8 March, Foreign minister Julie Bishop spoke at the ASEAN — Australia Daioluge on Tuesday night, saying Australia will work more with ASEAN countries to promote a "rules-based order" in the region. She told the ASEAN-Australia Dialogue: "The rules-based order is designed to regulate behaviour and rivalries of and between states, and ensure countries compete fairly and in a way that does not threaten others or destabilise their region or the world. The order protects the rights of small and large countries by establishing norms of behaviour." Coming ahead of the arrival of leaders from Southeast Asia where democratic institutions are under pressure in several countries, Bishop's speech gave less attention to this issue than her Singapore Fullerton Lecture last year which emphasised: "The importance of liberal values and institutions should not be underestimated or ignored." Hosting the dinner, ANU College of Asia and the Pacific dean Michael Wesley took the opportunity to write an early draft of Bishop's political legacy: opening up DFAT to thinktanks and universities and emphasising education in preparing Australia for an uncertain world.
---
SHIPS AHOY
Vietnam has stepped up the pace of engagement with Australia ahead of a new Strategic Partnership agreement this week by raising the prospect of bilateral cooperation in South China Sea operations. In this interview in the Fairfax Group newspapers Prime Minister Nguyen Xuan Phuc says: "Vietnam welcomes and stands ready to join in efforts towards maintaining peace and stability in the region." The Strategic Partnership underlines a transformation in the bilateral relationship from wartime enemies to trusted diplomatic partners. (see Monday's Briefing MONTHLY). Speaking before the interview was published, former foreign minister Gareth Evans endorsed the idea of Australia conducting freedom of navigation operations in the South China Sea with Indonesia or Vietnam rather than the United States.
---
REWRITING THE MAP
The "Indo-Pacific" might be the hottest term in the Australian foreign policy lexicon right now with a new Indo-Pacific deputy secretary position created in DFAT for Richard Maude, the man who wrote the term into last year's Foreign Policy White Paper. But while it might look all very clear on a map, linking the old Asia-Pacific construct with the somewhat neglected Indian Ocean gets a bit more complicated when viewed from ASEAN. The term featured in virtually even session of the ASEAN-Australia Dialogue but the variety of ways it is being interpreted around the region will keep the cables flowing into DFAT for a long time yet.
---
NEW AGENDA ITEM
Human Rights Watch has joined the pre-summit debate with a lengthy report on rising human rights issues across the Southeast Asian countries despite their growing wealth. In a letter to Prime Minister Malcolm Turnbull the group says: "We are concerned that the summit will send a message to ASEAN governments and the people of the region that human rights are a lower priority than other economic, political, or security issues." The report says: "Australia should put its values as a rights-respecting democracy at the center of its relations with ASEAN. Rather than just focusing on good relations with ASEAN leaders, it can do something very different than China: focus on good relations with and the needs of the people of ASEAN, especially in the face of China's threat to human rights in the region." See the full report here.
---
DIPLOMATICALLY SPEAKING
"I must say as Secretary General of ASEAN, you are more secretary than general," former ASEAN secretary general Ong Keng Yong speaking at the ASEAN-Australia Dialogue about how the organisation works.
---
ROYAL COMMAND
It is a rare sight to see a member of one of Asia's mostly low profile royal families hold an expert audience in their hands for the best part of an hour as they traverse the prickly landscape of geopolitical change. So, it is worth recording what the Sultan of Perak, Nazrin Muizzuddin Shah, had to tell the ASEAN-Australia Dialogue in his keynote speech. (The Sultan is a potential future king under Malaysia's system of electing its monarch from within the ranks of the Sultans from the nine states.
US-China rivalry: "The unfolding scenario of mounting rivalry and competition between China on the one hand and numerous other powers led by the United States on the other is unlikely to lead to war, except perhaps by accident."
Power sharing: "The best outcome would be for resident powers to concede some space at the table for rising powers."
A North Korea deal: "The security environment in Northeast Asia would be radically altered, and major strategic adjustments would have to be made by the two Koreas, the United States and Japan."
Islamic terrorism: "There cannot be "Islamist terrorism." It is in fact a direct contradiction in terms, as "Islam" means peace. Peace and terrorism do not go together."
Rohingya crisis: "ASEAN however must continue to be seized of the matter. It is a humanitarian crisis of acute proportions that involves one of its own."
---
ARMCHAIR CRITICS
Rollercoaster ride: "The summit between their leaders in Sydney on Saturday and Sunday will effectively place Asean at the heart of Australian strategic planning as never before. Judging from the year-long preparations for the summit this coming weekend, Canberra is deadly serious about riding the roller coaster with Asean." Kavi Chongkittavorn in the Bangkok Post.
Don't look here: "ASEAN does not trade nor does it have a population (beyond, possibly, the few hundred that work at the underfunded ASEAN Secretariat in Jakarta). This conflation of ASEAN — a lightly institutionalised inter-governmental institution — with South East Asia — the region its member-states comes from — is extremely common and very hard to avoid." Malcolm Cook on the Lowy Institute's The Interpreter.
On the other hand: "While ASEAN is not without its risks, a greater risk for Australian companies could be having a ringside seat on a major economic transformation without being at the heart of the changes." Fraser Thompson in The Australian Financial Review.
---
THE AGENDA
Balakrishnan at Asia Society: Singapore's Foreign Minister Dr Vivian Balakrishnan will speak with senior Australian business leaders at a dinner co-hosted by Asia Society Australia and Singtel Optus.
Asian business: The ASEAN Business Advisory Council (ABAC) held its quarterly meeting outside the region for the first time in Sydney. This is the first of the series of business events on the sidelines of the Leaders Summit. A key addition to Australia's business engagement with Asia in the past two years has been the creation of two new chambers dealing with ASEAN. The Singapore-based AustCham ASEAN and the Brisbane-based Australia ASEAN Business Council will join the ABAC meeting.
Starting early: Sixty high school students broke into teams representing representing ASEAN Member States to simulate a meeting between Australia and ASEAN, facilitated by Asia Education Foundation in Sydney. They discussed key issues facing the region.
Digital citizens: A two-day workshop, run by Griffith University, explores ways young social entrepreneurs can use new technologies to improve social outcomes for communities in the ASEAN region and QLD.
Cyber security: Austrac hosted the ASEAN-Australia Codeathon in Sydney, to deepen collaboration between financial intelligence units, banks, developers and other partners in the region to counter terrorism financing and enhance cyber security. The Codeathon is online here.
---
ABOUT BRIEFING MONTHLY
Briefing MONTHLY is a public update with news and original analysis on Asia and Australia-Asia relations. As Australia debates its future in Asia, and the Australian media footprint in Asia continues to shrink, it is an opportune time to offer Australians at the forefront of Australia's engagement with Asia a professionally edited, succinct and authoritative curation of the most relevant content on Asia and Australia-Asia relations. Focused on business, geopolitics, education and culture, Briefing MONTHLY is distinctly Australian and internationalist, highlighting trends, deals, visits, stories and events in our region that matter.

Partner with us to help Briefing MONTHLY grow. Exclusive partnership opportunities are available. For more information please contact programaustralia@asiasociety.org
Read previous issues and subscribe >>