Yes, the Afghanistan Election is Important — But So is the Day After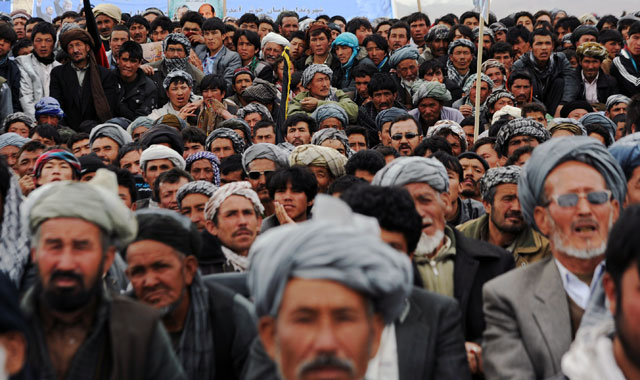 Afghan men crowd a field at a political rally in Bamiyan on April 1, 2014. Afghanistan will vote on April 5 to choose a successor to President Hamid Karzai and to decide the make-up of 34 provincial councils in elections seen as a benchmark of progress since the Taliban were ousted from power in 2001. (Hashmatullah/AFP/Getty Images)

Asia Society's coverage of Afghanistan continues this Monday, April 7, when U.S. General John Allen joins Martha Raddatz of ABC News at Asia Society New York for a discussion on Afghanistan's security after the American troop withdrawal. Click here for complete details about the program and its accompanying live webcast.
In a couple of days, Afghans will cast their votes in what is considered the most significant election in their country's recent history. For the first time since the fall of the Taliban, someone other than Hamid Karzai will occupy the office of the president in Kabul.
While I do not wish to undermine the significance of the April 5 election, I do believe that the election is only a means to an end — a stable, peaceful, inclusive, and prosperous Afghanistan.
The day after the election is when we begin to work on what lies ahead and how the incoming administration can be helped and strengthened to address critical pending issues, such as the signing of the Bilateral Security Agreement (BSA), the deal negotiated between Kabul and Washington late last year that would regulate the keeping of international forces in Afghanistan after 2014. President Karzai has thus far refused to sign the BSA.
The election is not our last chance; rather, it is our next-to-last chance. Our last chance lies in our ability to define Afghanistan's national interest, amid disparate tribal allegiances and competing priorities. To pin all hopes on this election alone, without adequately addressing the larger issues of governance, inclusion, and security, and without clearly defining our strategic national interests in relation to our neighbors, the region, and the global community, is to exercise shortsightedness. The incoming president and his cabinet will have to focus on the more urgent need of ensuring good governance, strengthening accountability, and creating an inclusive political climate.
One major concern on every Afghan's mind these days is "Will the state hold together after the election?" And, just as pressing, "Will Afghanistan get its act together and move ahead with the BSA before it is too late?"
The pending BSA is an indicator of our inability to understand, collectively define, and defend our national interests when it comes to building regional and international alliances. We cannot afford to continue to ignore our lack of consensus on expanding and strengthening Afghanistan's international presence and outreach capacity. We cannot afford to ignore our geography, history, and the importance of maintaining cordial relations with our immediate, as well as distant, neighbors.
In the wake of the much-heralded election, we Afghans should take advantage of the unique opportunity to change the course of our history. It is time that we put the future of Afghanistan ahead of our individual ethnic and tribal allegiances.
Only when we transcend our personal proclivities, will Afghanistan stop being described as "an occupied nation" as the Iranian President Rouhani did during this year's Nowrooz Celebrations in Kabul.
For statements like this, we can only blame our internal lack of clarity and weak political will. But starting April 6, these things need to change.
Aarya Nijat's most recent publication is Governance in Afghanistan: An Introduction (2014).