Why India Has So Many Slaves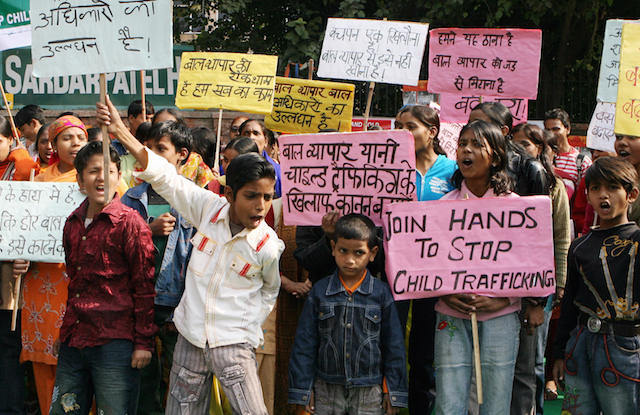 Indian children shout slogans during a protest in New Delhi on December 12, 2008 on the Global Day against Child Trafficking. (Raveendran/AFP/Getty Images)
The issue of slavery has not dominated international headlines for decades, but that doesn't mean the practice no longer exists: Roughly 46 million people  — the equivalent to Spain's total population — around the world live in slavery, a fact that challenges perceptions of progress in human rights. 
"[Slavery] is not an easy term to swallow," said Pamela Philipose, former editor-in-chief of the feminist news agency Women's Feature Service. "Slavery is actually alive and kicking, and it is amidst us."
The world's highest population of slaves — 18 million — live in India, where poverty, social inequality, and enormous textile and garment industries create the perfect conditions for labor exploitation. Philipose, who recently spoke at Asia Society in Mumbai on a panel about human trafficking, child labor, and bonded labor, said that economic desperation and powerlessness of migrants in the country — especially women and children — served as powerful lures. "Fear of unemployment is serious, and that's what people use," she said, describing manufacturers who bait workers with false promises. "This is the kind of trick that is constantly being played on people who don't really have agency in terms of laying down their entitlements."
Mona Gupta, an officer at the Apparel Export Promotion Council in India, said that cutthroat price competition in the global garment industry exacerbates the demand for exploitative labor. "If India doesn't provide it, [producers] move to Bangladesh," she said. "It's a race to the bottom."
Gupta addressed the prevalence of child labor in India's garment industry, saying that children often make ideal workers because their nimble fingers are good for spinning thread. Another panelist, who goes by the single name Nithya, was sent by her family to work at a mill when she was just 14. She recalled a time when she and 11 other child laborers were locked in an underground room for several hours during an audit. "I was afraid of losing my job," she said.
Dhananjay Tingal, executive director of the child advocacy organization Bachpan Bachao Andolan, said that this experience is common, and that he's even had to break children out of locked trunks where their employers were hiding them during inspections. And as in Nithya's case, many children fear first and foremost that they won't be able to continue working. "Child labor is a non-issue in India," he said. "[Many people] say, 'what is wrong with having child labor?' … In India, the consciousness is still, if the child is working, the family's poverty goes down."
Gupta said that, for this reason, it's critical to not just target companies employing child workers, but to also reach out to people with children. "The parents have to be sensitized," she said. "Sensitized that they are spoiling their child's future by making them go to work for a small amount of money."
Tingal also noted that disaster situations are when people should be most alert, since these are prime times for exploitation and human trafficking. The aftermath of the 2015 Nepal earthquake, for instance, saw an estimated 15 percent spike in human trafficking, with many of the victims ending up in Indian factories. The separation of families and added economic desperation supplied an extra degree of vulnerability.
"Children and women are the most affected," he said. "At least in the cases with no disaster, the child or woman who has been bought is coming from a family, so there's hope for them to go back. But in this case, they're sold off and there's no way in which they can be found."
See the complete discussion in the below video.

At Asia Society in Mumbai, Nithya, Dhananjay Tingal, Mona Gupta, Vivek Singh, Belinda Goldsmith, and Pamela Philipose discuss human trafficking, child labor, and bonded labor in India. (1 hr., 29 min.)