Should President Obama Meet Xi Jinping at All?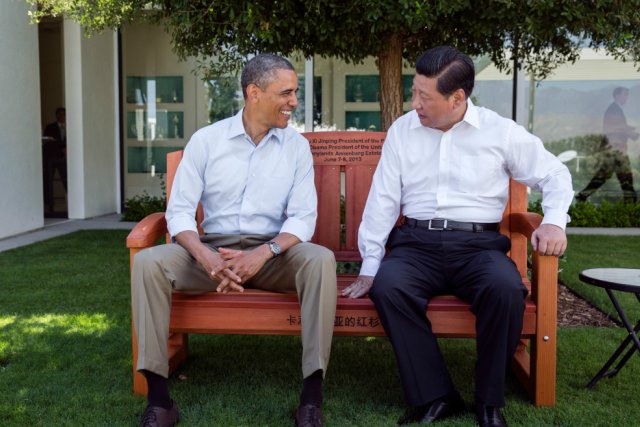 President Barack Obama presents President Xi Jinping of the People's Republic of China with a gift of an inscribed redwood park bench at the Annenberg Retreat at Sunnylands in Rancho Mirage, Calif., June 8, 2013. (Pete Souza/White House)

On September 23, Asia Society will host a conversation between Kevin Rudd, former Prime Minister of Australia and president of the Asia Society Policy Institute, and distinguished guests about the prospects of the Chinese economy in the wake of the Xi-Obama summit. Learn more
The upcoming summit between Barack Obama and Xi Jinping, scheduled for September 24 and 25 in Washington, will be the most important event this year in the U.S.-China relationship. The two leaders will have a lot to talk about, from mutual accusations of cyberspying to maritime aggression in the South China Sea. In the year since China and the U.S. signed a groundbreaking pact to limit greenhouse gas emissions, relations between the two have been tense.
Given the stakes of the Sino-American relationship on international security and the global economy, it seems axiomatic that the two sides should meet regularly and talk through areas of contention. But not every observer agrees that the summit should be held at all. Writing in a ChinaFile conversation published last month, University of Pennsylvania professor Arthur Waldron argued that the U.S. should cancel the meeting, an act that may force Beijing to reconsider its policies:
Rather than search pointlessly for understanding, win-win propositions, etc.—all of which the Chinese understand well and use against us — it is time to hammer them (in private) on rights and military behavior. They have to clean up their act. We need to make clear something we dare not: namely that sanctions that bite are the alternative. Fear of sanctions—treat them like Russia as would be proportional — may get something. Sadly discussion is a dead end.
But Peter Dutton, professor of strategic studies and director of the China Maritime Studies Institute at the U.S. Naval War College, disagrees, arguing that given the importance of China-U.S. ties, the process of holding the meeting itself has value:
In my view, the only outcome worse than talking to the Chinese about the challenges we have with their behavior would to stop talking with them.
Other contributors in the conversation sided with Dutton. But that doesn't mean President Obama should show excessive deference to the visiting Chinese president, argues veteran China scholar Perry Link:
So how should our president receive him? If it were up to me, I would say invite him to the White House, but with no pomp. No state dinner or multi-gun salute. Sit down with him and invite him to say what he likes for as long as he likes. Then, independently of the word-game he will have played, list the issues that concern the U.S.: cybersecurity, currency and trade, mass arrest of human rights lawyers, adventurism in the South China Sea, climate change agreements, and whatever else. For each issue, state clearly and concretely what U.S. policy will be a) if things get better and b) if things get worse. Then shake his hand, walk him to the door, and let him go back to China.