NY Times Lauds 'Engaging Narrative' of Schell and Delury's History of Modern China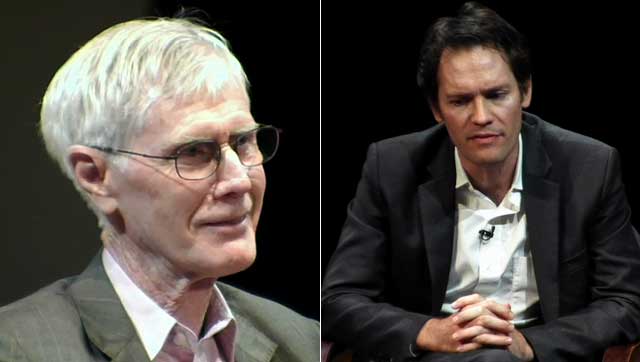 Orville Schell (L) and John Delury (R), co-authors of "Wealth and Power: China's Long March to the Twenty-first Century," at the book launch event at Asia Society New York on July 16, 2013.
As the world looks for clues as to where China is headed under its latest cadre of leaders, two Asia Society scholars have contributed to the conversation with a new book that looks to China's roots to consider its future. In Wealth and Power: China's Long March to the Twenty-first Century (Random House, 2013), Asia Society's Arthur Ross Director of the Center on U.S.-China Relations Orville Schell and Senior Fellow John Delury argue that Chinese leaders have pushed for success by holding onto a sense of "shame" stemming from failed wars and policies dating back to the mid-1800s.
Their ideas have quickly gained notice and discussion in the press. Writing this weekend in the New York Times Sunday Book Review, international editor Joseph Kahn called the book an "engaging narrative of the intellectual and cultural origins of China's modern rise." He continues:
Schell, a prolific chronicler of China's reform-era politics and society, and Delury, an expert on Chinese and North Korean politics, acknowledge the cynicism behind the party's use of shame as a nationalist rallying cry. But their book makes the case that such feelings represent a deep strain in the Chinese psyche, which the country's current leaders have inherited as part of their cultural DNA. To love China means to share a passionate commitment to overcoming the loss of face suffered in the 19th century, to ensure that the defeats of the past will never be suffered again.
In concluding, Kahn further characterizes Wealth and Power as "a fascinating attempt to reconcile China's current success with its past suffering."
Schell and Delury addressed some of the these themes with NPR's Diane Rehm last week as well as speaking to the genesis of the project.
"How do you have a country that had a century of such abysmal failure, and then such tectonic, savage, and brutal revolution that seemed to end in a total train wreck — how did it suddenly get reborn out of the ashes out of all this bad news and collapse?" Schell said. "So we went back and started combing through all of these very iconic figures and the book we finally came up with really is a series of essayistic portraits of these people to see what's the current flowing through them to the present that finally allows a culmination so that China becomes a rival to the Americans?"
Schell and Delury will continue to talk about those figures, and how the past can show us where China is headed, at Asia Society Northern California on July 31 and Asia Society Southern California on August 1. You can also watch them in discussion about the book with China historian Jonathan Spence last week at Asia Society New York.