Nepal Earthquake, One Year Later: 'We Are Still Being Reminded That It's Not Over'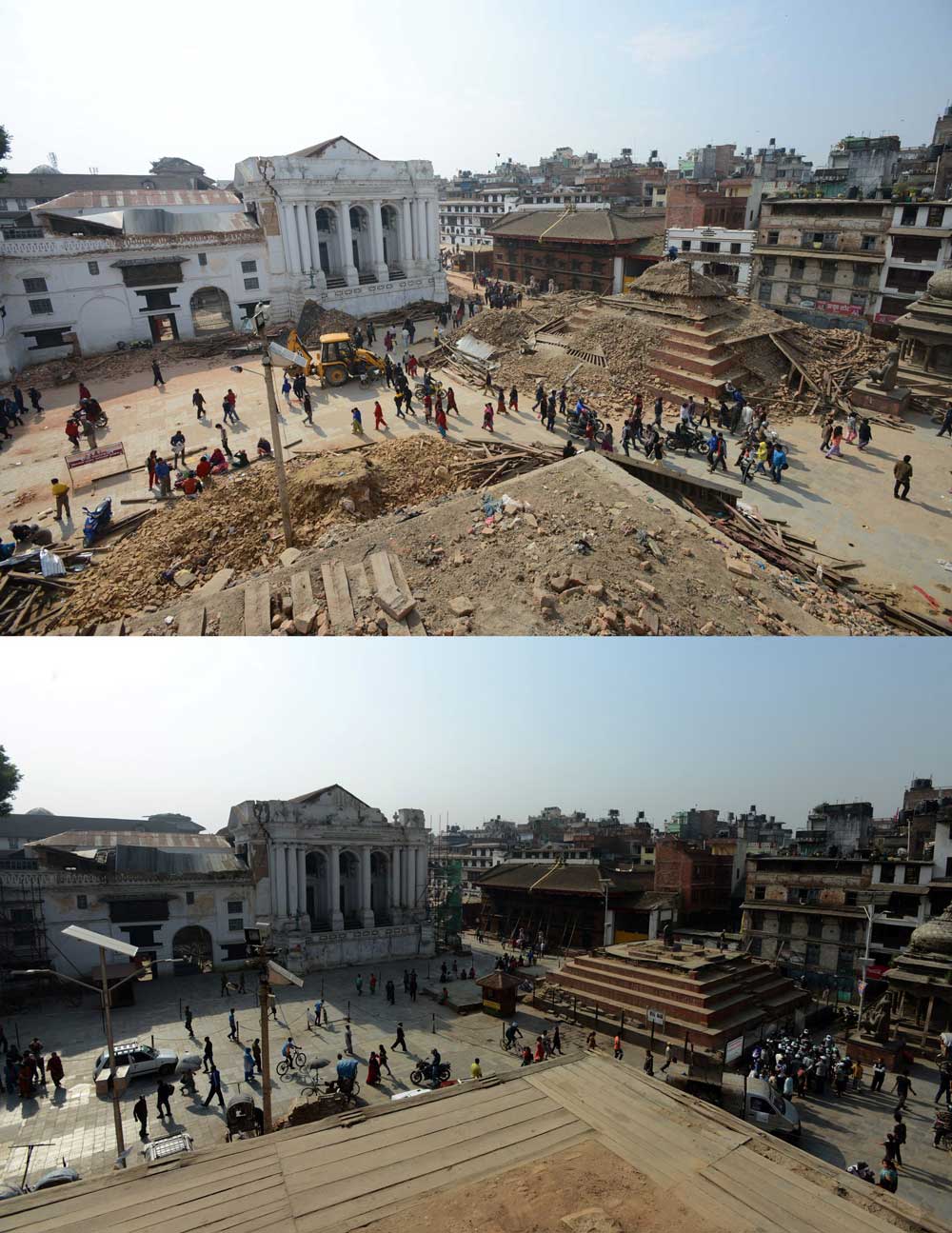 This combination of two photographs shows pedestrians walking by earthquake-damaged buildings in Durbar Square in Kathmandu on April 28, 2015 (top) and the same scene on April 23, 2016. (Prakash Mathema/AFP/Getty Images)
One year ago, Nepal was hit by a devastating 7.8 magnitude earthquake, a tumult that killed nearly 9,000 people and displaced another 3 million. In the ensuing 12 months, rebuilding efforts remain sluggish, and foreign aid continues to be restricted. But witnesses to the destruction say the memories and the problems are anything but distant. 
"I still get nightmares, but I tell myself that rather than panicking, it's wiser to identify open spaces and go there after the shaking stops," Prerana Marasini, a Nepali who works as the communications coordinator for Oxfam in Lalitpur, Nepal, said in an interview. "But questions like: 'what if it strikes in the midnight?' come to my mind frequently."
"Earthquakes were not very uncommon in Nepal but what I experienced that day was something I had never thought about. The shaking just didn't stop, and everything around me was falling down. I didn't know what to do or where to go. I thought that was the end of our lives. After the major shake stopped, we ran to an open ground where people gathered. The aftershocks continued for a long period, and those were all of high magnitudes."
In the days after, flocks of journalists, volunteers and first responders descended onto the small, landlocked nation, previously best known for its majestic mountains.
One of the first foreigners on the scene was New York-based journalist Brianna Lee, who had already planned a trip to Nepal to write about women's health and Chinese investment in the country for the International Business Times. She was en route to Kathmandu when the earthquake hit — at which point she immediately changed her focus to disaster reporting.
"When I first heard that the quake had hit, the scale of the disaster didn't quite register with me until photos and videos of the disaster started rolling in, and the death toll started climbing to the hundreds, then the thousands," Lee said in an interview.  "I'll pretty much never forget that one week in Nepal," she added. "I still remember conversations I had with some of the survivors and images of the destruction in vivid detail. I'm not doing anything in particular for the anniversary, but I am thinking about a lot of the people there."
While saving lives was the main priority in the days and weeks that followed, months later focus shifted to rebuilding the estimated 800,000 buildings that had been destroyed — some of which UNESCO World Heritage sites.
"What made the devastation most apparent to me was when I and a few other reporters traveled to the district of Sindhupalchok, about 30 miles outside Kathmandu, where building after building was leveled and anger was rising quickly among residents waiting for relief," Lee recalled.
For many, the devastation remains an everyday reality one year later, as most of the residents who were waiting for relief are still waiting. "We have lost everything," Beli Bishta, a Sindhupalchok woman and mother of three, told the BBC in a follow-up report. Bishta and her children are living in a tin shack built amid the rubble where the home once stood. "No one has helped us. I've had to sell our land. It is the only way we could manage."
According to a report by CBC News, virtually none of the $4.4 billion pledged globally (of which $2.8 billion has been delivered) has been spent on anything at all as a result of internal red-tape, let alone rebuilding permanent housing, schools, and other essential structures. Political tumult in the Nepali government has caused delays in the approval for earthquake-resistant housing plans and eligibility lists. Protests against a new constitution approved by parliament struck a nerve with political opposition and sparked protests through the country, reportedly blocking key access points for imported fuel and other resources from India. 
For Sunir Pandey, a Kathmandu-based freelance writer and English-Nepali translator and interpreter, the lack of rebuilding in the areas surrounding him makes him starkly aware of how fortunate he and his family is.
"The earthquake has not really affected my livelihood, but only because our house was not destroyed," Pandey said. "If our house had tumbled, we would probably be living in a rented space somewhere, and the pressure to maximize our incomes would be immense. If we lived in a rural or remote part of the country, we would still be living in wooden or tin shacks."
Pandey considers himself lucky — his family members and friends all survived the quake, despite seeing the surrounding old mud and brick housing settlement disappear into pile of rubble. But he has no plans to commemorate the anniversary.
"We still have aftershocks hitting us — the latest one was on Thursday evening [March 30]. We are still being reminded that it's not over."