Malala Yousafzai Doesn't Need a Nobel Prize to Inspire Her Fellow Pakistanis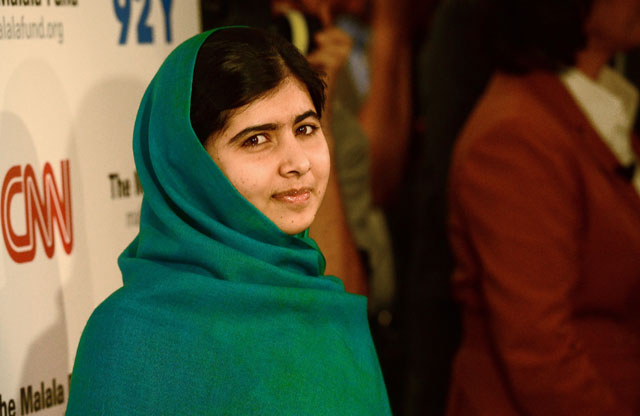 Pakistani student Malala Yousafzai poses for photographers before a panel discussion in New York City on Oct. 10, 2013, the same day she was awarded the European Parliament's prestigious Sakharov human rights prize. (Emmanuel Dunand/AFP/Getty Images)
Today, the Nobel Committee awarded the 2013 Peace Prize to the Organisation for the Prohibition of Chemical Weapons, the UN chemical weapons unit. Other nominees for the peace prize included 16-year-old Malala Yousafzai, the youngest Nobel Prize nominee in history. While a lot of Pakistanis and others around the world were disappointed that Malala did not win the Nobel, she is no less a heroine for us. As an editorial ("The Malala story," October 9, 2013) in Pakistani English daily, The News, noted: "The question to be asked is not whether Malala deserves to win the Nobel Peace Prize; it's whether the Nobel Peace Prize deserves a winner as worthy as her."
Malala is being celebrated around the world as an icon. She is not just an inspiration for millions of youngsters around the globe but even for those who are much older than her. Whenever one hears her speak — from her speech at the UN to her recent interviews — it melts your heart and makes you cry. Her becoming a global icon at such a young age should have made Pakistanis proud of Malala. Unfortunately, there are many among us who denounce her or peddle vicious conspiracy theories maligning this brave girl. Hearing or reading their arguments (if those lies can be called that) can give anyone heartburn, so it is pointless reasoning with these Malala-bashers rather than engaging with them. They are either blinded by envy or live in their own delusional world where everyone who is lauded by the Western world is an "agent" of some sort.
It is rather unfortunate that the government of Pakistan is willing to talk to the same terrorists, the Tehrik-i-Taliban Pakistan (TTP), who not only tried to assassinate Malala but have re-issued threats to attack her again. They are the same monsters who have killed more than 40,000 Pakistanis in terrorist attacks. My country has little to offer Malala but this courageous young girl still wants to come back, despite threats to her life, and do something good for Pakistan. There are days when one just wants to give up, but the truth is that it is because of people like Shaheed Benazir Bhutto, Shaheed Salmaan Taseer, Shaheed Bashir Bilour, Abdul Sattar Edhi, Malala and others that my country still gives me hope for a better future. Shaheed Benazir Bhutto struggled all her life for a democratic Pakistan. In the end she had to give up her life. Shaheed Salmaan Taseer stood up for the minorities, challenged extremists and was martyred. Shaheed Bashir Bilour vowed to fight the Taliban and the terrorists took him away from us. Malala is a survivor and a fighter. We must all vow to stand beside her.
Sometimes tragic events do end up shaping your life. As I recalled at Asia Society's India-Pakistan Regional Young Leaders Initiative Forum recently, Punjab Governor Salmaan Taseer's assassination was a life-changing experience for me. I have always wanted to live in Pakistan but there are moments in one's life when one thinks he/she should explore other avenues. Taseer's assassination made me realize that I have to stay here until my last breath and do my part in making this country a better place. Life is too short, and if we shirk our responsibility now, it would be unfair to our future generations.
The writer is a Pakistani journalist. Reach her at mehmal.s@gmail.com