Could a Nobel Prize for Malala Yousafzai Inspire Pakistan to Stand Up to Extremism?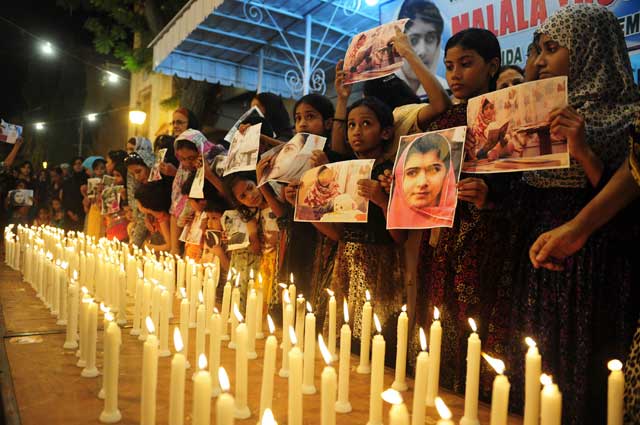 Supporters of Malala Yousufzai, the Pakistani teenager shot by the Taliban for promoting girls' education, displayed portraits of her at a ceremony marking "Malala Day" in Karachi on Nov. 10, 2012. (Rizwan Tabassum/AFP/Getty Images)
Malala Yousafzai, the Pakistani schoolgirl-turned-icon of resistance to the Taliban, has been nominated for this year's Nobel Peace Prize and could possibly become the youngest recipient of the storied honor. Yousafzai was thrust into the global spotlight last October, after she was brutally attacked by a Taliban gunman while traveling home from school in Pakistan's Swat valley. The gunman boarded the van and asked for her by name before firing three shots at her — singling her out for writing a blog that criticized the Taliban for preventing girls from getting an education.
The shooting shocked the world and sparked rare public outrage against Islamist militants in Pakistan. According to Shahzeb Jillani, the BBC World Service South Asia Editor, the wave of revulsion seemed like a "turning point" for a country whose state institutions appeared ambivalent towards rising extremism.
On the face of it, the brazen attack on Malala attracted widespread condemnation by the international community as well as Pakistani leaders. However, as the days passed, Pakistani public opinion began to fracture along historically divisive ideological and political lines. The religious right accused Malala's supporters of "hijacking" the assassination attempt to further the objectives of Pakistan's security establishment and their Western backers — declaring it a ploy to justify a possible army offensive in the Taliban-controlled tribal region of North Waziristan.
On the political front, opposition parliamentarians said they would resist any government move to launch a fresh military operation in Pakistan's tribal areas — as this could be used as an excuse to postpone the upcoming parliamentary elections. With that, Pakistan's so-called "Malala moment" faded away as quickly as it had seemingly emerged, drowned out amid the day-to-day bickering of Pakistani politicians.
Six months down the road, everything could potentially change if Yousafzai wins a Nobel Peace Prize, resurrecting another "Malala moment" by galvanizing Pakistani public opinion against the rising tide of extremism. Interestingly, many Pakistanis appear to be confident about Yousafzai's chances of winning. "If Obama can win the Nobel Peace Prize," quipped Anam Baig, a university student in Karachi, "I don't see why Malala can't win."
This confidence doesn't necessarily translate into a consensus about what happens in Pakistan if Yousafzai actually wins the Prize. "Nothing will change," argues Moiz Muhammed, a 21-year-old student in Karachi. "People will see (the Nobel Prize) as a conspiracy against Islam… these are the same people who had called Malala a Jewish agent (earlier)."
A more nuanced view comes from Shozab Naqvi, a Pakistani banker and blogger, who argues that "a Nobel Prize will boost the morale of Malala's supporters and rally some support against extremism. However, the religious right will continue to see this Prize as a proof of their conspiracy-driven narrative and the Nobel will end up polarizing both sides even further."
Unfortunately for Pakistan, it appears that even a Nobel Peace Prize for Yousafzai is unlikely serve as a catalyst that could inspire the country to take a united stand against violent extremism.