Interview: Nicholas Kristof Sees 'Slacktivism' as 'Gateway Drug to Greater Engagement'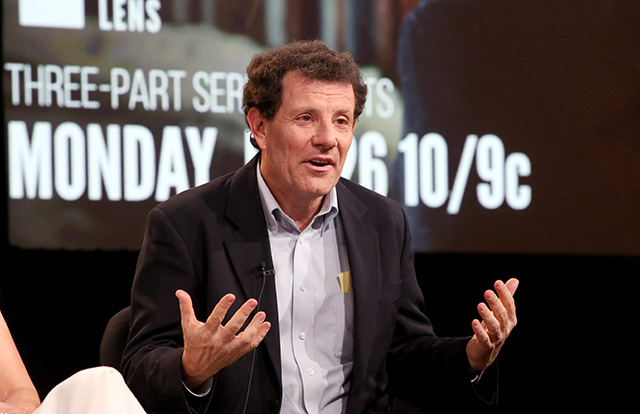 Nicholas Kristof speaks onstage during the 'Independent Lens: A Path Appears' panel discussion at the PBS Network on January 20, 2015 in Pasadena, California. (Frederick M. Brown/Getty Images)
Throughout his career, New York Times columnist and two-time Pulitzer Prize winner Nicholas Kristof has focused on human rights issues and social injustice, covering everything from the Tiananmen Square crackdown in 1989 to modern human trafficking. In his latest book, A Path Appears: Transforming Lives, Creating Opportunity, co-authored with his wife Sheryl WuDunn, he takes a comprehensive look at the world of philanthropy — where things look bleak and how some people are actually making a difference.
Ahead of his February 26 President's Forum discussion at Asia Society New York, Kristof took questions from Asia Blog via email about efficient humanitarianism, harassment of journalists in China, and "slacktivism."
You've taken a critical look at how many Western attempts at aiding the developing world are ineffective and sometimes even counter-productive. Where do you see governments or international organizations really dropping the ball in this regard?
I think that since 9/11 we've overemphasized the military toolbox and underemphasized the education and women's empowerment toolboxes. There are some things that the military does very well, but it's a very expensive intervention. And we have reasonable evidence that promoting education and the rights of women tends over time to induce moderation and change demography so that there is less of a youth bulge in the population of the kind correlated to instability.
A lot of young people want to get involved and "make a difference" for the less fortunate, but the humanitarian field is full of bureaucratic inefficiencies, well-meaning but harmful initiatives, and even outright swindlers. So how should people choose a cause and organization to get involved with?
I'd suggest looking for evidence-based interventions rather than hunch-based interventions. One of the revolutions of the last 20 years is that we now have a much better sense of what works at home or abroad: early childhood interventions, microsavings, deworming, and so on. And other interventions, such as microlending or clean cookstoves, have been disappointing. That's one of the things we emphasize in A Path Appears.
What value do you see in viral campaigns like #BringBackOurGirls, Kony 2012, and the ALS Ice Bucket Challenge? Do you think they in any way promote "slacktivism" or detract from more tangible humanitarian engagement?
I think these campaigns can be helpful in building awareness, which is necessary but not sufficient to resolve problems. Kony 2012 is probably one major reason why LRA attacks have fallen by 90 percent or more. And I like to think that slacktivism is a gateway drug to greater engagement.
The New York Times has been unable to get new visas for its journalists in China ever since it ran an exposé on former Premier Wen Jiabao's family wealth in 2012. What longer-term implications could there be for the country if it continues to shut out and harass foreign journalists?
China's image will suffer if it continues to block or harass foreign journalists. It always seems odd to me that the country spends so much money trying to build soft power internationally and then seems to go out of its way to antagonize those who cover it. But the bigger problem for China isn't mistreatment of foreign journalists but harassment of local journalists and netizens. There's just no way to deal with corruption in China if the media and social media are muzzled, and corruption truly is a cancer in China.
What do you think is the most overlooked issue in the world right now?
Oh, there are so many. Refugees. Early education. Family planning strategies. Ocean acidification and climate change. Enough to keep a reporter very busy!