Interview: Jim Yardley on Reporting From Asia, and Why Nothing Will Match It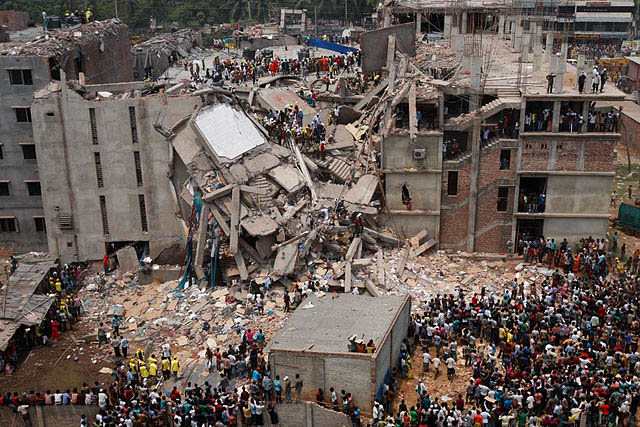 Aerial shot of the remains of the Rana Plaza building in Dhaka, Bangladesh. (Wikimedia Commons)

On Wednesday, June 18, 2014, Asia Society celebrates the winners of the 11th Osborn Elliott Prize for Excellence in Journalism on Asia with a discussion moderated by The New Yorker's Ken Auletta.
In April 2013, New York Times reporter Jim Yardley was among the first American journalists to arrive on the scene of the tragic Rana Plaza factory collapse in Dhaka, the capital city of Bangladesh. He stayed on the story for the rest of the year, doggedly uncovering the many abuses that existed in Bangladesh's garment and textile industries. For his "Made in Bangladesh" series of stories, Yardley was named a finalist for Asia Society's Osborn Elliott Prize for Excellence in Journalism on Asia — the jury said his work went "beyond reporting."
After a decade reporting from from Asia, with stints in China, India and Bangladesh, Yardley now serves as the Times' Rome bureau chief. He spoke to us via email.
You covered the Sichuan earthquake in China in 2008 and the Rana Plaza building collapse in Bangladesh in 2013. What about reporting those stories was similar? What was different?
The Sichuan earthquake and the Rana Plaza collapse were both grueling stories with terrible death tolls. Far more people were killed in the earthquake, and some needlessly because of substandard buildings, especially schools, but, in the end, it was a natural disaster. Rana Plaza was not. None of these people should have died. And what compounded the tragedy was that the people who died were part of the global supply chain that produces clothes for the West. 
Has anything changed since your stories from Bangladesh came out? Are work conditions any better?
Global awareness of the situation in the Bangladesh garment industry is certainly far greater now, given the media coverage of the Rana Plaza accident. Many global brands have committed to improve factory safety — with some paying to help bring factories up to code. And brands are certainly under far greater scrutiny and pressure to be more transparent in how their clothes are made. And, finally, the workers got a pay raise after negotiations between workers, brands, unions, factory owners and the government.
How has the transition away from Asia been? In what ways did your time in Asia prepare you for what you've experienced in Italy?
I doubt anything in my journalism career will match my decade in Asia. I got to see the rise of China; the very different experiments in economic development, political systems and social change represented by India and China; a ground-level view of globalized supply chains in Bangladesh; and much more. Moving to Italy has been a huge change of pace, as now I'm watching the old, developed world try to deal with decline, or try to stave it off. It should be interesting. And India certainly prepared me for the complexities of Italian democracy!
---
Video: Oz Prize Finalists on Struggles of Reporting in Asia (5 min., 3 sec.)