Interview: Eva Chen on 'Accidentally' Discovering Fashion and the Future of Print Media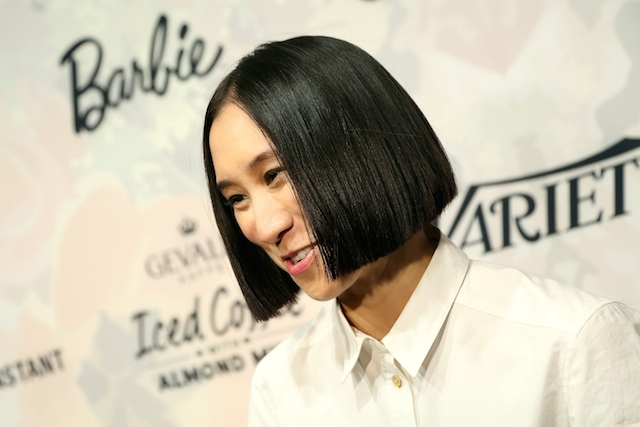 Former 'Lucky' Editor-in-Chief Eva Chen attends Variety's Power Of Women New York event on April 24, 2015 in New York City. (Monica Schipper/Getty Images)

Every May for Asian Pacific American Heritage Month, Asia Blog interviews noteworthy Asian Americans from a diverse set of backgrounds. View the complete Q&A archive
In 2013, Anna Wintour hired Eva Chen as editor-in-chief of Lucky, making her the youngest and the first Asian American editor-in-chief in Condé Nast history. For almost two years, Chen applied her social media savviness and ability to connect with audiences to envision "what a modern fashion magazine should be." On April 30, she announced she would be stepping down from her post. A month later Lucky announced it would fold its print edition.
Asia Blog spoke with Chen on May 19 as she reflected on her "accidental" interest in fashion, the decision to step down and what the future of print media may look like.
After an internship at Harper's Bazaar, you quit pre-med at Johns Hopkins to focus on a career in media. What was the draw?

For me, it was an eye-opening experience. I spent so long on this path that was pre-determined and I just assumed I would end up a doctor – that was the opportunity in front of me. As a first-generation American and the child of immigrants, I thought, "Well, yeah, being a doctor makes sense. Everyone is a doctor, banker, or a lawyer. Those are the three jobs in the world, right?"

I kind of blindly followed that path and I went to Hopkins. But one summer I wanted to do something just a little bit wild and crazy, I guess you could say. I interned at Harper's Bazaar and I applied there on a lark. When I got the internship it just ended up being such an amazing experience. I was like, "I can't believe people are paid to work in a magazine and to do this." It was so unbelievable to me that this was someone's job. I followed along with the medium of print and fashion magazines in general and never looked back from there.

Growing up, did you read any fashion magazines?

My mom always had had Harper's Bazaar and Vogue at home. I always consumed them. Not really reading the articles so to speak, but I would look at the beautiful pictures. It just provided this glimpse into this life that felt so foreign to me. It just felt as far removed as a fairy tale to me. That's why when I started at Harper's Bazaar as an intern it was really shocking to me that this was a real job.

Your mother is from Taipei and your father is from Shanghai. Like a lot of Asian immigrants, they owned a textile-related business. Did that contribute to your interest in fashion?

Not really. My interest in fashion was accidental. I never considered myself the most stylish girl. I never considered myself the most adept at trusting myself. I absolutely still do not consider myself … I look at some of the people who I work with and they are truly creative geniuses. I never really considered myself one of their peers.

My interest in fashion has to do more with helping people find something they love, whether it's a lipstick, a bag, a pair of shoes. That's always been the fun part for me. And with social media, I do have that feeling of being able to positively impact people.

How would you describe your personal style?
My personal style today, I would say, is classic. Every day is different in terms of what I'm feeling fashion wise. That's something that I always want to remind women about: that fashion is fun, it should be fun, it should be an adventure. You shouldn't feel like, "I have to wear this, I have to wear that." It's really important for a woman to experiment.

I don't think I have one particular style that defines my fashion sense. I definitely think I have an eclectic view in clothing. It does change on a day-to-day basis. It's just clothes, it's not like you're tattooing your face, so you might as well have fun with it.

You've been called the first digital native to rise to the position of editor-in-chief of a fashion magazine. How does social media play into your day-to-day job?
I don't actually consider myself a digital native. I would say more like, in the grand tradition of my parents, I am more of a digital immigrant. I'm just old enough that I remember when emails were still by the numbers, like my email address was 6493427 at msn or something like that. I remember pre-digital in a way.

It's more that I embraced social media and I loved the feeling of talking to a new audience. That notion of having a direct line to people is really important. It's like a focus group to hear what my followers like or don't like, who they are obsessed with and who they aren't obsessed with, and just immediately gut check their reaction. I love being able to post, "hey guys, ask me anything on reddit" and answer those questions.
Any kind of reticence that fashion people feel about conversing with the audience on a wider level is misguided because fundamentally fashion magazines exist to inspire people, to help people. No matter what people think fashion magazine should be, there's an element of service to them.

You're a public figure on social media with thousands of followers on Twitter and Instagram. Is it hard to separate your personal life from your social media persona?

It is getting harder. When you love what you do and when it feels like second nature, then it's not as hard. I'm used to doing it at this point and it's very second nature for me. So much of what I do, I'm fortunate to see and fortunate to experience. I feel very fortunate in those regards, so it doesn't feel at all like a hassle.
Newspapers and magazine are under a lot of financial pressure. Do you see a future for fashion magazine in print 10 or 20 years from now?
I do see a future. I think it will be a different future. The average person's attention span is only so long. You and I only have so many waking hours in a day. It used to be that when you got home you would pick up a magazine and get lost in it. People are now on their iPads and their iPhones, watching TV, watching something like the Grammy's and live-tweeting it at the same time.
The nature of the way people unwind is very different now. I do always think there's going to be a role for print, for newspapers and fashion magazines, but it will change in the coming years to be much more of a complementary experience, an experience of supplementation versus a primary source. More places will turn to a digital first environment, where digital leads and the magazine feels more like a collectible in a way.
After almost two years as editor-in-chief of Lucky, you recently announced you'd be stepping down. What's next for you?
It was a very personal and difficult decision to make. I'm at a juncture, personal and professional, in my life where I had a baby 5 months ago. I wanted to be able to take some time with her this summer. She's just at the point where she's aware of where I am. The first priority this summer is to bask in her glow and get some true time with her. For me, growing up, I always had a mother who was incredibly present, who worked extremely hard, but was always present. I want my daughter to have the same thing. Soon, she'll be off to classes and playdates and what not, but just for a few weeks I would like to bask in her glow and have some delicious time with my daughter. And then we'll see what comes my way.
I do feel like stepping into the unknown for a bit is absolutely, from my parent's perspective … my mom is very worried about it. But I've done it before. I took some time off between Teen Vogue and Lucky and during that time I worked on so many different projects, so many different plans, and it provided me with a strong foundation and base for my job today. So I feel a little less worried about than probably most people think that I should be. I'm looking forward to seeing what the next adventure is.
What would you say to a young reader who may not be confident is his or her style?
I think style, like everything else in life, is an evolution and it's also something that throughout life you'll get more and more confident in, and more and more comfortable with. It's the same when you're a teenager, if you're uncomfortable with your own skin. I know that for every single person in Fashion Week who seems like, "wow, they're so effortlessly perfect," maybe 96 percent of the time they probably spent four hours, they changed on the car on the way there, they changed their outfit six or seven times. Fashion like everything is about appearances and can be a little defeating, so remember to have fun and experiment. Worse come to worse, try something new the next day.
---
You can follow Eva Chen on Twitter at @evachen212 and on Instagram.