Interview: Meet Ghani Chaudry, the Pakistani Tailor Who Conquered Savile Row
For 14 years, the reputed Pakistani tailor Ghani Chaudry worked on the legendary Savile Row — the famous street in London's Mayfair district whose bespoke tailoring services can be traced back some 200 years.
Having provided his tailoring expertise to television series such as the BBC's Bird of Prey and ITV's The Professionals, dressing the likes of Gregory Peck (for The Omen), Roger Moore (for the 1983 James Bond flick Octopussy), Val Kilmer (for Top Secret!), the late Dickie Henderson, Chaim Topol, Sir Ralph Richardson (for Invitation to the Wedding), Prime Minister of Pakistan Zulfikar Ali Bhutto, President of Pakistan Farooq Ahmad Khan Leghari, and a host of other prominent actors, politicians, bureaucrats, and businessmen, Chaudry is an institution in himself, a living legend.
But for the Lahore-born master tailor/cutter, success didn't come easy. "It's a long story," Chaudry says dismissively. We're sitting in his home in a quiet neighborhood in Lahore. Now retired and only designing for few, exclusive clients, Chaudry is slightly uncomfortable when I prod him to talk about his early days in England as a young man. 
"How I struggled in England is too long a story. I worked day and night, not caring for money. Not at all. Some days I didn't even have money to eat. But I was enjoying myself. There was a lot of competition that I was up against, you know — but I didn't want an Englishman to look down upon me." 
Nurturing a serious interest in the art of fashion and design in his youth, Chaudry teamed up with his brother in Pakistan who was a cloth dealer and, interestingly, an engineer by profession. "I was very interested in clothes and fashion when I was in school and eventually branched out into tailoring. I was looked down on — both in Pakistan and in England, initially… but I didn't care. Of course, when my name started appearing in newspapers and magazines abroad, things changed." 
Before his big move to the United Kingdom, Chaudry sardonically states, that he was learning the craft by trial and error. "I learned by guess work," he says, "Just like they do here. Terrible — just terrible. They haven't got a clue, still. It's a science, a technology. It's the human body — you have to know a lot of things. Different races, different bodies. Everyone has some physical defects, you know. Since the tailors here are uneducated — they don't understand the science [of cutting/tailoring], the movement of one's arms, if one has square shoulders, the back, neck, how you stand… the balance of the garment changes with movement." 
During our conversation, Chaudry whizzes back and forth — from the past to the present, both excitedly verbose and deeply reflective at certain moments. He's enjoying talking about the past now, making it seem as if he hasn't spoken about his days of glory in a very long, long time. 
But his comfortable candor only comes after a good 20 minutes into the interview, when he's more laid-back, more trusting, open and gregarious. At one point he looks at Saad, the photographer, who's merrily clicking away — taking profile shots of Chaudry — and says, chuckling: "Let it go, how many photos are you going to take of me?" 
Walking past the assortment of black-and-white photos of Chaudry's clients — celebrities and dignitaries, primarily — there's one particularly cute photo of Chaudry's two sons standing with Christopher Reeve. The kids are on the set of Superman, and Reeves looks youthful and handsome, with his beautifully chiseled face and dimples. Chaudry's elder son looks a little shy, his hands clasped loosely at his sides, while the younger one, a cute little rascal, poses looking out of the frame, at someone else. There's a button pinned to Reeve's jacket that say (in caps): "FLY ME." I couldn't help looking at the photo and feeling a bit of a sting. Poor Reeve. 
Chaudry's personal anecdotes are rich and humorous, many of which he requests not to be published, given how well-known the individuals in his anecdotes are. 
He's okay with my including some stories though, such as, once, years ago in London, when a certain someone popped into Chaudry's shop. The man was looking for a shirt. "I was looking at him but I couldn't place him. So I asked his name and he told me he was Chaim Topol. Oh my god…" Chaudry says, slapping his forehead and groaning as he remembered the incident. "I used to watch his plays and really admired him as an actor. There I was going to his plays and here he was in front of me and I didn't recognize him!" 
Chaudry recalls another incident. "Dickie Henderson was a very glamorous actor — he'd sing and tap dance. Anyway, he walks into my shop wearing glasses, a hat and a trench coat. He tried on a shirt but the sleeves were long for him — so I told him I'd alter it and got to making a receipt for him since he was going to pay in advance. I asked him his name and he said, 'Henderson.' I said; 'Don't tell me, you're Dickie Henderson? I don't believe you!'" Chaudry bursts out laughing at the recollection. "We became very good friends. I became good friends with all my clients, even the actors from Hollywood. They would take me as an artist and respect me, not look down on me. I had a full life…" 
Another time, at a party in London hosted by the Pakistan International Airlines (PIA) in honor of the Pakistan hockey team that had won a tournament at the time, a friend introduced Chaudry to the then-Managing Director of PIA at the event. "We got talking about clothes — you know how it is, who doesn't like talking about clothes," Chaudry says. "So I looked at his suit and told him that he was wearing a very nice German suit. He was stunned. He couldn't believe I could tell the suit was from Germany. But see, tailoring is a form of handwriting — every country has its own, unique handwriting."
Having studied German, Italian and English structures, Chaudry thinks that the English structure is "out of date." "I even wrote about it in my books. They're still stuck in the Victorian era. But Italy and Germany have changed a lot. My work is a mix, it's not typical English, and it has some German influence. The German are very, very technical but they are very square."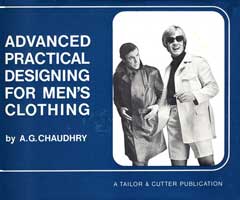 Chaudry's a charmer, an alpha male; a self-assured, self-made man. One can't blame him. In England, he was awarded a prestigious Fellowship by the Clothing Institute in London in 1972 after he wrote a book entitled Advanced Practical Designing for Men's Clothing (published by the Tailor & Cutter Academy in London). In fact, there's a framed black-and-white picture hung on the wall outside his room that shows Louis Mintz (the then President of the Clothing Institute) and a dapper young Chaudry shaking hands, all smiles. The press clipping framed along with the picture states: "Mr. Mintz said that he [Chaudry] had made considerable contributions to the clothing industry with his book." 
"I was the youngest candidate to be awarded the Fellowship. The board couldn't believe that a young man could write a book like that," says Chaudry.
His accolades are countless, his international recognition far-reaching. I'm overwhelmed during the interview — primarily because I am baffled about the fact that Chaudry has hardly been given any exposure in the local, Pakistani press. If at all. He hands me a photocopy of a page from a local glossy that interviewed him in 2004 — the write-up is shockingly pithy. I'm almost embarrassed.
"I wrote many books on cutting and design," Chaudry says, "That's how I was introduced in the industry around the world." 
Eventually becoming the head of the Tailor & Cutter Academy, Chaudry also worked as a consultant for many factories in Europe. "My base was in the academy and I was a consultant in Ireland, Rome, etc." 
In a collage of press clippings that Chaudry proudly hands over to me during the course of our conversation, I come across a quote by a journalist, Lewis Orde, of the Irish Press, who once stated: "Ghani Chaudry may not sound like a traditionally Irish name, yet this man has done more than most to modernize the image of Irish manufacturers." There's another one, by Angus Magill of the Evening Standard: "The most English of English designers." 
"No one else in Savile Row received as much publicity as I did," Chaudry says, devoid of a hint of narcissism. He's very matter-of-fact and confident. The kind of unfaltering confidence that comes from someone who has earned it, the hard way. 
Given his high-profile clients, I ask, it must've been very glamorous moving in those circles in England. Chaudry is incredulous. He thinks my question is flat-out preposterous.
"No. No…nooooo! You're putting me down. I learned the hard way — I was a fighter, a determined man. My main aim was to teach the English what and how to wear. I used to tell the industry that you're wrong, you're backward. So they placed the keys of the Academy in my hands. I became a partner — that's how I stayed there for 14 years. I wasn't a snob, but of course I did think something of myself!"
Chaudry remains at a remove from the current fashion scene in Pakistan, bursting at the seams with regular fashion weeks and the birth of a new Pakistani "designer" every few months. 
"You know, if you think you're suddenly going to become known as a 'designer' and you don't want to be called a 'tailor,' then this field is not for you. If you want to be a designer, learn how to stitch your own garments."