Interview: Multitasking Fashion Guru, Reality TV Host Joe Zee Does What He Loves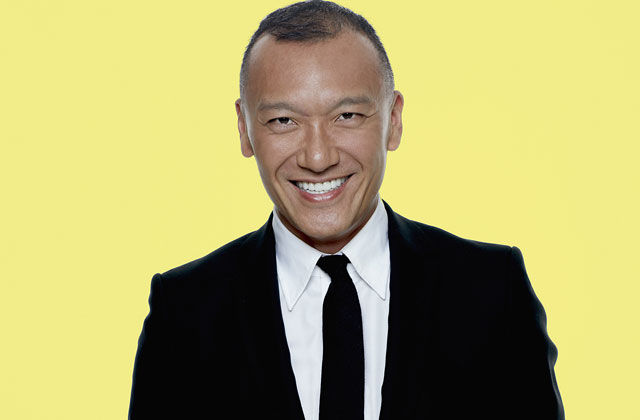 Joe Zee, creative director of ELLE magazine and host of Sundance Channel's "All On The Line with Joe Zee."
Joe Zee is the creative director of ELLE magazine and a respected voice in the fashion industry. He has styled ad campaigns for iconic labels such as Kenneth Cole, DKNY, Chanel and most notably the Missy Elliot and Madonna anniversary campaign for GAP. As the star host of Sundance Channel's popular series All On The Line with Joe Zee, he guides struggling talented designers with his creative eye, business savvy and industry connections, to help them succeed in the fashion industry.
Zee was born in Hong Kong and raised in Toronto, Canada. After he graduated from high school, he moved to New York City with the goal of studying and working in fashion. Just three years ago, he officially became an American citizen, which was a turning point for him, "I received many well wishes from everyone on Twitter, but the one that stayed with me said I 'lived the hell out of the American Dream!!' Thank you, America."
To mark Asian Pacific American Heritage Month, we'll be running Q&As with noteworthy Asian Americans throughout May. Read them all here.
Being Chinese American, do you feel your cultural upbringing and family instilled a sense of pride, or has affected your career path in some way?
I don't know if I attribute my sense of determination, pride and ambition specifically to my upbringing, but I think the way that anyone is raised, regardless of race, directly affects the way they tackle life. I think I was always certainly an overachiever and in part, I can say that comes from my family and my parents, who always expected us to do our best in anything we did. And the best for me was always that — the best.
Who are a few of your favorite Asian American fashion designers, and why?
This is an incredibly exciting time for Asian American designers. Never have we seen such a plethora of amazing talent that is causing such major heat in the industry, both domestically and abroad. I love how someone like Alexander Wang can come from a downtown rocker design background (I was sitting at his first show!) and now evolve so effortlessly to designing a very sophisticated, detailed collection. His being named Creative Director of Balenciaga was a huge nod to Asian American designs as well. I also feel strongly about all my Asian American designer friends like Prabal Gurung, Philip Lim, Derek Lam, Peter Som, et al — who have all become so important to this industry.
As the star of Sundance Channel's hit All On the Line with Joe Zee, your authenticity, passion, and the showcased designers' creative process kept viewers riveted. What was one of your favorite episodes where you felt a breakthrough or difference was really made?
I love the episode I did with Korean designer Gemma Kahng because we knew each 20 years ago when she was at the top of her game. Since her company began to decline, I was happy we reconnected and I was able to help her rediscover her talent as a designer. I also love the episodes I did with plus-size designers Qristyl Frazier and Domino Dollhouse. I love this segment of the industry and feel so strongly that it has been underserved for so long.
How do you handle being a creative director at ELLE and a host of a reality show at the same time?
I don't sleep a lot. Sleep can be overrated. But also, I love everything I do, so it doesn't feel like work. Also, the Sundance show is really just an extension of everything I am already doing.
Fashion expert, television host — you've done it all! What's next for you?
I love new. That's the very nature of why I love this industry. I am writing my book right now that will be all insider, fun stories about my career and life along with lessons I've learned along the way. It's going to be fun and funny and informative at the same time. In over 20 years of working with major photographers, supermodels and celebrities, it's exciting to tell stories from my perspective. It will be published by St. Martin's Press in the fall of 2014. Plus, we are going back into production for a series of Sundance specials where I am an executive producer and host, so it's going to be a very busy summer.