Interview: Building the Future of Japanese-South Korean Diplomacy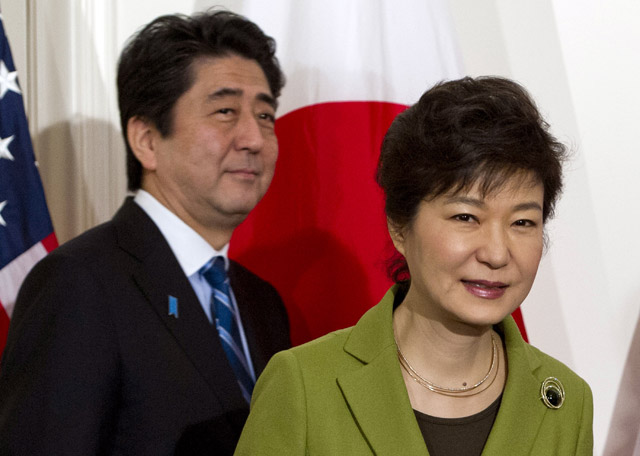 Japanese Prime Minister Shinzo Abe (L) and South Korean President Park Geun-hye arrive for a trilateral meeting with the U.S. president in The Hague on March 25, 2014. (Saul Loeb/AFP/Getty Images)
For Japan and South Korea, the passage of time has done little to dim memories of World War II. The division between the two countries has been kept staunchly alive by nationalist fervor, with the use of history as a political weapon. Differences aside, Japan and South Korea have much in common. Both are economic powers in Asia, as strong leaders of the technology and manufacturing sectors. And both have similar security interests, a long-standing alliance with the U.S., and a reliance on the American military.
The changing global economy reinforces the need for greater cooperation between the two countries. How can Japan and South Korea open a constructive dialogue and build cooperation? What role should its allies play? On June 19, Asia Society Policy Institute will host experts to discuss measures that can bring the two countries closer together. Panelists include Alexis Dudden, Professor of History at the University of Connecticut; Shinju Fujihira, Executive Director of the Program on U.S.-Japan Relations at Harvard University's Weatherhead Center for International Affairs; and Chung-in Moon, Professor of Political Science at Yonsei University and Editor-in-Chief of Global Asia.
Asia Blog caught up with Professor Moon to answer a few questions ahead of Thursday's panel discussion.

On June 19, Chung-in Moon will take part in a panel discussion with Alexis Dudden and Shinju Fujihira at Asia Society New York, presented by the Asia Society Policy Institute. To learn more and register, please visit the event webpage.
There has been reporting about China, South Korea, the United States, Japan, and other countries discussing whether and under what circumstances they would return to the Six-Party Talks with North Korea.  Do you think this is wise—and, if so, under what conditions?
An ideal alternative to the Six-Party Talks would be direct bilateral talks between North Korea and the U.S., something the U.S. does not want. Under these circumstances, the Six-Party Talks are the only avenue to address North Korean nuclear issues. The September 19 Joint Statement embodies prescriptions not only to the resolution of North Korea's nuclear weapons, but also to the transformation of the current armistice agreement system into a lasting peace regime on the Korean peninsula. It also has a provision on the security and peace mechanism in Northeast Asia, a sort of multilateral security cooperation regime. China, North Korea, and Russia call for an immediate resumption of the talks without any preconditions, whereas the U.S., South Korea, and Japan urge the North to comply with the February 29th agreement. This includes a suspension of nuclear and missile tests, a moratorium on nuclear activities in Yongbyon, a return of nuclear inspectors and more, such as the release of detained Americans in the North (including Kenneth Bae). China has been working hard to narrow the gap between Pyongyang and Washington, but has so far failed.
The tenuous relationship between South Korea and Japan threatens alliances in Asia. What steps are necessary to build a stronger relationship between South Korea and Japan and ultimately bring reconciliation?
Prime Minister Abe should resolve the comfort women issue along with other issues related to history and territory. Second, President Park should relax her Japan policy. I strongly suggest she resume summit talks with Abe in either a bilateral or trilateral format (China, Japan, South Korea). Both Japan and South Korea should engage in candid talks about North Korea. Finally, both leaders should avoid politicizing collective memory of the past history and urge both media and civil society to stop politicizing parochial nationalism.
You are a vocal advocate of the Sunshine Policy, late South Korean President Kim Daejung's stance on North Korea. What are your thoughts on how South Korea is managing relations with North Korea today?
The Sunshine Policy has three principles: zero-tolerance of North Korea's military provocation, abandonment of the idea of unification by absorption, and promotion of exchange and cooperation that could shape the milieu for de facto unification, namely the union of the North and South Korean states. The policy also emphasizes and recognizes the importance of North Korean identity. Trust can be built only after mutual recognition and dialogue. I fully support President Park's "Korean Peninsula Trust Process", which is very similar to the Sunshine Policy. However, I do not see any progress in its application. There is a huge gap between her policy ideal and its actual implementation. North Korea is under a siege mentality, and incentives to break the current impasse should come from the South, comparatively the stronger and more prosperous country.
The policy of the current Japanese government to assume a military role outside its borders, something that it has not done since World War II, has reportedly created some concern in South Korea. The United States seeks positive relations with both of its allies. How do you recommend that it manage this challenge?
Exercise of collective defense rights by Japan is a sovereign matter. There is no room for Seoul to interfere with Japan's decision. But Abe's lack of communication with neighboring countries and his obsession with distorted past history have made South Korea and its people extremely suspicious of his motives. His new policy initiative of "proactive pacifism" is predicated on the radical departure from the Yoshida doctrine as well as a very loose reinterpretation of Article Nine of the Peace Constitution. Moreover, Abe has not shown any authentic self-reflection over the past history (e.g., comfort women, arbitrary interpretation of "invasion", tolerating view on Japanese militarism in the 1930s, tribute to the Yasukuni Shrine). His stance on such issues has been responsible for precipitating and spreading anti-Japanese nationalist sentiments in South Korea. In this regard, Abe's more self-reflective posture on these issues might be the first step toward repairing the damaged Japan-South Korea-U.S. trilateral relations.
South Korea has developed strong trade relations with China, while its strongest security and political partnership remains with the United States. As China asserts its growing influence in Asia, do you think there will be tension for South Korea in managing its interests in both China and the United States?
Yes, there has been tension, but so far President Park has managed it well. Nevertheless, if China-U.S. relations worsen, it might not be easy for South Korea to enjoy the benefits of "double dipping" or "double hedging". South Korean policymakers would most likely choose security over economy, whereas ordinary citizens would likely choose economy over security. The key variable here would be the nature and direction of inter-Korean relations. If inter-Korean relations improve, South Korea's dependence on the U.S. alliance could be reduced, while its economic dependence on China might be further deepened. And vice versa.