How China and Japan Might Avoid Military Confrontation in the East China Sea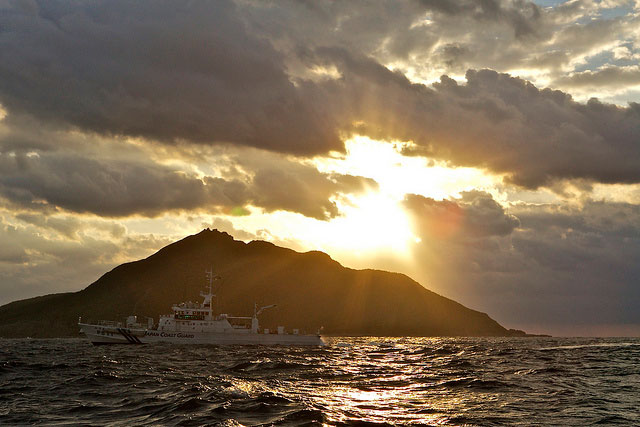 A Japanese Coast Guard boat passes by Uotsuri, the largest island in the Senkaku/Diaoyu chain, in October 2012. (Al Jazeera English/Flickr)
Asia Society's next "Beyond the Headlines" event is a panel discussion on tensions in the East China Sea that will be held on Wednesday, February 26 at Asia Society New York. Daniel Blumenthal of the American Enterprise Institute, Alan D. Romberg of the East Asia program at the Stimson Center, and CNN correspondent Jim Sciutto will assess the current state of China-U.S.-Japan relations in a conversation moderated by Orville Schell, Arthur Ross Director of Asia Society's Center on U.S.-China Relations. For those who can't attend in person, the program will also be a free live webcast on AsiaSociety.org/Live at 6:30 pm New York time on the 26th; online viewers are encouraged to submit questions to moderator@asiasociety.org or tweet questions at #AskAsia.
---
For over a year, the situation in the East China Sea has attracted global attention. Media across the world have wondered whether Japan and China are on the verge of an armed conflict. Think tanks (including my own) have considered what policy implications the dispute over small, uninhabited islands in the East China Sea could have for Washington, Tokyo, Beijing, and Seoul. Japanese and Chinese citizens have become deeply concerned that their nation's sovereignty is being challenged, provoking a complex set of popular emotions and substantial political opportunity for nationalist activists.
But the emotions and antipathy that often accompany competing sovereignty claims risk military confrontation. Today, Chinese and Japanese militaries are increasingly finding themselves in close contact. With the island dispute as their backdrop, these maritime and air forces find themselves reacting to each other's behavior and planning for the worst-case scenario. It is what militaries do. The anticipation of the need to defend sovereignty that is stimulated by territorial disputes, however, makes the stakes all that higher. Professional planning and calm reflection can often be affected by political pressure and popular sentiment.
Miscalculation, misjudgment, and accidents can lead to far greater confrontation, and ultimately to the use of force. Few today believe that China and Japan want to confront each other militarily, and yet many of us worry that some sort of incident — involving citizens, coast guards, or even militaries — could escalate into a serious confrontation.
What would such an incident look like? A fishing captain could take action against a coast guard vessel, activists determined to demonstrate their country's sovereignty might attempt to land on an isolated island in rough seas or insert themselves between Japanese and Chinese coast guard vessels, naval vessels could target other naval vessels, or a pilot might be ordered by his government to confront an unidentified airplane in overlapping Air Defense Identification Zones (ADIZs).
All of these interactions carry with them the potential for injury and even death. All of these have actually happened at some point in the East China Sea.
What would be the outcome of the loss of life? For the most part, we can hope that governments in both capitals would act quickly to prevent the escalation of popular outrage, reach out to each other to work through how to respond to prevent further loss of life, and provide the other government with accurate and reliable information on how the incident occurred. But in the context of today's Japan-China relationship, could a crisis like this be managed well? Is there enough trust between the leaders of both countries to know that they share an interest in de-escalating tensions and resolving the incident peacefully? Few formal vehicles of bilateral risk reduction exist that could facilitate a cooperative approach to managing such an incident.
Bilateral mechanisms for managing military behavior are perhaps better developed by countries outside of East Asia. The United States, for example, has extensive experience derived from its Cold War interactions with the former Soviet Union. The most obvious tool that could be applied from that experience would be an Incidents at Sea Agreement concluded bilaterally between Japan and China, but perhaps adapted to include others such as South Korea. Annual military dialogues where Tokyo and Beijing could discuss their military Rules of Engagement (ROEs) as well as review interactions between their militaries would be welcome. Japan has this arrangement with its Russian neighbors. Crisis communications mechanisms are also important, and while Beijing and Tokyo have agreed on establishing a hotline between their defense ministries, it has yet to happen.
The U.S. role in managing this dispute has already been significant. As an ally of Japan, with close to 50,000 troops stationed there, the United States plays an indispensable role in deterring aggression. But Washington also seeks to develop an understanding with Beijing on how to achieve strategic stability in the region as the Chinese military grows. The military-to-military dialogue between U.S. and Chinese uniformed leaders sets the tone for other militaries in the region as they seek to develop better understanding of Chinese military ambitions, such as the effort begun at Sunnylands last year between President Barack Obama and President Xi Jinping to explore shared strategic concerns in the Asia Pacific.
Sovereignty claims can be resolved peacefully. If bilateral resolution proves too difficult, dispute resolution mechanisms are available under the United Nations framework, including the International Court of Justice (ICJ) and the Law of the Sea tribunals (ITLOS). The ASEAN-China effort to develop a Code of Conduct for the South China Sea is another important venue for developing norms for regional dispute resolution, norms that could have application to the East China Sea as well. The annual trilateral summits between Chinese, Korean, and Japanese leaders begun in 2008 would be the best venue for exploring maritime stability.
But given the risk of military confrontation, perhaps the first step is to reduce the risk of armed conflict. Japanese and Chinese differences over their maritime boundary and territory must again be managed peacefully, even if they cannot at the moment be resolved.