'Coal + Ice' Exhibition Documents the Cost of Chinese Growth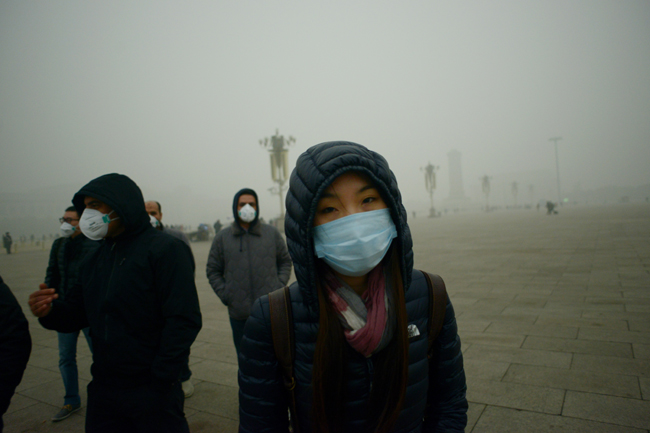 Visitors wearing face masks brave air pollution in Beijing's Tiananmen Square. (Wang Zhen/AFP/Getty Images)
Beijing's pollution has been very bad over the last two days. Measurements of tiny PM2.5 particles — the kind deemed particularly hazardous to human lungs — exceeded 600 micrograms per cubic meter in the Chinese capital, a figure that vastly exceeds the World Health Organization's recommended limit of 25. The bad air caused airlines to reschedule flights, schoolchildren to stay inside, and remarkably grim photographs posted to social media. (Note: The photo in the tweet blow is real).
Beijing's stunning World Trade Centre #COP21 pic.twitter.com/Q0OOUZdax0

— Tom Phillips (@tomphillipsin) November 30, 2015
China's struggle to reduce air pollution in its cities is hardly new. But the country has, in recent years, redoubled its commitment to combating its own environmental problems in addition to global climate change. Five years after climate negotiations in Copenhagen ended in failure, China and the United States forged a landmark agreement last November that included, among other provisions, China committing to derive a fifth of all energy needs from renewable resources by 2030. This week, President Xi Jinping met with his American counterpart Barack Obama on the sidelines of a fresh round of talks in Paris and reaffirmed that the two countries — which together comprise around 40 percent of all global emissions — would work together to combat climate change.
Weaning itself off fossil fuels will not be easy for China. In order to power the country's still-impressive rate of economic growth, China burns more 4 billion tons of coal a year — much of it extracted from dangerous, subterranean mines strewn across the northern provinces. This process contributes not only to China's own environmental problems but also, given the size and scale of the country's economy, the diminution of the world's glaciers.
This juxtaposition — between black coal dug from underground mines to white ice found atop the world's tallest mountains — forms the thematic basis of Coal + Ice, a multiyear photography exhibition in association with Asia Society and currently shown at the Vanke Xuhui Center in Shanghai, China. The exhibition, which features the work of 30 photographers from 11 different countries, will be on display through February 2016.