Book Excerpt: 'The Billionaire's Apprentice' by Anita Raghavan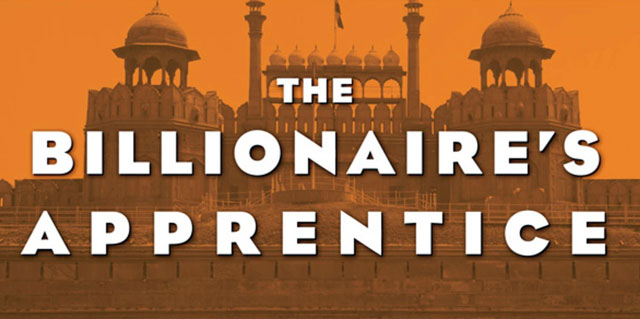 "The Billionaire's Apprentice" (Business Plus, 2013) by Anita Raghavan (R).
Wall Street Journal reporter and author Anita Raghavan joins Asia Society this Thursday, June 6 for a program centered on her latest book The Billionaire's Apprentice: The Rise of the Indian-American Elite and the Fall of the Galleon Hedge Fund, an account of the 2009 insider trade scandal involving Raj Rajaratnam and accomplice Rajat Gupta.
Joining Raghavan in conversation will be Naazneen Karmali, India editor of Forbes Asia. The program will be followed by a book sale and signing.
For those who can't attend in person, meanwhile, Raghavan's talk will also be a free live video webcast on AsiaSociety.org/Live at 6:30 pm ET; online viewers are encouraged to submit questions to moderator@asiasociety.org.
An excerpt from The Billionaire's Apprentice appears below.
---
The new future that Rajat Kumar Gupta would forge for India as the offshoring capital of the world had a curious start — and it would involve a McKinsey protégé who would become the catalyst for the great man's fall. One day in 1994 a request arrived out of the blue at the offices of McKinsey India. A German consultant wanted to set up a presentation slide production center in Kerala, a state in southern India, and was looking for some on-the-ground pointers so he called Neeraj Bhargava, a McKinsey consultant in India, who had grown up in the region and knew of its strong labor unions By suggesting the consultant look at Chennai, instead, McKinsey took its first bold step into the brave new world of offshoring.
The story might have ended there had it not been for a young and hungry junior partner in McKinsey's New Delhi office. Anil Kumar had been tilling over the arcane area of remote business services — consultant-speak for supplying services regardless of a customer's geographic location. His vision was to take advantage of the declining price of global telecommunications in the 1990s and move offshore a myriad of business services — corporate research, financial analysis, legal transcription, any repeatable white-collar task — to the low-cost labor markets of the East. With a critical mass of idle but highly educated English-speaking Indians eager to work for cents on the dollar, Kumar was confident that his vision could become a reality with the right kind of backing. Fortuitously for Kumar, his mentor, Rajat Gupta, was now the head of the firm, and Kumar, with his pedigreed background and intellectual rigor, was the perfect consultant to help McKinsey grow the business in India.
Born in Madras into a comfortable upper middle-class family Kumar attended the Doon School, a prestigious all-boys' school at the foothills of the Himalayas that was India's answer to England's Eton and America's Andover. At the time he joined the school, "your reflection among your peers was less about academic ability and more about sportsmanship," says Shomit Mitter, a couple of years Kumar's junior.
Indeed, achievement in sports was so important that for decades the school had been celebrating it by awarding standout sportsmen a navy-blue blazer known as the "games blazer." Kumar was not a gifted sportsman, however, and he wasn't much of an allrounder either, the kind of boy who shone in drama and music as well as academics. As the years wore on, it was clear he lacked a natural charisma and the leadership qualities that would have more than made up for any other deficiencies. "If you were school captain or house captain you were a somebody," said Dhruv Khanna, school captain counting among his achievements. "If you were a prefect, you were barely somebody."
The bookish and aloof Kumar was a monitor, a title below prefect that was as tedious and workaday as it sounded. Among the cognoscenti at Doon, it was a badge that inadvertently but very firmly sealed upon the beholder the official status of a "nobody." Starting in 1971, after years of giving out games blazers, Doon began awarding black blazers to recognize academic excellence. In March 1974, a small headline in the Doon Weekly gave Kumar his first taste of fame. It declared that Kumar had won the scholars blazer. "For the next year, he walked around with a black jacket," recalls Dhruv Khanna, a former attorney who has built two cricket pitches in the midst of a California winery he acquired. "It was a very big deal because they were so scarce." But when the honors boards were hung up, Kumar's name was not on them. To be celebrated at Doon, one had to be an achiever in both academics and athletics. Kumar had entered Doon as a nobody, and despite a grueling amount of work, he would exit the school the same way. His family was proud, but inside Kumar burned more deeply than ever with drive and ambition.
---
From The Billionaire's Apprentice: The Rise of the Indian-American Elite and the Fall of the Galleon Hedge Fund by Anita Raghavan. © 2013 by Anita Raghavan. Reprinted by permission of Business Plus. All rights reserved.