15 Photos Exploring the Filipino Obsession With Basketball
Long before arriving in the southern beach city of Cebu, Philippines, British photographer Richard James Daniels made a living in investment banking in the United Kingdom. When he wasn't working, Daniels indulged his affinity for travel in Asia, frequently visiting for vacation. After several trips, he accepted a banking position in Hong Kong and went on to work for various banks in Singapore, Thailand, and Indonesia. After seven years in banking, Daniels quit his job, moved to Bangkok, and took up photography. He was immediately hooked. As Southeast Asia became his playground, Daniels practiced his craft and discovered the traditions of his new home. His early photo projects featured Buddhist iconography in Myanmar and muay thai boxers in Thailand. 
Daniels' most recent project, Baskitan, zeros in on a phenomenon that is as deeply embedded into Filipino culture as Catholicism — basketball. 
Asia Blog spoke to Daniels about his work, which explores the role that obsession, politics, and a love of basketball plays in communities in the southern region of the Philippines. 
Tell us about your project. What prompted it? 
As an Englishman, I was always slightly confused why basketball was so popular here as opposed to soccer, which is massive throughout the rest of Southeast Asia. After a bit of research it came as quite a shock to discover that basketball was introduced to the Philippines in 1900, only 10 years after it was invented in America. A decade later the Philippines won its first gold medal at the Far Eastern Games.
My photo project Baskitan started off as a way to find out more about the Filipino love of basketball through literally shooting hoops — pun, sorry. Specifically, looking at the grassroots courts of the mostly impoverished villages in the southern Visayan region of the Philippines, where the new President Rodrigo Duterte and his main supporters come from.
As a fan of the Dusseldorf School of Photography, I always thought a basketball series would fit well as a typology much like the [conceptual photographers Bernd and Hilla] Bechers work. However, as I began the project I found it more interesting to broaden the scope to document more of the landscape and include the people, the environment, and the local culture — using the basketball court or hoop as the unifying theme. 
The project is ongoing, with over 200 courts and hoops documented, together with sub-sets of the series including a focus on backboards. However, I intend to continue the series and document courts throughout other regions of the Philippines. The hoops I have documented will eventually be replaced by newer and more generic courts as the Philippines, and hopefully the local villagers, become more affluent. I'm also seeing hoops disappearing even after shooting the project for just a few months. Construction and development is happening at a frightening pace, some of the hoops I have photographed have already been removed for construction projects.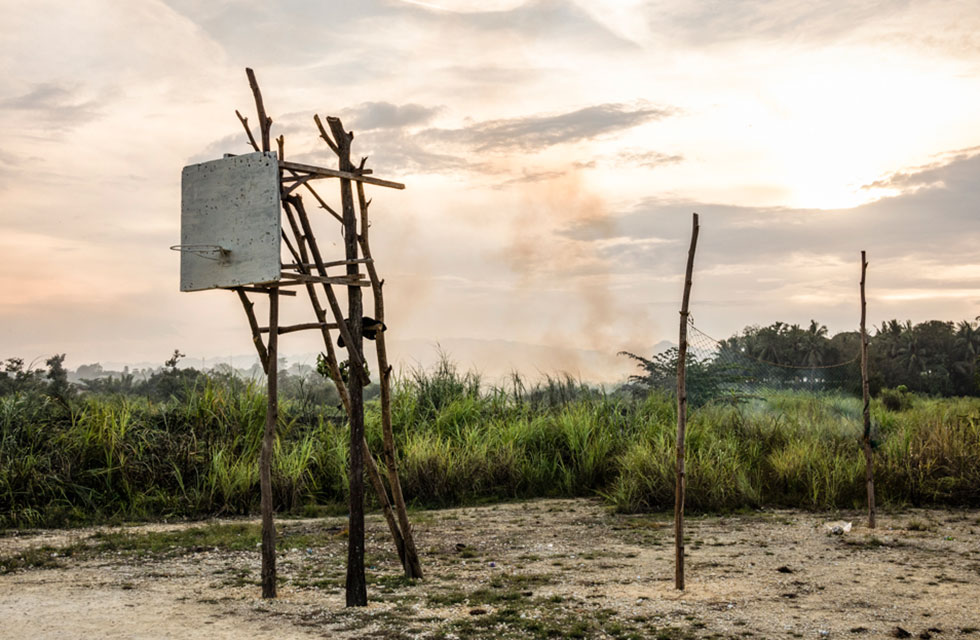 The fields that surround this hoop are set on fire to clear the land for farming. (Richard James Daniels)
There is also a more selfish lighthearted reason for the project. As a soccer fan, it's an absolute nightmare to see a game on TV, as the locals do not follow the sport. When I do find a bar that plays a game, I'm usually watching on my own. My thinking was I could be something of a "soccer missionary" and visit the courts and try and convert some of the basketball players to footballers. I set up a West Ham United supporters club with that aim. Unfortunately, not so many members!  
What has the project taught you about the various communities you encounter? 
I have also discovered some fascinating back stories to the series, including "hoop politics." For instance, the local and regional politicians sponsor and advertise on backboards and also use dilapidated hoops as bargaining chips when elections come around, e.g. "Vote for me and I will buy you a new basketball hoop." That's why there are quite a few hoopless photos in my series, and also backboards with politicians names painted on.
Many of the villages you shoot are very poor but they still have the space and funds for a basketball court. Why do you think Filipinos prioritize the sport over other recreational things?
A lot of the shots featured in my project are of single hoops in people's backyards or rural communal/ squatters areas. There is no actual "court" as such — so there's not that much need for space. Also, the hoops and backboards are made from whatever material is available. I have some shots of bingo game boards being used as backboards — literally anything is used. These backboards are usually placed on trees as the support structure so they are not really that expensive to put up. The bigger basketball courts and hoop/ backboard structures that I have photographed are usually provided by the local barangay, or the small village government, for communal use. In some cases local and regional politicians will also provide hoops and courts for the local community with their names prominently advertised on the backboard. There are also quite a few shots of hoopless backboards and courts in various state of disrepair. These are usually waiting for a politician to refurbish come election time with obvious strings attached.

As dusk approaches coconut husks and local tree leaves are burnt to ward off mosquitos which in some cases carry dengue fever. (Richard James Daniels)
Throughout my project I've tried to show how incredibly popular basketball is in these impoverished areas. For instance, in one local barangay you can probably find five homemade courts for both kids and adults. In my opinion basketball is prioritized for a number of reasons. The first is probably due to a collectivist culture and group orientation in the Philippines over more individualist recreational pastimes. Another reason is the ongoing relations with the United States since the Spanish-American War and more recently the American influence on Filipino contemporary culture. Though the original concept of Baskitan was a straightforward typology of courts and hoops, I hope to document these other aspects more thoroughly.
You have been living and shooting all over Asia for decades. What have been some of your favorite places you've photographed or other memorable projects you've done in the region?
My first assignment from the photo course was a shoot documenting a local monastery called Wat Suthat in Bangkok. It was an interesting location to shoot because there was always a lot of restoration work going on there. This kickstarted my interest in Buddhist iconography, especially Buddha statues. Since then, I have traveled to most of the major Buddhist sites in Thailand, Laos, and Myanmar.
The highlights from this interest in Buddhist art would be a trip to the remote archaeological site called Mrauk U in Rakhine State, Myanmar. This solo trip took around six days to complete in 2004, and I was literally one of very few people there. They were still excavating at that time, so it was fascinating to watch the workers unearth these amazing Buddha statues. There was an element of Indiana Jones about the area and I took a great shot of a Buddha draped with the shed skin of a cobra.
I am also very interested in processes, and so documenting Buddha production in Phitsanulok, Thailand was another highlight. One of my favorite images from this series was a shot of Buddha hair "curls," made from wax — which was part of the casting process. It's a fairly representational shot but one that always gives me a lot of pleasure as it's something you dont see very often.