Interview: Jordan Clarkson Celebrates His Asian-American Roots Through Basketball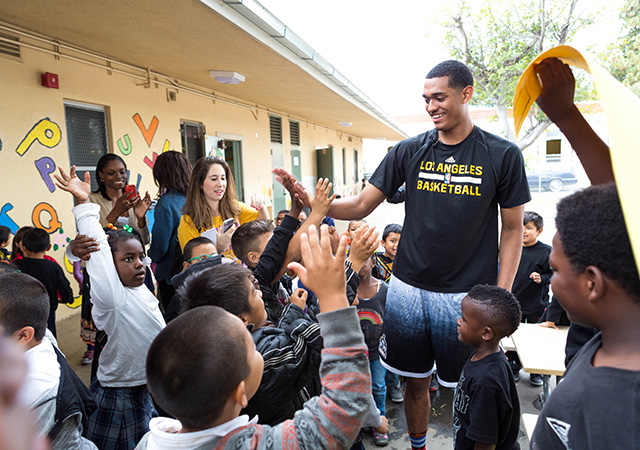 NBA player Jordan Clarkson spends his time interacting with the diverse Los Angeles community. (The Alliance for a Healthier Generation/Sarah M. Golonka)
The basketball player Jordan Clarkson is only beginning to make headlines, emerging this past season as a key member of the NBA's Los Angeles Lakers. While he may not yet be one the NBA's biggest stars or top earners, at the age of 23, Clarkson already boasts an impressive international fan base, particularly in the Philippines. For the basketball and Laker-crazed country, Clarkson — who is currently the league's only Filipino-American — is their hometown hero. Though Clarkson only recently made his first pilgrimage to the country last year, the trip deepend his connection to his heritage — something he is very vocal about on social media.  
Asia Blog recently caught up with Clarkson to discuss his connection to the local and diverse Asian-American community in Los Angeles, and how the sport he has dedicated so much of his life to has helped him give back. 
Are you able to interact with the local Filipino-American community? What does it mean to you to represent a group that is very proud of their heritage and also so passionate about the game?

Every May for Asian Pacific American Heritage Month, Asia Blog interviews noteworthy Asian Americans from a diverse set of backgrounds. View the complete Q&A archive
Definitely. Los Angeles is such a diverse place in and of itself, and when I'm out in the city I'm able to interact with many different cultures. I get so much love and support from the Filipino-American community, so it's really important for me to show my support in return. Whenever I'm in that environment, I can see how proud they are of their heritage and it makes me want to be a positive role model for my community.
It means a lot to me to represent the Filipino-American community because I'm so proud to share that bond. I know how big of an impact it makes on youth when they are able to look up to someone who shares and represents their culture, so to be in that spotlight is an honor. As the only Filipino-American currently playing, I want to show that there are no limits to what you can achieve, as long are you work hard and put your heart into it. I'm grateful that I have this special community to support me along my journey.
How has your NBA career helped you to get involved and give back to your local community?
Being in the league has allowed me to get involved with the community in more ways than I ever thought possible. In Los Angeles, there are so many communities blended into one huge city, so it's fun when we're able to step off the court and see what's out there. The Lakers have amazing fans, so when we're able to tap into league/team resources and get out into the community, it's always a great experience.
Recently, the Alliance for a Healthier Generation invited me to join them in celebrating the students at 95th Street Elementary in downtown Los Angles for their commitment to healthy living. I was able to go into a few classrooms, where we discussed our favorite healthy foods and ways we exercise (and my best dunks). It's amazing to see these students really listen and take in what I have to say — it's also a humbling experience knowing that my hard work and determination to get to the NBA is an inspiration to kids in many diverse communities.
Coming up, I'm hosting my first Los Angeles youth basketball camp in Corona, California from June 6 to June 9. To me, this camp is about more than just basketball. While we really focus on skills on the court — and I'm super hands-on in teaching — the camp is also about developing these youth into skilled and valuable members of their communities. Fortunately when I was young, I interacted with NBA players which hugely impacted my life. Now being a role model, I can use my experience to positively influence kids.
We also have some really great sponsors for this camp, which I'm super excited about. Our lead sponsor, East West Bank, is providing scholarships to 50 youths from underserved communities to participate in the camp. It's amazing to be able to bring in sponsors like this who have a special connection to the Filipino-American community and allow kids, who otherwise wouldn't be able, the opportunity to come to the camp.
You recently made your first trip to the Philippines with NBA Cares. What was your impression of the country?
My main feeling before heading to the Philippines for the first time was excitement. I knew how much support I had, and I couldn't wait to experience it first-hand. When I got there though, I was really amazed and actually in shock about exactly how much love there was. It's so crazy knowing that so many people across the globe, and particularly in the Philippines, follow the NBA and support my career. The love they have for the game is incredible, and it makes me proud that I can be a part of a community that is so supportive. All I can say is thank you to everyone in the Philippines, and I'm honored to have made — and continue to make — a positive impact.
The NBA has been building deep relationships in international markets, particularly in Asia. Why do you think basketball is such a great medium for building relationships with the international community?
Basketball is more than just the game — it's a sport that allows communities to come together for a common experience. It's a game that anyone can play and watch, and whether it's at their local park or on the global NBA stage, the community and fandom is the same. Sports bring people together, particularly in the NBA where players from all over the world are able to play together as a team but still represent their heritage on the court.
What was it like playing next to a basketball veteran like Kobe Bryant as a rookie?
Great. Greatness. There's really no other way to describe it. Everyone knows that Kobe is one of the best players of all time, and being able to learn the game through his eyes is one of the best experiences I've ever had in basketball. It was special being a rookie and stepping onto the court with him, but it was even more special being able to be a part of his final season. I've learned so many things from him that I will cherish for the rest of my life.