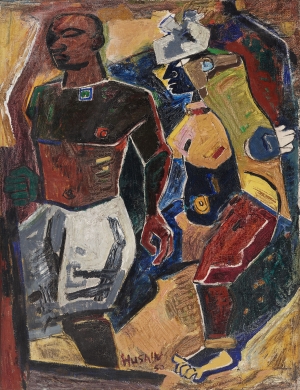 M. F. Husain. Peasant Couple, 1950.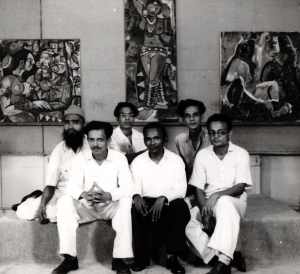 Progressive Artists Group exhibition, 1949. Courtesy The Raza Archives, The Raza Foundation, New Delhi, India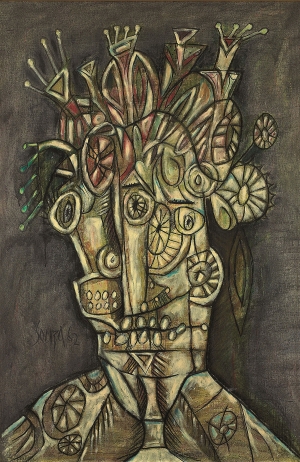 F. N. Souza. Untitled, 1962.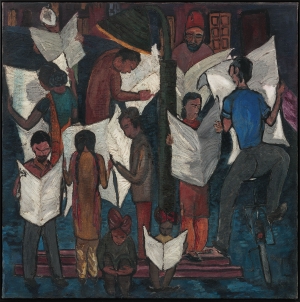 Krishen Khanna. News of Gandhiji's Death, 1948.
Tyeb Mehta. Mahisasura, 1997.
S. H. Raza. Haut de Cagnes, 1951.
"Explores a remarkable intersection of art and politics"
"Particularly relevant ... defining a future with room for everyone"
Asia Society presents a landmark exhibition of works by members of the Progressive Artists' Group, which formed in the aftermath of India's declaration of independence in 1947. The Progressive Revolution: Modern Art for a New India examines the founding ideology of the Progressives and explores the ways in which artists from different social, cultural, and religious backgrounds found common cause at a time of massive political and social upheaval. Works in the exhibition — spectacular paintings from the 1940s to 1990s — underscore how these artists gave visual form to the idea of India as a secular, heterogenous, international, and united.
The exhibition comprises important works from the Group's core founders—K. H. Ara, S. K. Bakre, H. A. Gade, M. F. Husain, S. H. Raza, and F. N. Souza — as well as later members and those closely affiliated with the movement: V. S. Gaitonde, Krishen Khanna, Ram Kumar, Tyeb Mehta, Akbar Padamsee, and Mohan Samant.
The exhibition is organized by guest curator Dr. Zehra Jumabhoy, Associate Lecturer, The Courtauld Institute of Art, London, and Boon Hui Tan, Director of Asia Society Museum. An illustrated catalogue featuring essays by leading scholars of Indian art and modern history will accompany the exhibition.
Preorder the richly illustrated exhibition catalogue online at AsiaStore.
---
Part of the Season of India, a series of programs held in conjunction with the exhibition, The Progressive Revolution: Modern Art for a New India, on view at Asia Society Museum from September 14, 2018 to January 20, 2019. 
---
Presented in part by State Bank of India, proud Supporter of the Season of India.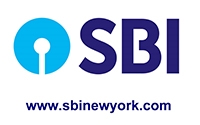 ---
Overview
"Your revolutionary spirit will bring you many troubles. But go on fighting. The future is always with those who struggle for self-expression and ideals."
— Dr. Herman Goetz of the Baroda Museum to F. N. Souza, 1945
On August 15, 1947, India threw off the shackles of British rule. In the ensuing period of transition, turmoil, and hope, six young firebrands came together in Bombay, now known as Mumbai: K. H. Ara, S. K. Bakre, H. A. Gade, M. F. Husain, F. N. Souza, and S. H. Raza united to form the Progressive Artists' Group (PAG). In the early 1950s, Krishen Khanna, V. S. Gaitonde, and Mohan Samant joined their ranks; Ram Kumar, Tyeb Mehta, and Akbar Padamsee became closely affiliated with the Group. Together, the Progressives forged  fresh art for an independent India and in time have come to be known as the country's quintessential moderns.
The Progressive Revolution: Modern Art for a New India spotlights seminal artworks by the members of the PAG, examining the Group's founding ideology and exploring how its artists — from different social, cultural, and religious backgrounds — found common cause at a time of dramatic upheaval. The exhibition follows the Progressives' artistic journey through three stages. The first section, Progressives in Their Time, considers the Group's origins as the artists struggled to cast off the old and invent a new artistic language for the new India. National/International explores the development of the Progressives' styles, as they drew upon multiple sources of inspiration, not only Western motifs, but also South Asian high art and folk traditions, as well as those from Asia more generally. The last section, Masters of the Game, displays some of the most iconic artworks produced by the Progressives, many of which were created long after the Group dissolved and individual members had developed their signature styles.
The artists of the PAG wrestled with the dilemmas of nation-building. What would the new art for the new nation look like? Which of the subcontinent's rich traditions should be used to construct a secular republic? How could Indian artists find a foothold in the international art world? Though the Group dispersed in the 1950s, with many of its key members leaving India for foreign shores, its legacy lives on through its answers to these questions, which continue to shape the idea of India today.
Dr. Zehra Jumabhoy, Associate Lecturer at the Courtauld Institute of Art, London
Boon Hui Tan, Director of the Asia Society Museum
Preorder the richly illustrated exhibition catalogue online at AsiaStore.
The Shock of the New
In Bombay, the Progressive Artists' Group (PAG) was founded just months after Independence to create a new iconography for the fledgling nation. K. H. Ara, S. K. Bakre, H. A. Gade, M. F. Husain, F. N. Souza, and S. H. Raza held their first exhibitions in 1949 in Baroda and Bombay, which were inaugurated by the well-known writer Mulk Raj Anand. It was a time of great intellectual fermentand progress was in the air. Anand himself belonged to the Progressive Writers' Association, and the socialist connotation of the term "Progressive" was only one of the reasons for the PAG's choice of name. Styling themselves as rebels, the Progressives sought to break with the Academic Realism identified with the artists of pre-independence India. As Souza put it, the prevailing attention to chiaroscuro and scientific perspective in Bombay's art schools were obsolete relics of British domination, a game for "English memsahibs...who painted to pass the time between playing with tea cups and chaprasis." The Progressives also steered clear of the Bengal School of painting, so successful in the early years of the twentieth century, whose demure damsels and aristocratic subject matter Souza derided for being nostalgic and sentimental.
This section recreates the PAG's 1949 display at the Bombay Art Society from archival photographs. Though the famous black-and-white image of the PAG is reverently worshipped as an iconic image of the "Founding Fathers of Indian art," it is vital to remember that this goes against the intent of the passionate young artists it depicts. With modernist zeal, the Progressives sought to shatter conventions rather than establish new ones, as demonstrated by Souza's controversial Self-Portrait in which he stands boldly exposed in the stance of a modern hero.
In 1947, the PAG was founded by F. N. Souza, S. H. Raza and K. H. Ara. Each of them brought one other artist into the fold: Souza invited M. F. Husain, Raza invited H. A. Gade, and Ara invited S. K. Bakre. The three figures in this painting are members of the PAG, though which three they are has been hotly debated. Souza and Raza are identifiable as the figures to the left and right, respectively, but the central figure has perplexed critics for years. Based on a sketch of the PAG made by Raza, it is tempting to argue that the mystery man is Ara. If so, Raza's painting is vital to Indian art history, displaying the original trinity of the Group. Zehra Jumabhoy
While the PAG was founded in 1947, shortly after Indian Independence, the Group's first show did not take place until 1949. Both Husain's Untitled painting of a lady looking into a mirror — a familiar motif in Indian miniature painting — and Souza's Mithuna (Lovers) were part of this seminal display. Both works show the similarities of style between the two artists at this point; their bold figuration is obviously inspired by Pahari painting (a method that peaked in the seventeenth century in the Punjab Hills) as well as Hindu and Jain temple carvings. ZJ
Souza is known for his contentious nudes — violently crosshatched women and blackened Christs. Here, however, Souza turns his gaze toward himself, adopting a Picasso-esque pose, through which he seems to declare himself to be a revolutionary modern, literally stripped of conventional constraints. Unfortunately Souza's work was too progressive for Bombay's authorities, who removed two of his works from a 1949 exhibition and raided his home. According to fellow PAG artist, Krishen Khanna, this work was one of the "obscene" paintings targeted at the show. Souza boarded a ship for London shortly afterwards, fed up with what he saw as Bombay's stultifying atmosphere. ZJ
The People of the New India
India might have achieved independence from British rule, but looking around them the Progressives saw the aftermath of the injustices of the Raj: extreme poverty and vast economic inequalities. The assassination of Mahatma Gandhi in 1948, by a fundamentalist who disliked Gandhi's pacifist vision of patriotism, dealt a further blow to their visualization of a secular Indian future.
While some of the PAG artists depicted the traumas of the urban metropolis and the plight of the subjugated Indian (such as can be seen in Ara's emaciated Beggars and Ram Kumar's Unemployed Graduates), others held onto a Gandhian vision of the nation, turning toward folk culture and India's villages for inspiration. Still others sought to sketch out the evolution of this burgeoning Republic as its people migrated from their gau, or village, to the cities. Many of the PAG had made similar journeys themselves, arriving in Bombay to make their names after childhoods in the countryside. Souza's early works from the 1940s are steeped in rustic references to his native Goa; its lush flora and fauna are delicately depicted in Picking Raw Mangoes, salting and drying in a manner quite distinct from the jagged forms and furious figuration of his mature works. Meanwhile, Gaitonde portrays India's transition from an agrarian economy to an industrial one in From Village to the City. Husain's Yatra (or "pilgrimage") shows a woman and child traveling on a bullock cart—a typical pastoral scene except that the Monkey God, Hanuman, from the Hindu epic the Ramayana, has come along for the ride. All three of these artists drew from the folksy, flat iconography of Pahari miniatures, a style of painting developed in the Himalayan foothills from the 17th to the 19th centuries, which often featured bucolic scenes. Building on such vernacular motifs and artistic traditions, the Progressives slowly discovered, to quote Raza, "an Indian vision and Indian ethnography."
In 1948, Mahatma Gandhi was shot by right-wing religious extremists. His death was a blow for India's secular, liberal artists, for whom Gandhi represented a non-violent figure of optimism. Khanna's painting is a subtle balancing act of horror and hope. Here, newspapers are clutched in the hands of people from the different faiths of India's population; Muslims (represented here by a figure in a skull cap), Christians, and Hindus all gather in grief. While each seems to be cut off from his or her neighbor, standing in relative isolation, as we step back from the painting we realize that the seemingly fragmented group comes together to form a map of the subcontinent. ZJ
Husain's most iconic paintings were made in the 1950s, such as Zameen (Earth) and The Spider & The Lamp. Here, we see a seemingly simple village scene that is painted in a style reminiscent of traditional toys as well as Rajput miniatures. Unlike the delicate colors associated with late Pahari painting, Rajasthani miniatures are known for their blocky use of bright reds and vivid yellows, inspired in part by medieval Jain manuscripts. As Husain fabricated a new visual language for a secular India, he drew from a syncretic style derived from both Mughal miniatures (the pinnacle of South Asia's Muslim past) as well as the pre-Islamic traditions of South Asia. The work was once owned by Thomas B. Keehn — the Rockefeller's agent in India. ZJ
While supporting himself as a car wash attendant, Ara's sketches caught the attention of two foreigners who were influential in the 1940s and 1950s Bombay art scene — art critic, collector, and promoter Rudolf von Leyden, and artist Walter Langhammer, who became a mentor of the PAG. With their support, Ara's debut solo show in 1942 was a great success. This early oil painting depicts the renowned Bharatanatyam dancer Ram Gopal on stage. A superstar in his time, classical dancer Gopal took the United States and England by storm in the 1930s and 1940s. Ara's energetic brushwork and use of bright lively colors convey anticipation and movement. The performance is depicted from the audience's perspective and great care is taken to show the seated audience of largely women, as well as the temple setting of the performance. The painting conveys the artist's love of the masses who will become the people of the new India. Boon Hui Tan
National/International
"If [Indian] modern art is hybrid, what is the School of Paris? ... Indian artists who borrow from the School of Paris are home from home."

— F.N. Souza, "Cultural Imperialism," Patriot magazine, 1984
By pointing out the "hybrid" sources of modernism, this section challenges the notion that the Indian moderns were derivative. It tracks the development of individual members of the Group and how they painstakingly constructed a modern art for the new Republic, drawing from multicultural sources along the way. There is no doubt that their references include western modernist masters. For instance, Raza moved to Paris in 1950 and was inspired by the blocky landscapes of Paul Cezanne. Souza's writhing Christs find their counterpart in Francis Bacon's screaming popes. Yet, if we admit Indian artists took a leaf out of the books of western masters, we must also recognize that the West had already mined the East for creative inspiration — Pablo Picasso drew from African masks; Henri Matisse from Persian miniatures. When Gaitonde came to New York in 1964, on a Rockefeller Foundation grant, he met Mark Rothko and discovered that they were both inspired by Zen Buddhism, East Asian scroll paintings and calligraphy. Thus, as Souza wryly put it, by borrowing from the West, the Indian moderns were coming "home from home." For the Progressives, modernism was a re-investigation of India's cultural heritage. Even more importantly, it was the plurality of the subcontinent's traditions that they were committed to exploring. Muslim Husain's Mahabali references erotic Hindu temple art, while Raza's abstractions combine motifs from Rajput miniatures with Tantric Buddhism. Meanwhile, if Padamsee's Metasapes conjoin Sufi geometry with Hindu philosophy, his Lovers allude to the eternal couple of Hindu mythology, Lord Shiva and his consort, the Goddess Parvati. Together the Progressives gave visual expression to Prime Minister Jawaharlal Nehru's dream of a secular India; of "unity in diversity." As the Progressives visualized modern India as a heterogeneous entity, they set out to prove that they were both Indian and international — the definition of each term contingent on the other.
A powerful fecund source of life rises from an earthen background in Mahabali, an allegory of woman's plight, wrought through the artist's maturing hand. The centrality of the figure now takes precedence, even over color. A faceless female torso rises over an ovular shape, populated with figures. Hovering above is a little elephant — is it Ganesha, the Hindu god of New Beginnings and the Remover of Obstacles?
The message of India's pluralist national identity runs throughout Husain's work. The heroic central figure in so many of Husain's canvases is a metaphor for man's place in the brave new landscape of modern India. Sona Datta
The English art critic Edwin Mullins, notes in his catalogue essay for Souza's 1964 solo show in London, The Human and the Divine Predicament, that "to give pleasure has never been Souza's aim, and he holds little respect for other artists who set out to do so." Even though Girl with a Silken Whip was part of this London exhibition, she is rather different from Souza's other female nudes. Unlike many of Souza's viciously crosshatched women, she is serenely beautiful and very much in control. Her sinuous curves evoke the carvings on ancient Hindu and Jain temples and, just like the fleshy goddesses on those sacred edifices, she is no demure victim. ZJ
The lovers alluded to in the title are the divine couple, Lord Shiva and the Goddess Parvati (also known as Uma Maheshvara). Many of the Progressives were inspired by Hindu iconography, and Padamsee was no exception. His depiction of the man's hand resting on the woman's breast attracted the attention of the more conservative elements of Indian society. Lovers was part of a series of paintings targeted by the authorities when they were first displayed at the Jehangir Art Gallery in Bombay in 1954. Padamsee was charged with obscenity but he refused to remove the paintings, choosing instead to fight for his right to the freedom of expression in court. The verdict absolving Padamsee was jubilantly published in a 1954 issue of Marg magazine by its editor, Mulk Raj Anand. ZJ
This portrait of a large-headed figure in a suit is composed with a profusion of organic forms resembling flower heads and stamens. Subtle color shading has been applied to the vegetal forms. While the work shows an awareness of Giuseppe Arcimboldo's vegetal heads, Souza balances his typical aggressive imagery and bold lines with the sensuous and tender possibilities of color and texture to produce a highly distinctive image. This monumental painting was once owned by Robin Howard, a prominent art supporter in post-war London, who was an investor in Gallery One, the establishment that began showing Souza's work in 1955. Boon Hui Tan
By the 1970s, Raza decided to look toward his Indian roots for inspiration. He visited the ancient caves of Ajanta and Ellora and their magnificent Hindu, Jain, and Buddhist paintings, and became fascinated with the hot colors of Rajasthani miniatures. Raza reminisced about how the motif of the Bindu, the black circle that represents a primal "unity of tremendous force," was inspired by his childhood mentor, Shri Nand Lalji Jharia, who "put a dot on a white wall" and asked him to "mediate" on it. ZJ
Husain first started painting horses in the early 1950s. His compositions are distinguished by the energetic and startling juxtaposition of horse and rider. Frequently depicted with heads reared proudly in mid-gallop, Husain's horses were visibly inspired by Tang Dynasty horses and the horse paintings of twentieth-century Chinese master Xu Beihong, particularly following his visit to China in 1951. In this work, four rearing white horses are depicted intertwined, while a seemingly tamed horse and his rider enter from the right of the painting. This monumental painting is striking and notable for its fine impasto work. BHT
Masters of the Game
This section brings together Indian modernism's most iconic paintings for the first time. From the 1940s to the 1980s, the Progressives successfully established their so-called signature styles. While the majority of these artists veered toward figuration (such as Husain, Souza, Tyeb Mehta, Krishen Khanna, and Mohan Samant), others found fulfillment in an abstract register (Gaitonde and Raza). There were those who charted a course between the two: for example, Ram Kumar's Benares marries semi-geometric forms with representations of the Holy Ghats.
Each of the Progressives developed at their own different pace, on their own terms. Husain's village folk from the 1950s are often considered the highlight of his career. Meanwhile, Padamsee's early Metascapes and Mehta's highly-charged battles between the forces of good and evil in his Mahishasura series have become part of the modernist canon. Raza is best known for his discovery of the Bindu (or the "Primal Seed") in the 1980s, although the black sun had haunted his paintings since the 1950s. Meanwhile, Khanna's most memorable work combines meta-narratives about the human condition with acute political observation. The Anatomy Lesson alludes to the cutting up of the subcontinent for the second time: In 1971, East Pakistan split off from West Pakistan with the help of India's generals and Bangladesh was born. In Souza's dramatic Crucifixion, Christ drips crimson gore in the largest painting Souza ever made on his favored theme.
The Progressives' most celebrated works might have been created long after the Group disbanded; however, this section shows how certain motifs ricocheted across their oeuvres. Here, Padamsee's metaphysical moon anticipates Raza's Bindu; Husain's peasants share characteristics with Ara's ferocious rag-and-bone man. Juxtaposed with each other, it is possible to see the similarities as well as discern the differences in the Progressives' varied output.
Khanna's The Game 1 refers to the "great game of the Generals," whose maneuvers cut up the Indian subcontinent for the second time in 1971. If the partition of India and Pakistan in 1947 was bloody, the formation of Bangladesh also spawned suffering and sectarian strife. This time, East Pakistan (now Bangladesh) sought freedom from West Pakistan — with the help of India's army. Independent researchers have estimated the death toll during the conflict to anywhere between 200,000 to 3 million people. In Khanna's paintings, cadaverous, military men are locked in close consultation. ZJ
The rugged, earthen Peasant Couple shows the architectonics of color itself — Husain's response to the brilliant chromatic palette of Basohli painting. The work celebrates his mesmerizing encounter with the vast history of Indian art at the Masterpieces exhibition at Government House in Delhi in 1948.
Husain and Gandhi had a shared vision for the new India that saw the rural masses as the backbone of the new nation who were to be valorized within a new internationalist language of art. Works from the 1950s explore the tension between industrialization's gifts to the young nation set against the celebration of the rural masses. Sona Datta
Ara is best known for his paintings of buxom, dark-skinned beauties, horses, and still lifes with engorged flowers, but this exhibition highlights his more socially aware work. Ara was born in 1914 in Andhra Pradesh to a chauffeur from the Dalit caste. His mother died when he was a child and he ran away to Bombay at the age of seven. He never received a formal education and continued to work as a domestic even after he joined the PAG in 1947. In this early work, we encounter what appears to be a rag-and-bone man. Covered in soot, the protagonist nevertheless gazes boldly out at viewers, challenging our right to make easy assumptions about his identity. ZJ
Related Events
SPECIAL EVENT
Season of India Gala
Thursday, September 13, 2018 • 6:30-10:30 p.m.
Join Asia Society for a memorable evening celebrating the opening of The Progressive Revolution: Modern Art for a New India and the Season of India lineup of related arts, policy, current affairs, business, and cultural programs.
---
DISCUSSION
Writing the India Modern
Friday, September 14, 2018 • 4-5 p.m.
A panel of writers and critics, including Yashodhara Dalmia, Gayatri Sinha, and exhibition guest curator Zehra Jumambhoy discuss what is original, what is modern, and what parts tradition played in the construction of a progressive movement for a new India.
---
DISCUSSION
Collecting the Indian Modern
Friday, September 14, 2018 • 6-9 p.m.
A conversation with major collectors of the Progressive Artists' Group from India, London, and New York about their passion for this art and the future of India's art scene. 
---
LECTURE
Godless Secularism: Europe, India, and Religion
Saturday, September 15, 2018 • 2:30-4 p.m.
Oxford University's Faisal Devji presents a provocative argument: The waning — not the rise — of religion questions our perceptions of modernity. What does this crisis of religion look like in Europe, and does its Indian history have anything to teach us about our present?
---
MEMBERS-ONLY RECEPTION AND LECTURE
Midnight and the Moderns: Mapping Progressive Pasts and Proposing Secular Futures
Monday, September 17, 2018 • 6-8 p.m.
Reception from 6-8 p.m.
Members-only lecture: 6:30-7:30 p.m.
Galleries open until 9 p.m.
Docent-led tours at 6, 6:45, and 7:45 p.m.
As part of the members' opening reception and activities, exhibition guest curator Zehra Jumambhoy will trace the founding ideology of India's so-called "quintessential Moderns."  How relevant is their message today?
---
SYMPOSIUM
The Progressive Genealogy: Art and Culture in Modern India
Thursday, October 25, 2018 • 11 a.m.-5 p.m.
In this daylong symposium, artists, art historians, postcolonial theorists, historians, anthropologists, and political scientists explore the idea of the "progressive" in art, visual culture, science, and industry in early independent India.
---
KEYNOTE ADDRESS
The Progressive Genealogy: Art and Culture in Modern India
Thursday, October 25, 2018 • 6:30-8 p.m.
Acclaimed author and professor Homi K. Bhabha delivers the keynote address on the evolution of the "progressive" in art, visual culture, science, and industry in early independent India.
Credits
Major support for The Progressive Revolution: Modern Art for a New India is provided by Amita and Purnendu Chatterjee, Blanca and Sunil Hirani, Sangita Jindal, Sheryl and Chip Kaye, and Sana H. Sabbagh.
Generous support is provided by The Horace W. Goldsmith Foundation, Rajiv and Payal Chaudhri, Kent and Marguerite Charugundla, The Darashaw Foundation, Sonny and Michelle Kalsi, Kiran Nadar, Indra and Raj Nooyi, and The Rajadhyaksha Family.
Additional support is from Christie's; Jon Friedland and Shaiza Rizavi; Ralph and Ala Isham; Peter Louis, Chandru Ramchandani, and Lal Dalamal; The Mortimer and Theresa Sackler Foundation; Sotheby's; and Kelly and Sundaram Tagore.
Plan Your Visit