Season of India Gala
VIEW EVENT DETAILS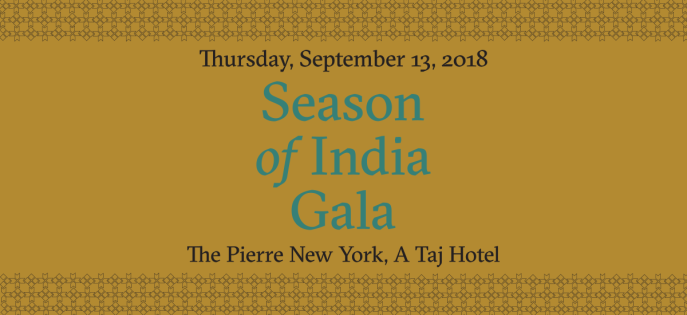 In celebration of the exhibition
The Progressive Revolution: Modern Art for a New India
Season of India Gala
Thursday, September 13, 2018
Reception 6:30 pm
Dinner 7:30 pm
The Pierre New York, A Taj Hotel
2 East 61st Street and Fifth Avenue
New York City
Indian Attire or Black Tie
To sponsor a table or purchase tickets please download the RSVP form.
For additional information, please email AsiaDinner@asiasociety.org.
---
GALA CO-CHAIRS
Sangita Jindal
Sana H. Sabbagh
SEASON OF INDIA STEERING COMMITTEE
Mohit Assomull
Purnendu Chatterjee
Sonny Kalsi
Charles Kaye
Indra K. Nooyi
HONORARY COMMITTEE
Amita Chatterjee
Vishakha N. Desai
Aashish and Dinyar Devitre
Carolina and Reinaldo Herrera
Amin Jaffer
Vinita Jain
H.H. Prince Tikka Raja Shatrujit Singh ji of Kapurthala
Sheryl Kaye
Mr. Ajoy Mani and H.S.H. Princess Cécile zu Hohenlohe-Langenburg
Lily of Marlborough
Sonny and Gita Mehta
Victor J. Menezes
Ranjeet Nabha
Cynthia Hazen Polsky
Katharine J. Rayner
GALA HOST COMMITTEE
Naznin and Mahmood Khimji
Anu Khosla
Elbrun Kimmelman
Asheet Mehta and Kirtna Pai Mehta
Sana Rezwan Sait and Nihar Sait
Event Details
6:30 - 10:30 p.m.
The Pierre New York, A Taj Hotel
2 East 61st Street (at Fifth Avenue)
New York, NY, 10065

Add to Calendar
20180913T223000
20180914T023000
UTC
Asia Society: Season of India Gala
The Pierre New York, A Taj Hotel 2 East 61st Street (at Fifth Avenue) New York, NY, 10065
---